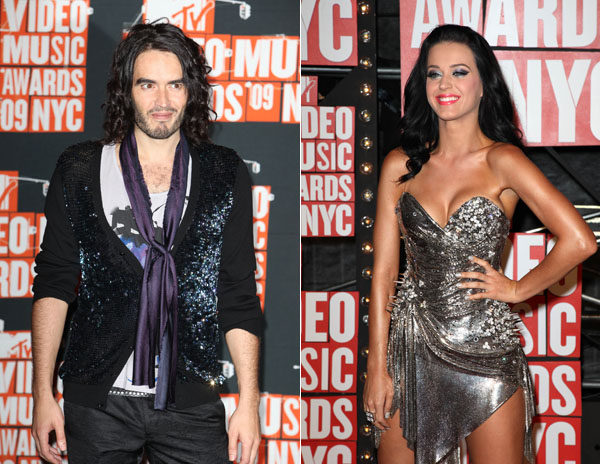 I like Katy Perry and think she's cute and quirky. A lot of people say that she doesn't have talent, and I'm not a fan of her music, but she's popular enough and she stays relatively scandal free. The last I remember hearing of Katy Perry's love life was that she was reunited with her longterm boyfriend, Travis McCoy of Gym Class Heroes. (Katy and Travis broke up after a year together in December, 2008, and then got back together sometime in April.) Katy briefly hooked up with Benji Madden earlier this year, but was soon back with McCoy. She told Star Magazine in an interview published in their June 8th issue that she was back with Travis and that "I kind of like it when the guy has the upper hand, because it's sexy, and I have so many upper hands in my life."
It looks like Katy may have found another upper hand, and it's one that needs a good scrubbing. The woman who once said that she found casual hookups "disgusting" was spotted making out with notorious womanizer Russell Brand. What's more is that Katy was also supposedly seen kissing John Mayer:
The MTV Video Music Awards host was spotted making out with Perry at Lady Gaga's after-party at Avenue — after joking onstage that he had the hots for her.

The voracious womanizer was seen admiring Perry's cleavage before kissing her as they sat on a banquette. An onlooker at the Meatpacking District hot spot told Page Six, "They were sitting very close together, flirting and whispering to each other with their faces very close. Then Russell leaned in for a long kiss. It didn't look like this was the first time. He was looking extremely pleased with himself."

Brand has made no secret of his passion for Perry. Onstage, he joked about her tight pants and mentioned that the two were staying at the same hotel. Later, backstage, he said, "I think I might have a bit of a thing for Katy Perry."

It was busy weekend for Perry: On Friday, a spy also caught the "I Kissed a Girl" singer locking lips with John Mayer at Gold Bar.
[From The NY Post]
British comic Russell Brand really does live up to his reputation. He's a smart, funny guy who loves to push the envelope but he also sleeps around like crazy. Photographers caught two women outside his house in London in April trying to sneak out in robes to try and get out of a parking ticket. He was also photographed taking a different couple of women home in January. (Those photos are below.) Maybe Katy is just having fun and making out with Russell without letting it go further. I doubt it, though, the guy oozes oily charm. I know he looks skeevy as anything, but sometimes guys like that are the best at picking up women.
If I had to choose between Brand and Mayer though I'd pick Brand. At least you know where you stand with that guy, and he doesn't seem to take himself too seriously. I heard an interview with him on Fresh Air and he was so damn smart, confident and candid without being full of himself that you can see how he scores so well.
Photos are from the VMAs over the weekend, of the women outside Brand's house in April, and of Brand taking two different women home in January, who are identified as "glamour models Lisa O'Connor and Stevie-Louise Ritchie." Credit: WENN.com