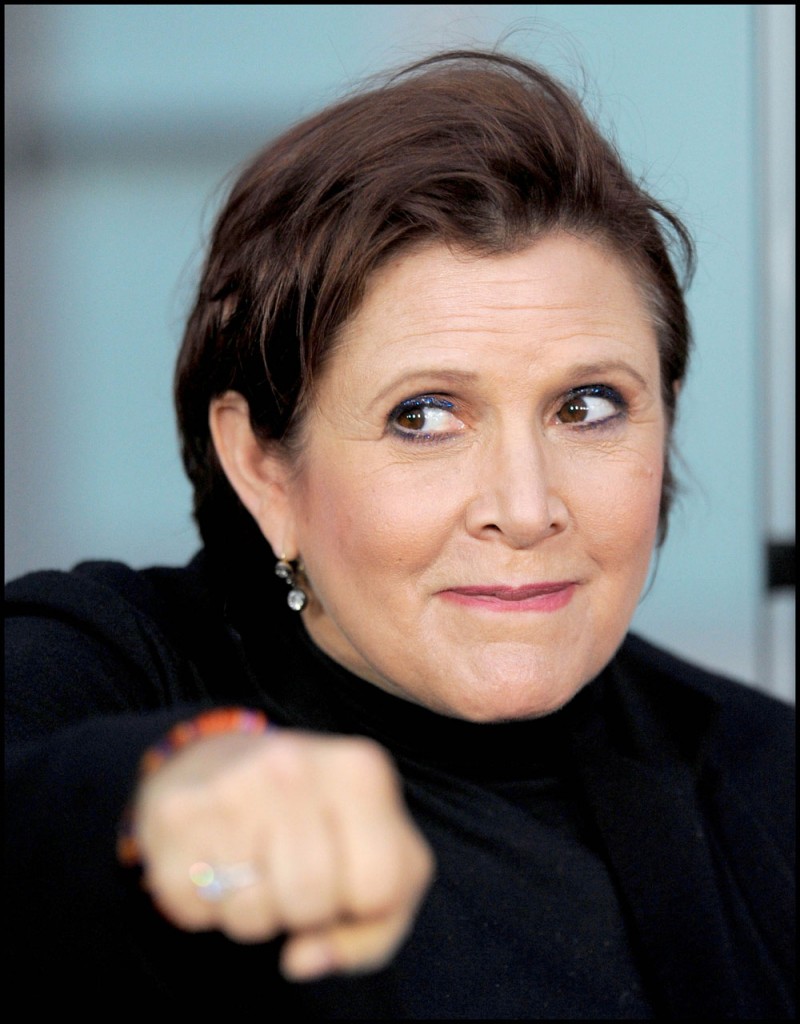 Carrie Fisher has been promoting her one-woman Broadway show Wishful Drinking all over the place. I was just reading about her last night in the November Vanity Fair, and here she in the NYDN talking about her show again. It's based on her bestselling book of the same name, and it looks like a buffet for gossips. The show is seems like a campy tell-all about Carrie's life as the daughter of two Hollywood stars (Eddie Fisher and Debbie Reynolds) and about her life as a movie star, writer, addict, wife, mother and girl-about-town. Carrie's had a pretty cool, interesting life – she was Princess Leia, she married and divorced Paul Simon, and she had a daughter with a gay man (agent Bryan Lourd). Inevitably, though, the conversation comes back to her parents and what happened when they divorced.
For those unfamiliar with the original Hollywood Bermuda Triangle, it involved Carrie's parents and a dame by the name of Elizabeth Taylor. After Taylor's husband Mike Todd died tragically in a plane crash, Todd's best friend Eddie Fisher began consoling Elizabeth. Soon, Eddie and Debbie's marriage was in shambles, and Eddie left Debbie for Elizabeth. Within a few years, though, Elizabeth left Eddie for Richard Burton, so it's all good. Though Debbie and Elizabeth's friendship imploded at the time, they later reconnected and became friendly again. Debbie even went on record with the idea that Aniston and Jolie could be friends one day, bless her heart. Carrie relates the original Bermuda Triangle to the current one (Brangelina-Jennifer Aniston) in her show:
Carrie Fisher airs some serious dirty laundry in her new one-woman show, "Wishful Drinking" – and it isn't just her own.

The artist formerly known as Princess Leia even sifts through Brad Pitt's hamper, suggesting that his public love triangle with Jennifer Aniston and Angelina Jolie is the modern-day equivalent of her dad, Eddie Fisher, leaving mom Debbie Reynolds for raven-haired temptress Elizabeth Taylor.

But Fisher was careful not to talk trash behind Pitt's muscled back – she ran the barb by him first. "This is exactly what your situation is like!" she told the hunky actor, who gave his okay to the line. Aniston, who caught the show in previews, didn't seem to mind, either. "She's a very nice girl. I didn't speak to her, but I heard that she liked it," Fisher told us. "At least, I hope she liked it."

And although Fisher escaped the ire of Hollywood's former power couple, other celebs may not take her sideswipes with such good humor. Fisher even gets in a dig at her own mother, although that's fairly normal, given their notoriously tumultuous relationship.

"My mother is a movie star," she said onstage. "She's like an icon. A gay icon, but you take your iconic statuary where you can get it. It's like being a pseudointellectual is better than not being an intellectual at all."

Fisher also slams George W. Bush, claiming she would rather have spent more time in a mental hospital for alcoholism than hang with the former Prez. "It's sort of like the last time I was invited to Bush's White House, only I met a better class of people in the mental hospital," she deadpanned.

Despite the barbs, the actress insists she didn't write the play to offend and was more than happy to remove anything potentially harmful. The proof: She axed anecdotes about ex-husband Paul Simon and "Shampoo" co-star Warren Beatty at their requests. "Anything that had to do with anyone else, I made sure that I went to them and cleared it with them," she said.

But for a 90-minute autobiographical show, you must take jabs at yourself, and Fisher does. She calls herself a dead ringer for Elton John and says she turned her second husband, Bryan Lourd, gay. She adds, "Yes, I'm a bitch."

Clearly her friends don't agree: Jane Fonda, Salman Rushdie, Harvey Keitel and Patti LuPone all turned up to fete their verbose pal at Amalia in midtown after Sunday's show.
[From the NY Daily News]
Eh, I like Carried because she doesn't seem to give a f-ck, so I'm a little disappointed that she went out of her way to get people's permission. Other than that, it sounds like a good show. I kind of like this movement of Hollywood women spending their 50s and 60s writing tell-all books or funny essays. The only thing I've ever read of Carrie's was Postcards From the Edge, but I read a lot of Nora Ephron's writing, and it sounds similar. Oh, and I'd love to know the dirt on Paul Simon!
Carrie Fisher is shown on 9/3/09. Credit: WENN.com