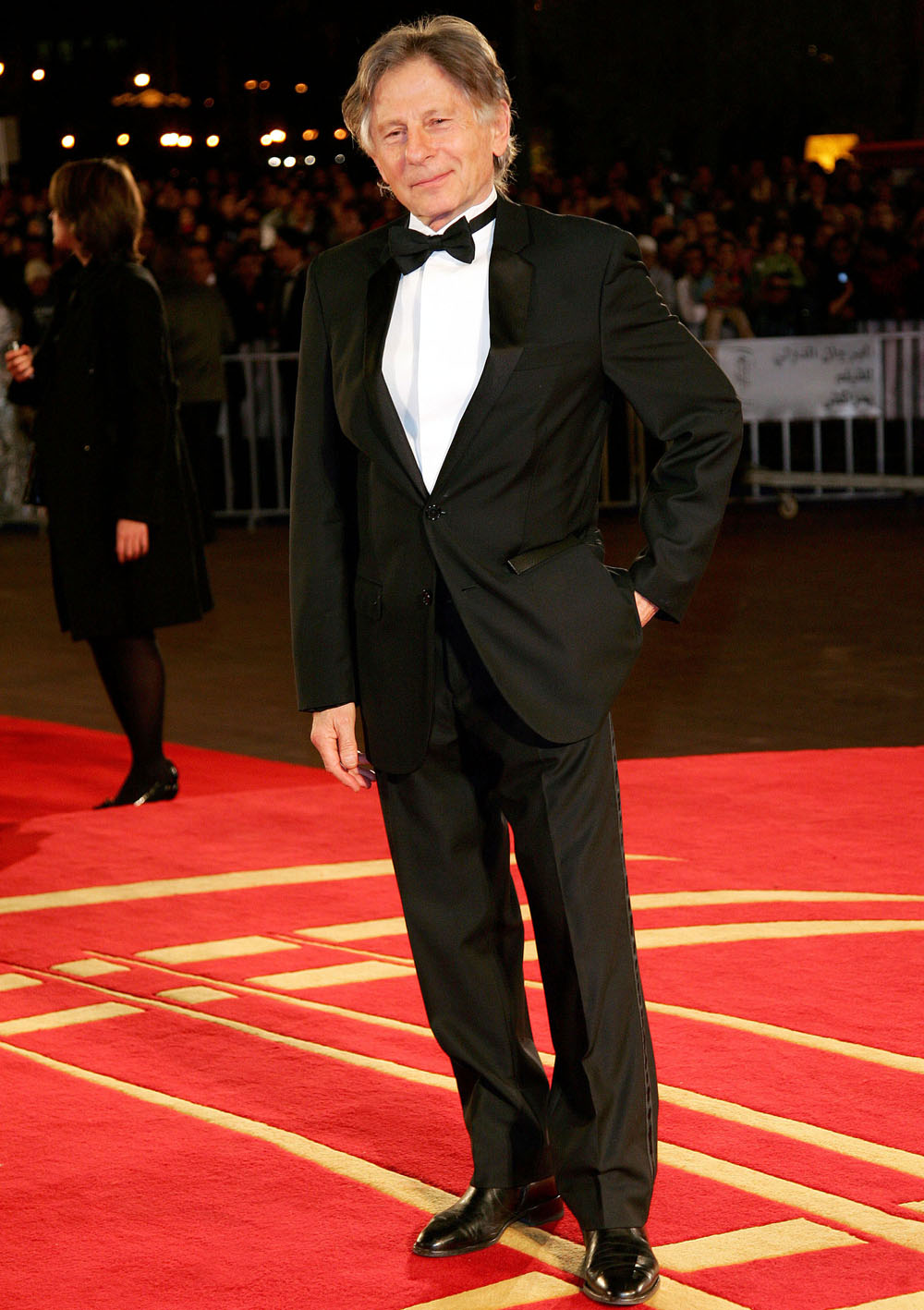 Roman Polanski won't be getting out of jail anytime soon. He's being held in Switzerland pending an extradition to the U.S. But even though he skipped out on his sentencing for rape in 1977 and fled for France instead, his lawyers are ridiculously trying to argue that he's not a flight risk. Snort. Yeah, why in the world would anyone think Roman Polanski would fail to show up to court when he promised? Especially in Europe, where he can just drive across the border to another country. Luckily the Swiss didn't buy that garbage.
Roman Polanski lost the first round Tuesday in his battle to avoid extradition to the U.S. for having sex in 1977 with a 13-year-old girl. Already locked in a Zurich cell for the last dozen days, Polanski learned he will remain incarcerated for an extended period as the Swiss Justice Ministry rejected his plea to be released from custody. Swiss authorities expressed fear he might flee the country if freed from prison. The director of such film classics as "Rosemary's Baby" and "Chinatown" has been wanted by U.S. authorities since fleeing sentencing 31 years ago.

"We continue to be of the opinion that there is a high risk of flight," said ministry spokesman Folco Galli, explaining the decision. Galli told The Associated Press that the threat was too great for the government to accept bail or other security measures in exchange for the release of the filmmaker. Polanski was apprehended Sept. 26 as he arrived in Zurich to receive an award from a film festival. Authorities in Los Angeles consider him a convicted felon and a fugitive, and Switzerland says there has been an international warrant out on him since 2005.

Polanski's legal representatives are also appealing to Switzerland's federal criminal court to free the director. Galli said the Justice Ministry has submitted a letter to the tribunal explaining why it opposes release even on bail. Legal experts say Polanski stands a minimal chance of a speedy release, even if his lawyers have suggested he be held under house arrest in his chalet in the luxury resort of Gstaad. "In practice, I don't remember any case where a fugitive has been released on bail while awaiting extradition to a foreign country," said former Zurich prosecutor Peter Cosandey, adding that Polanski's ownership of an Alpine chalet doesn't aid his case greatly.

"He could easily disappear," Cosandey told The AP, referring to Switzerland's lax border controls. "He could just hop on a train to Germany. Coming by plane, you're often just waived on. By car, it's even easier." Dieter Jann, another Zurich ex-prosecutor, has said extradition would be hard to fight, and he thought Switzerland had followed procedures correctly. In Paris, Polanski's lawyers took note of the decision and said they would focus on convincing the court to free Polanski.

"In particular, Mr. Polanski undertakes to remain in Switzerland for the duration of the extradition procedure, and to respect all obligations that could be imposed on him to guarantee this commitment," said a statement. One of the lawyers, Herve Temime, added that Polanski did not pose a flight risk. "We sincerely hope that the Swiss judges are able to remain detached," he told reporters.
[From Yahoo! News]
"We sincerely hope that the Swiss judges are able to remain detached" means "We sincerely hope the Swiss judges will be star struck with this famous director and ignore raping a 13-year-old a long time ago." The only thing that would make me half respect Polanski is if he finally took responsibility for his crime. Be a man and go back to the U.S. and work it out through the courts. I won't even be all that pissed if he doesn't actually serve any time. I'd love it if he did, but what really pisses me off is the running away and hiding out like a terrified little mouse. And then having the gall to argue that he should get to kick it in his chalet instead of jail while waiting for his extradition hearing.
In related news, Poland has finally honored Polanski with his official star on their Walk of Fame in Warsaw. I really, really, really hope this was something that had been planned for a long time, and not something they just hatched in the last few weeks. It's tacky no matter what and they shouldn't have done it right now. It just reinforces the notion that it's fine to rape a 13 year old, and you can still go on to have a normal, enchanted life. Disgusting.
Here's Roman Polanski at the opening of the 8th International Film Festival of Marrakech last November. Images thanks to WENN.com .