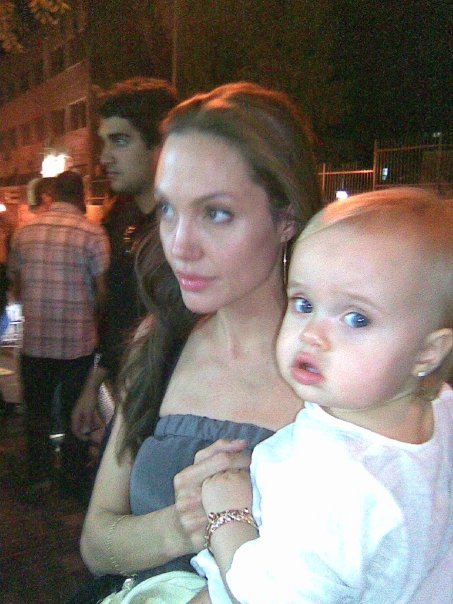 As we all witnessed over the weekend, Angelina Jolie and Brad Pitt finally brought their 14-month old twins out in public. Brad and Angelina took Knox and Vivienne to an ice cream shop in Amman, Jordan, where random people and fans took several pictures of Brange and the kids. It's been said before, but it looks like Knox is a dead ringer for either of the Spears-Federline boys. Do all blonde boys looks like that, or is it just an eerie coincidence? As far as I can see, Vivienne looks a lot like Shiloh, maybe with slightly darker hair.
It was the first time Knox and Vivienne have been photographed since January, where the whole Jolie-Pitt clan created a media frenzy in a Japanese airport. Since the twins weren't seen for so long, many tabloids ran with stories about the twins' alleged health problems. I wonder what the new rumors will be after this outing? Also, after their return to France, Angelina took her older girls out – and Shiloh dressed up in a tie! Meanwhile, Empress Z still looks gorgeous. Sigh. Too pretty.
We also have just gotten access to new photos from Brad and Angelina's trip to Syria. Not only did they spend time visiting with Iraqi refugees housed in Damascus (see the UNHCR press release here, and go here for the UNHCR Donation page), the Brange also toured Khan As'ad Pasha, which was closed to the general public for Brad and Angelina's tour. I had to look it up – Khan As'ad Pasha is an architectural gem in old Damascus, with many features that would be of interest to an architecture buff like Brad (see an awesome picture here). Once used as a commercial building, it is now used as a tourist site, and it houses the Natural History Museum of Damascus. Sounds like we may have stumbled upon the reason for Brad's tag-along with Angelina on her UNHCR trip – Brad cares about the refugees, sure. But he really wanted to go sight-seeing in old Damascus. Sigh. I wish I was sightseeing in old Damascus.
Here are several great pics, via PicApp. There cute twin pictures are via Under My Olive Tree.

`