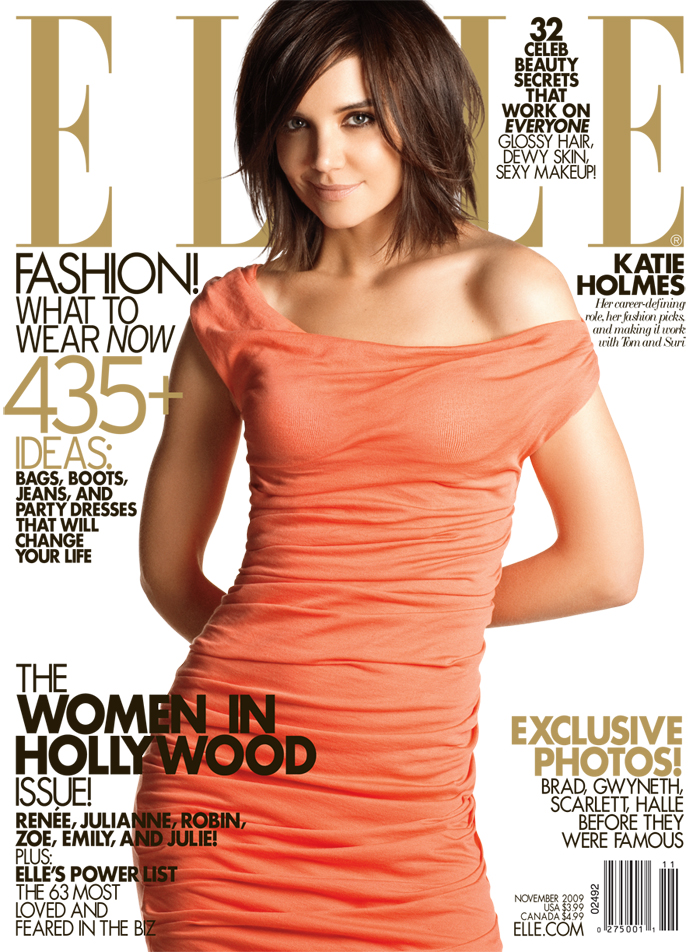 The November issue of Elle is devoted to "Women in Hollywood". Katie Holmes is the cover girl, but they also profile Emily Blunt (love her), Julianne Moore (love her more), Renee Zellweger (meh) and Zoe Saldana (pretty girl, but meh to her as well). As for the cover shot, I actually like it. Katie looks very cute with her choppy, cute haircut. And her eyes are looking less zombie-esque (can they photoshop the zombie out?). The dress is alright, and it is nice to see Katie in a bright color, but the dress just shows off how very thin Katie is.
Everybody was interviewed, but none of them really had anything fascinating to say. Katie loves vampire movies (and yet, no mention of zombies). Emily loves being a character actress, and she bitches about aging in Hollywood (her picture is awful too – it's like they were trying to make her look vacant). Julianne, who is by far one of the greatest actresses working today, was barely interviewed (but her photo is fab). Renee watches a lot of Katherine Hepburn and Marilyn Monroe movies (who doesn't?). Zoe is zzzz…
KATIE HOLMES-On family life: "In my own life, my whole world really revolves around family. I do what I need to do, but it's like, 'How is everybody else doing?' And it's wonderful for me as an actress to put some of that into a character."

-On life as a working mom on the Broadway set of All My Sons: "Suri would sit in my lap in the makeup chair. She'd hand the wig lady the bobby pins."

-On fashion: "I love Alaia, for sure. Stella McCartney. I like Ralph Lauren because I feel like it's very American, and I'm pretty all-American, from Ohio. Isabel Marant and a new designer, Sari Gueron.

-On the genre of film she loves most: "It can be any genre. I even like vampire movies – they just have to be well done. I want to believe in the characters. The minute it starts to feel not real, I'm not interested."

EMILY BLUNT
-On adjusting to Hollywood life since moving from the UK: "I feel the fear of the business creep under my skin in L.A. in a way that it doesn't in England. It's funny – I feel like beauty is in the eye of the beholder, unless you're in Hollywood! It's shameful how you have to look a certain way. Women are simply not allowed to grow old gracefully. That's why I love playing character parts, because I'm not pigeonholed into trying to remain young forever to play the ingénue or romantic lead."

JULIANNE MOORE-On types of characters she is drawn to: "I think my connection to acting has been through reading. I'm interested in scripts. People ask me, "What role are you dying to play?" It's really, What story do I want to be in?"

RENEE ZELLWEGER-On actresses from earlier eras that have influenced her: "For Leatherheads, I was thinking of Katharine Hepburn, the way she leaned forward with her shoulders back, speaking in her lower register the whole time. I like her confidence, her intelligence, her sense of entitlement. When I was making Chicago, I couldn't stop watching the Marilyn [Monroe] videos. Not so much because of the sex kitten thing; it was more her vulnerability. That was a huge part of the Roxie character. But it's not about emulating; it's about a feeling."

-On whether a successful movie career requires sacrificing your personal life: "A friend of mine couldn't decide between moving to New York or staying in L.A., and another friend said, "Do Everything!" I thought, That's it, do everything."

ZOE SALDANA-On being known as a beautiful Hollywood actress: "I'm sorry, but it's sexy to know that guys find you attractive. It's empowering."
[From Elle Magazine]
Eh, I'm just going to avoid talking about the other girls, and just focus on my girl Julianne. She's got two films coming out this fall/winter, and both look interesting. First, there's Chloe, which doesn't have a release date yet. Julianne plays a wife who suspects her husband is cheating, so she hires a hooker, Chloe, to seduce him. It stars Amanda Seyfried (as Chloe) and Liam Neeson (as the husband). The second film is Tom Ford's directorial debut, A Single Man. Julianne plays a supporting role to Colin Firth, who is an early contender for Lead Oscar. Hopefully, we'll be seeing Julianne on some red carpets this awards season too – she usually brings it, and I love her so much.
Photos courtesy Elle.com. To see the rest of the 'Women In Hollywood' covers visit Elle.com