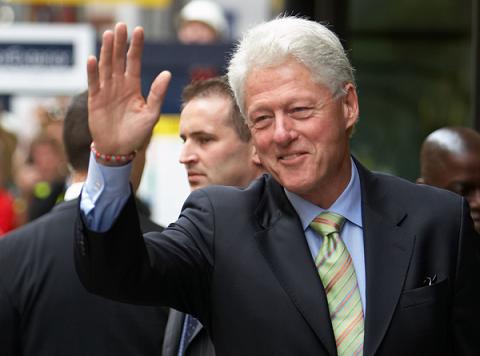 Bill Clinton has done many an inappropriate thing to a many a lady over the years. But who knew he could work his mojo on a lesbian? Well Bill, apparently. Rosie O'Donnell went off on the former prez/ladies man during a stand up act a few years ago, not knowing that Bill was apparently in the audience. You'd think someone would have mentioned that to her. Or that all the security would be hard to miss. But apparently not, because Rosie told the audience, "He disgusts me," O'Donnell recalled saying at the casino show. "And I know I'm not supposed to say this because I'm a good Democrat, but I didn't want to [talk] to him because he lied to me when he said, 'I did not have sexual relations with that woman,' and then put the scarlet-letter [bleep]-job on her for the rest of her life . . . I still hate you!"
Well Bill, being the guy that he is, actually sent O'Donnell a card apologizing to her, and gave him her phone number.
The sapphic supernova, doing stand-up at the New York Comedy Festival Tuesday night, told the audience how Clinton sent her a card after she slammed him during a performance at the Mohegan Sun Casino Hotel five years ago, The Post's Mandy Stadtmiller reports. When the corpulent comic called the phone number Clinton included with his note, Bubba himself picked up, she said. "My knees got weak. I was like, 'Can I [bleep] you?' No, I didn't say it, but I felt it – I was like, 'Whoa! Whoa!' And he said, 'I was at your show the other night, and I was sorry that you didn't come over and say hello to me. And I know that you're still harboring some hard feelings,' " O'Donnell related.

"And I said, 'You know, listen, here's the deal, dude. I've been disappointed by men my whole life. I loved JFK, my mother loved JFK, and you were the JFK to me. And you let me down, man. You killed me and that hurt me a lot, and when you hurt me, I don't know, I didn't expect that out of you and I thought you could do better for your wife, for the country and just in general."

Clinton then worked his charm on O'Donnell. "He goes, 'I'm sorry for all the men who ever hurt you, I'm sorry that I hurt you. Everything you've said to me, I've said to myself, and I hope one day you can forgive me, and I hope I can forgive me.'" Clinton's mea culpa quickly had O'Donnell's faucets opening up. "I'm hysterical crying," she recalled.
[From the New York Post]
Man he's good. Never let it be said that there's a lady out there that Bill Clinton can't bed. Seriously. Was that disrespectful to say? I don't care, it's true. If all men could harness whatever sexual magnetism it is that Bill Clinton has, women the world over would be rendered powerless. It's a good thing it seems to be bestowed upon the relative few.