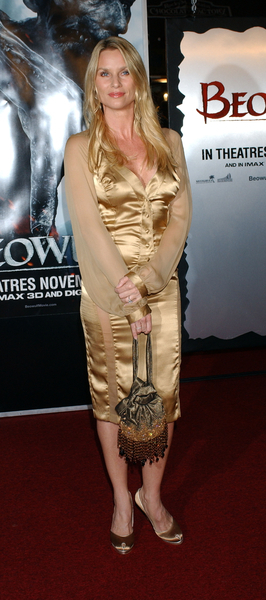 There are a few things in life that are truly horrifying. War, famine, crime, and the thought of Michael Bolton reproducing. Seriously, do not argue with me, you know it's an utterly horrifying thought. That hair? On a baby? Although it could be downright pretty on an eight-year-old. But that eight-year-old would still be the product of a father who thought it looked good on a 40-year-old man, and that's just not cool. The other horrifying thought? That kid having Nicollette Sheridan's over-arched evil eyebrows. With aforementioned long wavy Michael Bolton hair. I wish I were one of those fancy digital artists so I could do a rendering of what I imagine this creature might look like.
Nicollette Sheridan is pregnant with fiancé Michael Bolton's baby, according to new reports. Friends claim the Desperate Housewives star, 43, is expecting her first child as she plans her wedding to the 54-year-old singer.

An insider says, "She's absolutely glowing and her pregnancy is the buzz of the set."

Reports suggest Sheridan gave castmates the big hint she was expecting when she started asking her co-stars, Teri Hatcher, Marcia Cross and Felicity Huffman all about motherhood and pregnancy.

The source explains, "She kept asking Felicity and Marcia about how the pregnancy would change her appearance and if it would make her hair thinner."
[From Starpulse]
Well that's a lovely little thought to warm your heart during the weekend, huh? Seriously, despite the mocking, if it's true, congrats to them both. If the writer's strike goes on long enough, they can film a "reality" episode of "Desperate Housewives" where Edie gives birth –you don't need writers for that dialogue.
Picture note by Jaybird: Here's Nicollette at the "Beowulf" Los Angeles Premiere on Monday. There are over 20 photos of her on PRPhotos throughout the night, and she has her hands clasped in front of her stomach like that in every single picture. I think she's trying to hide an early baby bump. Images thanks to PR Photos.