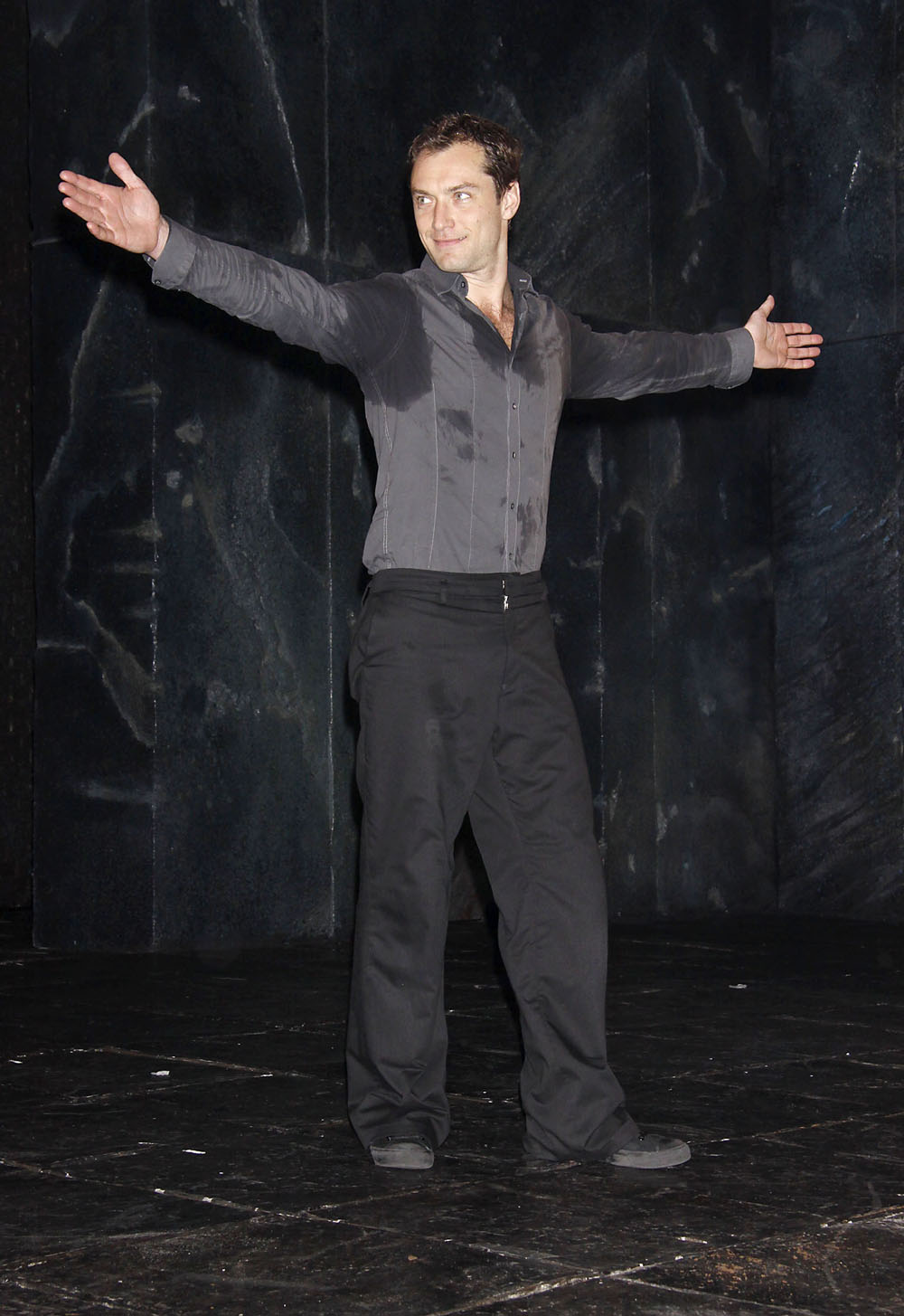 For the most part, Jude Law's turn as Hamlet on the London stage was full of praise. The critical and financial success of the London show was largely the reason why it was brought to Broadway. Now that Jude's been in previews for a while, the formal reviews are in from the New York critics – and while there's significant praise for Jude, there's also some funny criticism. I think I laughed the hardest at the NYT's Ben Brantley, who noted that Jude's gestures were a bit… obvious. Like, sign language obvious.
To be, or not to be … a hit on Broadway?

That is the question Wednesday morning as the reviews come in for Jude Law's turn as Hamlet in the much-anticipated Broadway turn for the production, which originated in London to acclaim and opened at New York's Broadhurst Theatre Tuesday night. Reaction is decidedly mixed.

"If Hamlet talks about his mind, you can bet that Mr. Law will point to his forehead; when he mentions the heavens, his arm shoots straight up; and when the guy says his gorge rises, rest assured that he clutches at his stomach. If every actor were like Mr. Law, signed performances for the hard of hearing would be unnecessary," snipes Ben Brantley of The New York Times.

"If anything, Law starts out too overwrought, moaning and gnawing through the great soliloquies as if they were causing him intestinal distress," Time Out New York's David Cote notes. Others put in much kinder terms.

"His Hamlet is no brooding philosopher/prince; he's an angry young man, a bundle of nerves forever threatening to explode," raves USA Today's Elysa Gardner , who considers Law's soliloquies "both muscular and exquisitely lyrical."

The traditionally acerbic John Simon of Bloomberg News, however, found nothing poetic about Law's "flashy, frequently jocular and unsubtle" performance in a play "aimed at neophyte audiences lured to the play not only by the star but with the added promise of a thriller liberally sprinkled with yocks."

Time Out New York, which generally lauded Law, was one of many that had a bone to pick with the supporting cast, finding Gugu Mbatha-Raw's Ophelia ho-hum, and Geraldine James and Ian Drysdale's Gertrude and Claudius an example of actors taking the phrase "the banality of evil" too literally.

Then thank God Jude's pretty, all critics agreed. Noted The New York Times: "Mr. Law's undeniable charisma and gender-crossing sex appeal may captivate Broadway theatergoers who wouldn't normally attend productions of Shakespeare."
[From People]
So, most people like it. It will be a Broadway hit, and Jude Law will make some money to stock up for all of those child support payments he's got to make. Speaking of, the British tabloids have been trying to act like Jude has refused to see his daughter with one-night-stand/baby-mama Samantha Burke because he's still unsure of the paternity. Some American sources tried to play that game too, but I feel pretty confident that Jude and Samantha found out the paternity in utero, and that's why he released the statement about it when Samantha was seven months pregnant. I really think Jude hasn't flown down to meet his daughter yet simply because he cares more about gesticulating on stage.
Here's a very sweaty Jude Law at the opening for "Hamlet" on Broadway last night. Images thanks to WENN.com .