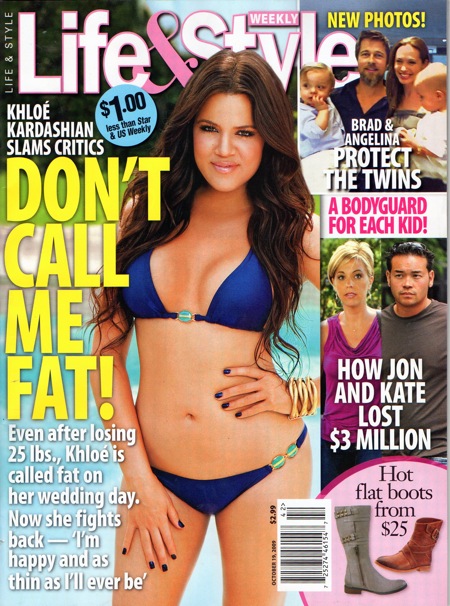 Here's the thing: I don't hate Khloe Kardashian, or any of the other Kardashians. Granted, I think Khloe and her sisters are pretty dumb, vapid and horrible role models for young women. But in the grand scheme of things, they're pretty harmless. The one thing I really, really hate though is this back-and-forth hypocrisy on body image. Khloe's not the only one who adheres to this messy, crappy, asinine message of "I went on a diet because I love my body the way it is" or "Don't call me fat, because then I'll just lie about my dress size to prove how much I don't care." It's ridiculous. Jennifer Love Hewitt pulls this kind of sh-t too.
So Khloe is Life & Style's cover girl this week. She's wearing a bikini, and she's photoshopped into oblivion, with the headline "Don't Call Me Fat" blaring out at us. Don't call her fat… or else what? She'll appear on another cover photoshopped into oblivion? The actual story follows this pattern: quote from Khloe about how she loves her body, quote from some random has-been about how Khloe is ugly, quote from Khloe about how she dieted and worked out because she was so "secure". Rinse and repeat:
Even though reality star Khloé Kardashian recently shed 25 pounds, bloggers were calling her a "monster beast," "Kong," "Bigfoot" and a "fat skunk" after she walked down the aisle in her fairy-tale Vera Wang wedding gown and tied the knot with Lamar Odom on Sept. 27.

And fellow reality stars added to the unfair ridicule. Supermodel Janice Dickinson attacked the star saying, "There's no way she would become a fashion icon. Khloé looks like a heifer." And Spencer Pratt recently said, "Khloé still needs to work out more. I recommend she go to theheidimontagworkout.com so she can get fantastic curves like my wife's."

But the feisty newlywed, who dropped from a size 10 to a 6, isn't taking the comments laying down. "Everyone criticizes me about my weight all the time," Khloé tells Life & Style. "It's easy for me to be like some other girls in Hollywood — not eat and become anorexic — but thank goodness I am strong-willed and secure with myself."

Self-confidence didn't always come easy for the Kourtney & Khloé Take Miami star.

"When I was a chunky little 8-year-old and I had these two beautiful sisters, I'd wonder, why don't I look like that?" Khloé remembers. "Now I hate it when people compare me to my sisters. Kourtney's 5 feet, I'm 5-foot-10 and Kim is 5-foot-2. I will never look like them. No matter how skinny I am, that body will never be mine."

Still, the attacks continue. "Khloé should be put out to pasture," Janice Dickinson says. "She should be kept in the stables along with the rest of that family. I think she's a little pig. The whole family is piglike."

Comments like that once would have left Khloé in tears. But these days, she's brimming with confidence thanks to her new healthy diet and fitness plan.

"Khloé's in the best shape of her life, and millions of people would kill to look like her," Kim told Life & Style as she was leaving STK restaurant in LA on Oct. 2. So even though Khloé was unfairly ridiculed on what was supposed to be the happiest day of her life, in the end she's getting the last laugh: She has the perfect body and the perfect man.

"Way before, I was a size 10. Then I went to an 8, and now I'm a 6," Khloé tells Life & Style. "I don't think with my bone structure I could get much smaller than a 6. This is my body — and I love it."
[From Life & Style]
If Khloe wants to diet and work out, fine. God bless. But don't drop two dress sizes in a month (allegedly) and still claim that you're so secure and you're not even listening to the haters. What would be the big deal about being honest? Khloe could say, "I felt insecure and the criticism bothered me, and I decided to change my body through an en extreme diet and lots of exercise. It was probably really unhealthy, but I thought I looked okay in my wedding dress. Too bad we didn't really get married. I'm not really a size six, I just look small because magazines photoshop half my thighs away." Imagine that.
Here are some of the Kardashians at the opening of "Famous Cupcakes" in Beverly Hills last night. Look at that photo where Kris is holding Kourtney's stomach and making a face. Credit: WENN.com