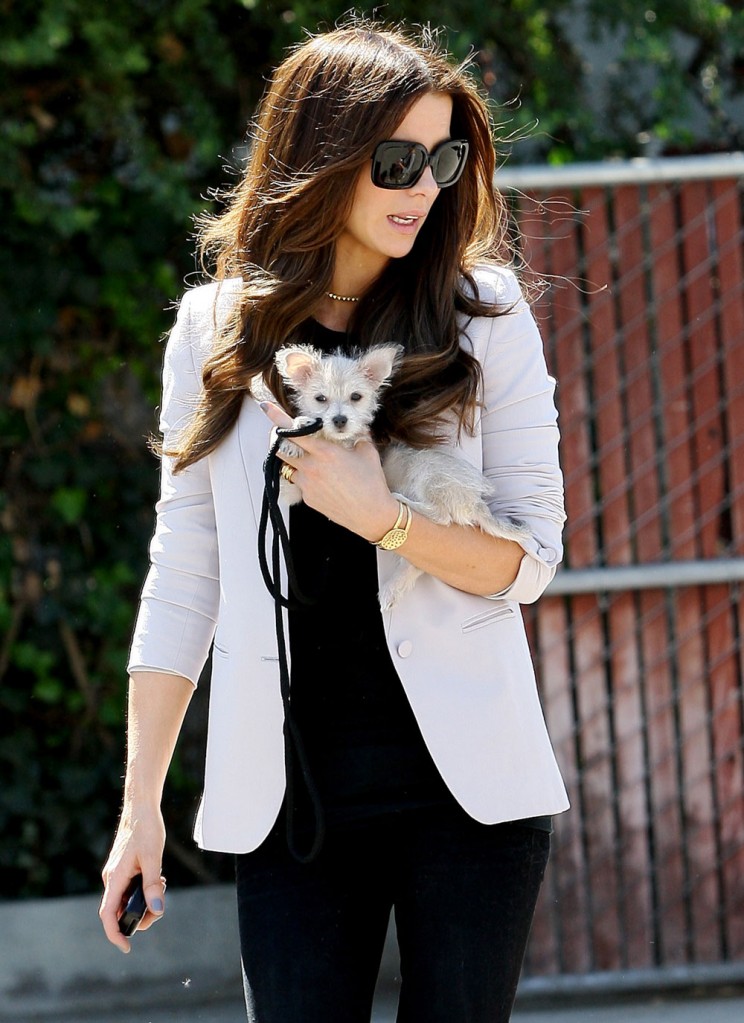 This is not the picture we're referring to. You can see it on Crazy Days and Nights
Earlier this week, I did a post about Kate Beckinsale being named Esquire's Sexiest Woman of the year. Though I usually dismiss Kate as a barely talented actress, she grew on me over the course of the Esquire profile, and I ended up liking her. After that, I've spent a little time looking at recent pictures of Kate out and about in Los Angeles, and I've noticed something interesting: she has the cutest little dog in the world!
I can't even figure out the breed on this little puppy. Is a Jack Russell mix? Or some dog that I've never even paid attention to when I watch the AKC shows on Animal Planet? I never watch the toy division, because generally, I don't care for little dogs. But Kate's dog is the size of kitten! Must. Snuggle. He also looks very "alert" in all of the pictures I've seen – he likes having his picture taken. Like he saying, "Mummy, look at the cameras! Fluff my ears! How does my collar look?" That puppy is a star!
Anyway, the other day Crazy Days and Nights ran a weird story with a disturbing set of photos. We don't have access to the pictures, but you can see them here. They show Kate and her daughter Lily out with the puppy, who is on some kind of leash. Unfortunately, Kate is lifting the puppy several feet off the ground by the leash! I took a closer look at these photos, and it does seem like the "leash" is a body harness, so it's not necessarily like she's choking the dog. But what she is doing is still dangerous and cruel, and I hope someone calls her out on it. She was probably mad at the puppy because he's more gorgeous than her.
Kate Beckinsale, her daughter, Lily, 10, and friends are shown out on 9/27/09. She's also shown on 10/1/09. Credit: Fame Pictures