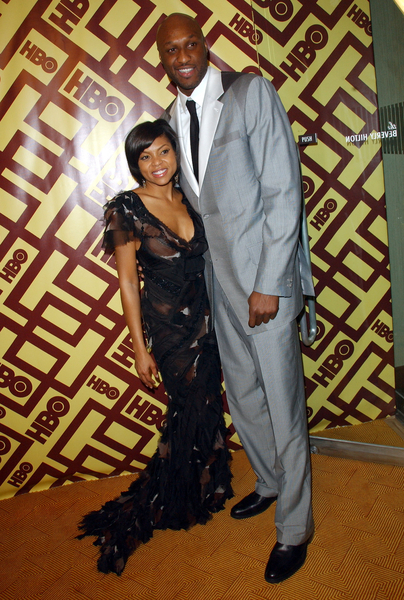 Taraji P. Henson and Lamar Odom on 1/11/09. Credit: PRPhotos
The tabloids are full of stories this week that bring Khloe Kardashian's show wedding into question. Khloe and Lamar were married after a mere month of dating, and it's not surprising to learn that Lamar left some women in his hasty wake. First we have the news that Khloe's new trial husband, Lamar Odom, proposed to Oscar nominated actress Taraji P. Hensen just a week before he met Khloe. Taraji and Lamar were dating earlier this year and even showed up at at an event together.
We've already heard from Lamar's longterm girlfriend and the mother of his two surviving children, Liza Morales, who went on the record several times to say that Lamar was trying to reconcile with her in August, and that she was more surprised about his wedding to Khloe than anyone. Liza said Lamar is a "commitment phobe," and called the news that he was marrying Khloe a "bombshell."
Star Magazine has quotes from Lamar's other longterm girlfriend, Lara Manoukin, who says she was dating the LA Lakers star for seven years right up until the time he went public with Khloe. They say that as far as Lara knew, she was still with Lamar when she heard the news that he was with Khloe. Star's source is an "audio message posted on the Internet" allegedly by Lara, which sounds sketchy. They do explain the origin of their source, though and that's better than the fake quotes they usually use. Star also has quotes from Lara's stepfather explaining that his daughter broke up with Lamar after confronting him about his relationship with Khloe.
Lamar proposed to Taraji P. Hensen a week before he met Khloe
On October 2, Fox Sports Radio host Matt "Money" Smith indicated that the basketball player proposed to another star just a week before he met Khloe, but she turned him down. Matt suggested that the other woman is… actress Taraji P. Hensen, who is best known for playing Brad Pitt's adoptive mother in The Curious Case of Benjamin Button.

Indeed, a close friend confirms to In Touch, "There was talk of marriage, but it's unsure of whether he actually proposed or not." But Lamar and Khloe's reps insist there's no truth to the story. "Taraji and Lamar only dated briefly earlier this year and broke up right after the Oscars," says his rep.
[From In Touch, print edition, October 19, 2009]
Lamar had a girlfriend of seven years who was blindsided by his marriage to Khloe
Jaw dropped when Khloe Kardashian married Lamar Odom after knowing him for only 32 days. And no one was more shocked than Lara Manoukian – Lamar's girlfriend of seven years! Amid rumors he was cheating, the L.A. jewelry designer went to Miami to get away from it all. But when she flipped on the TV, the truth was staring her in the face: a news segment on E! focusing on Khloe and the new man in her life, Lamar!

"My heart is destroyed," Lara, 29, later told an unidentified friend in an audio message posted on the Internet. "I treated that fool like a king… from cooking to cleaning his place, anything you can think of, I've done for that man… This dude has lost his mind!"…

Her stepfather, Harry Diramarian, tells Star exclusively that the L.A. Lakers forward, 29, cheated on his stepdaughter repeatedly. "After Lara saw that Lamar was dating Khloe, she confronted him, which ended in a big blowout between them. That was the last time Lara saw him," he reveals.
[From Star Magazine, print edition, October 19, 2009]
As we reported Wednesday, Khloe and Lamar's wedding wasn't official and their lawyers are only in the preliminary stages of hammering out a prenuptial agreement, which could take weeks. It looks like Lamar has a long history of making promises to women he can't keep, and I doubt Khloe will be any different. Even if these two make it legal Lamar will probably have a couple of other women he's stringing along at any given time.
Lamar is shown outside of Mr. Chow with Khloe, who is holding her hand conspicuously up to show her giant rock, on 10/1/09. Credit: RHS/WENN.com. He is also shown shopping at Kitson on 10/6/09. Credit: Michael Wright/WENN.com