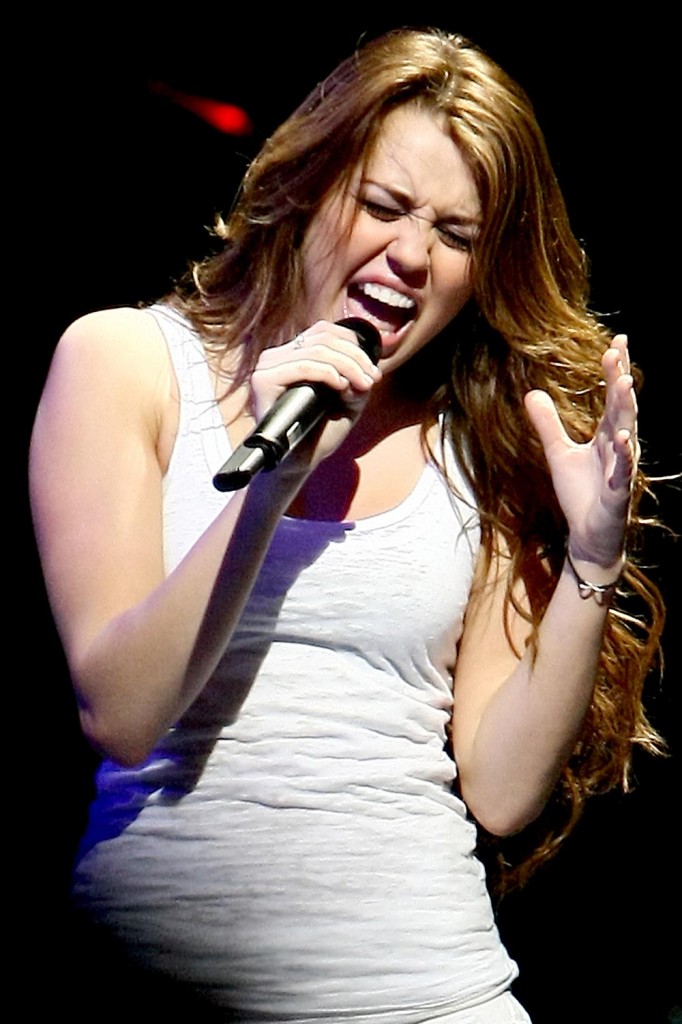 Yesterday we saw some way too mature photos that Miley Cyrus' little sister Noah, 9, posted on her Twitter account. Noah had makeup on in some photos, which could have been for a performance, and was often seen making the "kissy face" pose. Many of you noted that Noah was probably just mimicking her older sister, and that she probably didn't understand the implications of putting so much personal information on the Internet. Noah has nearly 150,000 followers on Twitter and she regularly has open webcam chats with her fans. Her parents really should be ensuring that she's safe online, and it seems like she has too much non-supervised access to the Internet, but it's hard to tell. Kids are doing much more online these days.
If Noah looks up to her big sister, Miley, she might soon be abandoning her Twitter account, though. Miley has tweeted her last text message on the social networking site. She told everyone that she's giving up Twitter for her new boyfriend, Australian actor Liam Hemsworth:
There's a little less celebrity Tweeting in the online universe today. Miley Cyrus has deleted her Twitter page after posting a message apparently referencing Australian actor Liam Hemsworth, her The Last Song costar and rumored love interest.

"FYI Liam doesn't have a Twitter and he wants ME to delete mine with good reason," the singer Tweeted.

So, her Twitter account is now gone, as is her mom's. Cyrus's sister Brandi and brother Trace are still Tweeting. But in her absence, fans have rallied – and #mileycomeback is currently Twitter's top trending topic.

Will Cyrus hear the rallying pleas? Stay tuned …
[From People]
Miley often tweeted back and forth with her ex-boyfriend, Justin Gaston, and maybe that's part of the reason that Liam objected to her using it. Miley is a role model to countless young girls and tweens. If she thinks Twitter is no longer cool, it's going to lose favor with that crowd too. I'm more of a Facebook person, and I've done Twitter but I guess it's just not for me. I don't hate it or anything, I just don't see the point and if I'm bored I'd rather play a game or watch a show or something. At least on Facebook there are tons of games built in. There are all those inspiring stories of people tweeting for help, and when used among groups of friends I can see how it can be fun and valuable. It can be a lot to sift through, though, especially if you end up using it like Facebook or Myspace and just befriend a bunch of people that you may not actually know. Will Miley quit for good or will she come back to Twitter once she's single again? Maybe by that time there will be some new social networking app to take Twitter's place.
Miley is shown performing in Anaheim on 9/23/09. Credit: WENN.com