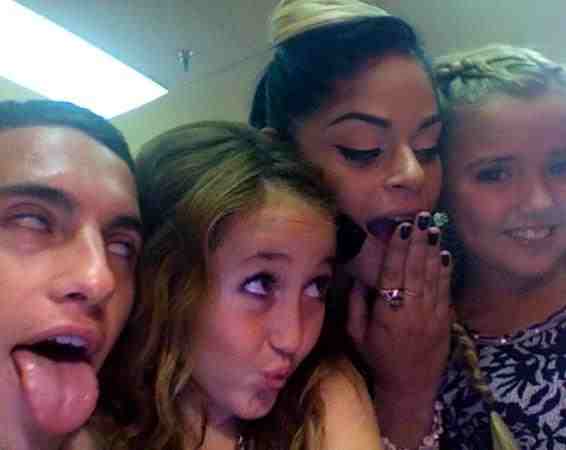 Nine year-old Noah Cyrus has a Twitter account through which she's sending messages to her friends and family and posting cute photos. She has nearly 150,000 followers. Noah is the younger sister of 16 year-old superstar Miley Cyrus. We've seen plenty of leaked photos of Miley in suggestive poses, in wet t-shirts, and making racist gestures. There are also of course those controversial Vanity Fair photos of her posing in only a sheet. Noah's pictures are much more innocent, but they seem to be headed in a direction that could make some people uncomfortable. She's seen wearing makeup, doing the "duck face" kissy pose, and looking a little too mature for a kid who isn't even ten yet. They're growing up early these days, though.
In one tweet, Noah posts a picture of herself with Frankie Jonas, the youngest Jonas brother at nine, and writes "me and my boyy. i love you frankie! forever and always." Frankie and Noah are the lead voices in the American dubbed version of the Japanese animated movie Ponyo, which was out this summer.
On one hand these tweets are pretty cute and innocent. Noah is just nine years old! On the other hand, I know I wouldn't want my nine year-old kid posting photos and text messages on an publicly accessible site. We even protect our Flickr and Picasa photos. Noah also has live webcam chats with friends through UStream, and I know plenty of parents that would be crying foul over that.
In August, Noah caused some controversy by posing with friends in front of a stripper pole at a party before the Teen Choice Awards. She probably didn't know any better – again she's nine!
So have things changed so much that it's really not a big deal that a nine year old is using Twitter and having open webcam chats? Should Noah's family try to limit her online activities? I know I wouldn't let my kid put so much personal information online, but our family isn't famous.
Thanks to Gossip Rocks for posting these pictures and for the story lead.