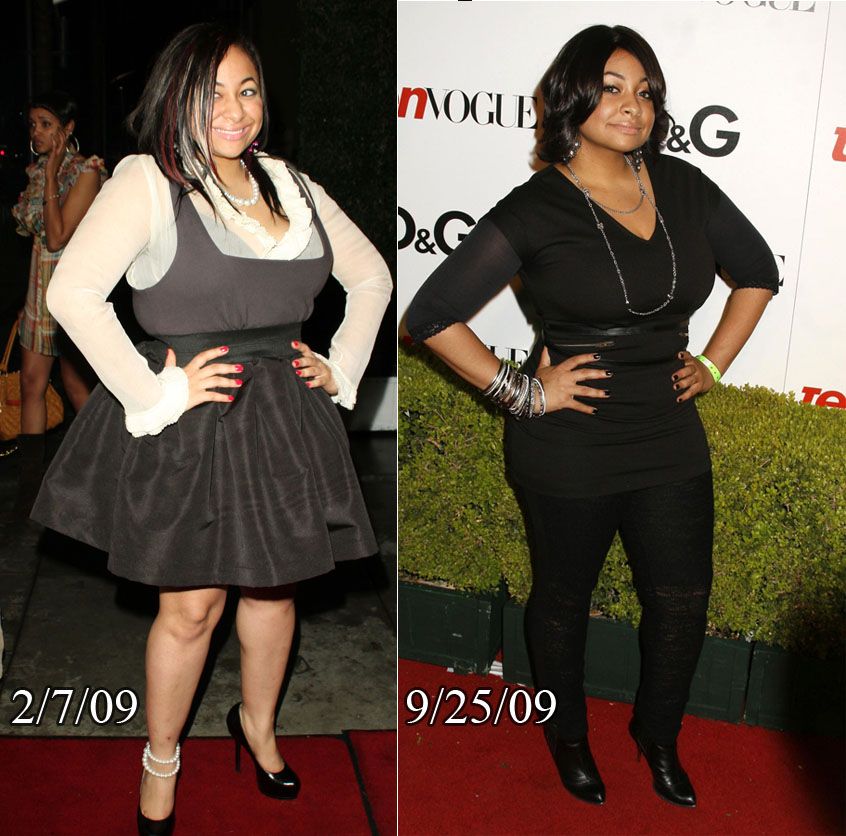 Former Cosby Show child star Raven-Symone, 23, has spoken out in the past about criticism of her weight. Raven said in January of this year that she felt that she was beautiful at her size at the time, and called herself "thick and fabulous." She said "I'm healthy, I exercise, I believe in myself, and I think I'm beautiful." Although Raven claimed to be happy with her figure she did admit that body criticism can get to her, and said that she sometimes needs to call her best friend at the end of the day "and yell and scream and get it out."
It looks like Raven has made some changes in her life. She was seen at an event a couple of weeks ago looking at least 35 pounds thinner, according to Star. They also include some nasty comments from a doctor who calls her before body "obese." She was big before, but I wouldn't classify her as "obese." Maybe she was was, though:
Raven-Symone has always been frank about her weight struggles. "When I'm stressed, I gain," she says. Judging from her appearance at the September 25 Teen Vogue party in LA, things are going great for the Disney star! Dr. Michael Aziz, author of The Perfect 10 Diet, believes the 5'2″ actress shed 35 pounds over the past few months. "Raven was obese," Dr. Aziz tells Star. "Although she's naturally a full-figured girl, she's at a much healthier weight now."
[From Star Magazine, print edition, October 19, 2009]
Raven looks great now. I know when I lose weight and people tell me I look good, I'm initially flattered but then I think about and am like "did I look like sh*t before, or what?" It's like you can't win either way, and you want people to notice but not make a big deal out of it. You do feel a lot more confident, though, and that carries over into every area of your life. Congratulations to Raven. I know I'd rather see her on the cover of a magazine than Khloe Kardashian. There's something smug about Raven, although maybe I shouldn't judge her based on the faces she makes in pictures. The fact that her bra is hanging out is also influencing my opinion of her.
Header images credit: Fayes Vision/WENN.com. Raven is also shown on 10/1/09 (studded jacket) credit: PRPhotos
Raven is shown in all black outfits "after" – she's shown in a white blouse with black jumper and a green dress "before"