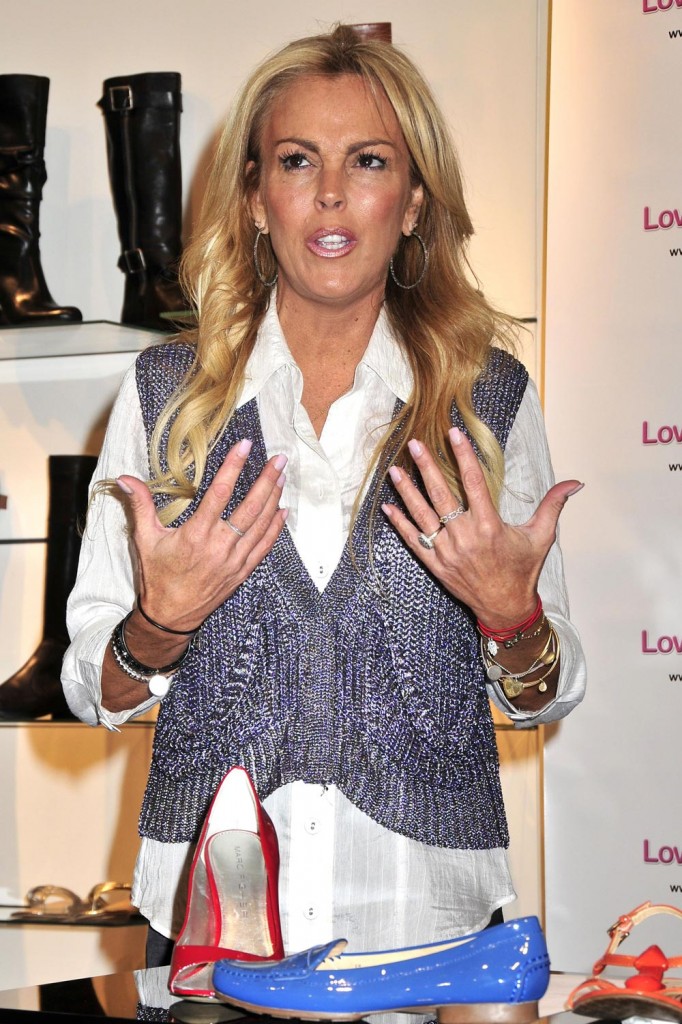 Michael Lohan has spent this week giving several interviews about Lindsay Lohan's addictions. One of the many problems I (and others) had with Papa Lohan's statements was that Michael seems to think that Lindsay is just a prescription pill addict. Not crack, not meth, not coke, not heroin. Just pills. Just yesterday he announced to Radar that he was planning a half-assed public intervention for Lindsay, but made sure to announce that if Dina "wasn't on the same page" Lindsay's "intervention" would fail. Now Dina has responded to Michael's claims, and she's giving him a run for his delusional money. By the way, Dina said all of the following as she was launching her line of budget footwear "Shoe-Han" yesterday. I would mock her sweater vest, but quite honestly, I think she looks ten years younger than Lindsay.
Dina Lohan has blasted her ex-husband, Michael, for claiming the family was planning an intervention to get their troubled daughter, Lindsay, to deal with her alleged addiction to prescription pills.

Furious Dina told Page Six yesterday: "I don't go — like my ex — on national television and make things up. He's estranged from Lindsay; he doesn't know what's going on in her life. Michael doesn't talk to her."

"I've had full custody of all my children for the last 10 years. He has been incarcerated for some of that time, so whatever is going on in Lindsay's personal life is our business. And for him getting paid to say things about her when he's five months behind in child support is wrong."

She continued: "I can't change Michael to make him do the right thing — that's up to him and God. But it is hurtful for a child for her own father, whom she has no relationship with, to say things in public about her like that."

When we asked if Lindsay does have addiction problems, Dina, who sounded tired and emotional, said, "I have no idea what he is talking about. I can't comment on everything my ex says."

Lindsay was also hurt by criticism of her debut Ungaro fashion line. Dina said, "The critics can say whatever they want, but Lindsay is a genius."

She said that, despite her deal with the French fashion house, Lindsay would also be creatively involved in Dina's shoe line, to debut in May. But the name won't be "Shoe-Han." Dina explained, "We are not going to announce the name so every Google and MySpace buys the domain name. Lindsay is signed to Ungaro, but she will definitely have input because she is so talented."

Taking a final swipe at her daughter's detractors, Dina pleaded, "Leave Lindsay alone. Let her be a real 23-year-old. Let her grow, and let her artistic abilities flourish. Stop judging the Britneys and the Lindsays. They are very creative girls, and that is a gift from a higher power of God."
[From Page Six]
Oh. My. GOD. Alright, it's one thing to be an abusive a-hole trying to get a quick press hit off your damaged daughter's obvious cracked-out existence (re: Michael). It's quite another to be so f-cking delusional that you look at Lindsay's sorry state and think "genius" or "a gift from a higher power of God". And since when did heart-shaped pasties become a "genius" fashion statement? Probably the same time someone said "Hey, let's get Dina Lohan to design some shoe!" By the way, "Shoe-Han" R.I.P. I'll miss that name.
This actually isn't the first time Dina's dropped the word "genius" when describing Lindsay. Over the summer Dina claimed, "She's a genius. Such a good heart. Lindsay will direct one day. She loves directing." Yeah, directing crack rock into the pipe.
Here's Dina launching her "Shoe-han" line in NY on 10/8/09. Credit: WENN.com