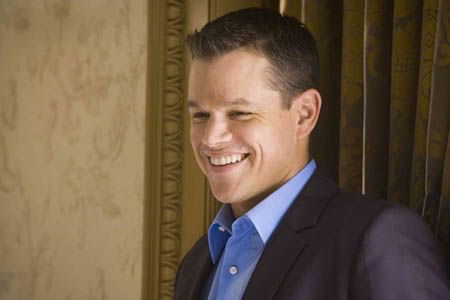 I swear to you that I had an, uh suggestive dream about Matt Damon last night. This is not an uncommon occurrence, but I felt like a psychic this morning when I discovered that Damon was just named sexiest man of the year by People Magazine.
The thing is, Damon sent People Magazine a letter thanking them for the ego-boosting honor, but turning them down! He said that he doesn't usually talk about his personal life. He also suggests that New England Patriots Quarterback Tom Brady would make a better Sexiest Man Alive. You just know he has a man crush on him:
But when the actor learned he had won the title, he wrote the publication a letter turning it down.

The magazine's Ericka Souter explained: "He wrote People a 'fabulous' letter explaining that he doesn't normally talk about his personal life."

She said he was blushing when he found out.

Damon wrote: "You just gave an aging suburban dad ego boost of a lifetime."

The magazine said it chose married dad-of-one Damon, 37, for his "irresistible sense of humour," "his dedication to his family", and his "heart-melting humility."

Damon gave People permission to reprint the letter, featured in the new issue, out later this week.

Last year, Damon's Ocean's Thirteen co-star George Clooney was in top spot, for the second time.

Others in the running for this year included football ace David Beckham, actors
Brad Pitt, Patrick Dempsey, and Jake Gyllenhaal, and chart star Justin Timberlake. Scots actor Gerard Butler, of 300, was also considered.

Meanwhile, in his letter to People, the actor suggested New England Patriots quarterback Tom Brady – who is dating supermodel Gisele – should have taken the top spot.
[From Showbizspy.com (site has automatic video)]
Last year George Clooney, the 2006 "Sexiest Man Alive" winner, joked about how Matt Damon wanted the title. He said "I gotta say, this is a very big disappointment for Matt, because he did run a very good campaign. If you've been around him, you know he's sexy. His eyes pop. They have a twinkle. He's got a good smile. He's quite the dancer. He does rock a Speedo in Ocean's 13."
As for when Damon should be named sexiest, Clooney said last year that "Matt's got a couple of years left before it's time for him."
Maybe Damon will win again another year and will actually accept the award. He has plenty of time left. At 37, he's eight years younger than Clooney was when he last took the title. Sean Connery won in 1989 at the age of 59! Matt strikes me as the type that will hold on to his looks for at least another decade, but I'm completely biased. Matt Damon is the sexiest man alive in my book, and my subconscious agrees.
Other sexiest men alive this year include Patrick Dempsey, Ryan Reynolds, Brad Pitt, James McAvoy, Johnny Depp, Dave Annable from Brothers and Sisters, Will Smith, Javier Bardem, Shemar Moore from Criminal Minds, Ben Affleck, Adrian Grenier, Will Yun Lee from Bionic Woman, and Justin Timerblake.
Here are a bunch of pictures of my two favorites, Matt Damon and Johnny Depp. Photos of Damon in Oceans 13, The Bourne Ultimatum and The Bourne Supremacy from Allmoviephoto. Johnny Depp is shown in stills from In Hell and Secret Window. He is also seen at the premieres of Pirates of the Caribbean: At World's End on 5/19/07 and Pirates Of The Caribbean: Dead Man's Chest on 6/24/06, thanks to PRPhotos.