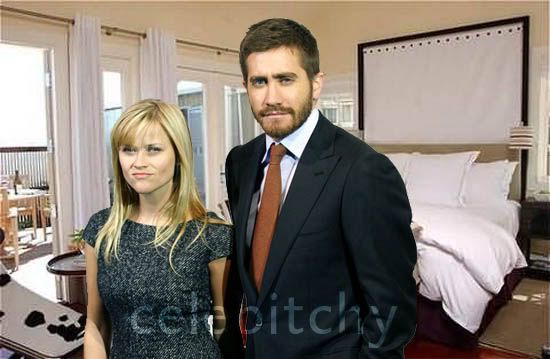 Yesterday we posted a less than believable story about Reese Witherspoon and Jake Gyllenhaal supposedly going to church together, but taking care to enter and leave separately. The unlikely pair were said to be attending a Catholic church, and at least two commentors noted that Reese usually attends an Episcopalian church, with reader UrbanRube saying that she goes to Reese's Episcopalian church and it's not the Catholic one mentioned in the original In Touch article that we quoted.
Now there's news that the loved-up maybe-religious couple actually took a romantic mini-vacation together in California's Napa Valley. They are said to have spent the evening in a private home at a luxury resort:
As PEOPLE reports in its latest issue, Witherspoon, 31, and Gyllenhaal, 26, checked into the Carneros Inn in the Napa Valley last Sunday, and went on to spend a cozy 24-hours in one of the resort's private homes.

"They were very affectionate with one another," says an onlooker. "They were cuddling, and he kept giving her little kisses."

The two even bailed on a couples massage in favor of an evening in, the source says, adding, "It was clear they wanted to be left alone."
[From People.com]
Maybe it is the real thing. There were stories in the spring before their supposed breakup that Jake was acting fatherly toward Reese's children and that Reese was going slow with the relationship because she didn't want the changes in her love life to affect her kids. I was pretty skeptical about these two, but it's possible there is a real relationship there and that they truly did try to hide it until it was convenient for them to go public.
The tabloids were all analyzing the body language in those too-good-to-be true Rome photos of them, and body language experts declared they were the real deal. Add that to a night away in a romantic hotel and I'm semi-sold. Their film Renditionwas out nearly a month ago and can't really benefit much from their romance at this point, but there is the DVD release. Like Jennifer Aniston and Vince Vaughn, we might hear more about these two once their film is available for home viewing. It's slated for release in February so stay tuned.
Here are pictures of the resort where they are said to have spent the night, because there certainly aren't any more pictures of Reese and Jake together. Pictures from Expedia and VacationIdea.com.
Update: There are photos of the two from their romantic weekend on US Weekly. Now that I see the pictures, I'm not so sure they're legitimate. These seem a little too staged to me.