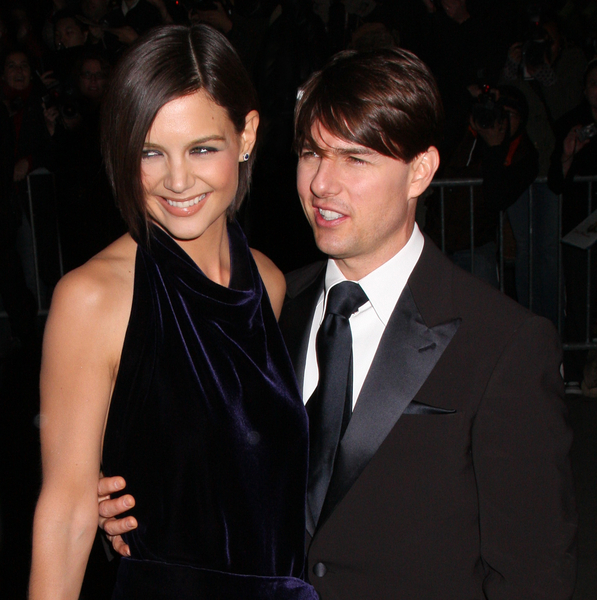 The National Enquirer has a cover story this week yelling all about Tom and Katie's $600 million marriage contract in those bright yellow all-caps fonts the tabloids are favoring lately. I'm not sure if this is a new story or one of those recycled and embellished tales that we've already partially heard, but Katie doesn't get the over 1/2 billion unless she's shackled to diminutive Tom for life. She supposedly signed a contract granting her a per-year bonus to encourage her to stick around. This sounds familiar, but since I want to push off any potential Britney coverage on JayBird and am not interested in covering Ellen Pompeo's quickie wedding, you'll bear with me:
The contract, which reportedly runs about 100 pages long, was hammered out by Tom's attorneys and Katie's representative, sources say.

In it, Tom is said to have pledged a sliding scale of bonus-like payments to Katie based on the number of years they're wed. But the… star sweetened the pot considerably to keep Katie out of divorce court. Just by reaching the one-year milestone, Katie is guaranteed up to $70 million, said the source. "If the marriage lasts five years, she could get an estimated $10 million extra, which would bump her divorce payoff up to $80 million," added the source.

"If Tom and Katie are still happily married after a decade, she would collect a possible $100 million should the relationship later collapse.
[From The National Enquirer, print edition, November 19, 2007]
The article goes on to say that if Tom and Katie are married for life, Katie will get half. Tom's fortune is currently estimated at $600 million, but it could double over the next decade due to his job as a studio head at United Artists.
And Katie has "reportedly already received $3 million, plus a $35 million Beverly Hills mansion, as a present for giving birth to Suri," they add. Plus she'll get a bonus for each child.
Predictably there is also a non-disclosure clause stating that she can't provide any personal information about Tom or talk about the weird shit she witnessed once they split up.
I think The Enquirer is just rehashing an old story, but it's interesting enough. It seems like they're trying to get Katie to stick around since she gets $70 million for the first year but has to wait four more years to meet the next payoff benchmark of an additional $10 million. It hardly seems worth it if she's already pocketing $70 million for her trouble.
In Touch Weekly claims to have an exclusive this week with "Tom's Secrets Revealed," but the story is little more than the already-known news that Andrew Morton's much-anticipated biography of Tom is coming out January 15. In Touch does have a quote from a representative from the publishing company saying "It's going to be explosive," and "No one has dared to write a book like this. So it's going to really be dealing with stuff no one has written about before." [From In Touch, print edition, November 19, 2007]
We reported yesterday that author Morton has sold his home and gone into hiding due to threats from Scientology goons, who play dirty with everyone who dares question their scary cult's practices. As for how Katie is handling the potential crisis, In Touch speculates that she "likely worries that the author will readdress rumors about the paternity of their daughter, Suri," and they quote a supposed source as saying that "the rumors are really, really breaking her heart."
I think she should take the $70 million and run, but maybe she's holding out for the bonus. She has expensive taste now and surely that plays right into Tom's hands.
Tom and Katie are shown on 11/6/07 at Museum Of The Moving Image Black Tie Salute Honoring Tom Cruise. Thanks to PRPhotos.