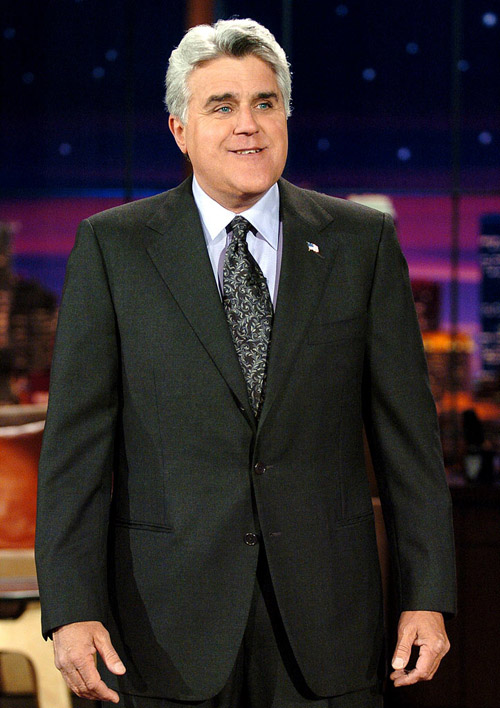 This week's National Enquirer came out before the news that Jay Leno refused to cross picket lines and that all of his non-writing staff were threatened with layoffs at the end of this week. It looks like the writers' strike isn't going to end any time soon, but if The Tonight Show can manage to find guests hosts they might be able to come out of reruns and save staff jobs. It's going to be a tricky situation because it could be hard to find stars who are also willing to cross picket lines by appearing on the show during the strike.
Whatever happens with The Tonight Show, Jay Leno was slated to be replaced in 2009 with Conan O'Brien. Jay was hoping to continue hosting the show well into his old age and is pissed that NBC is replacing him. So he's planning to move to Fox and get another talk show that will air at the same time as The Tonight Show and directly compete with Conan when he takes over hosting duties. He also plans to take all his staff with him, and considering how shitty NBC is treating them, they're likely to come:
[Jay Leno] is planning to get the last laugh – by jumping to Fox TV, say sources. Jay wants to go head-to-head against Conan with pretty much the same show he's doing now – and the comic wants to take all his NBC staffers with him, according to insiders.

He even wants to continue to tape at the same Burbank studio where he's made a fortune for NBC.

"Jay is a creature of habit, and he'd like to stay right where he is," revealed a source close to Leno. "He's only 57 – and he feels as if he could do this for another 15 years."
[From The National Enquirer, print edition, November 19, 2007]
Of course who knows what the future of television will be if the writers' strike goes on for months as predicted. The networks seem to be playing hardball, and they may ultimately be the ones to lose if people become accustomed to getting their entertainment elsewhere. Familiar personalities like Leno could be off the air until spring. Although it seems like the nightly interview shows will always be a television staple, you never know how this will play out. Leno's show has suffered the most in the ratings, experiencing a drop of over 750,000 homes. Whether people will come back for a guest host, or even when Jay finally returns, remains to be seen.
Header image from tv.yahoo.com.