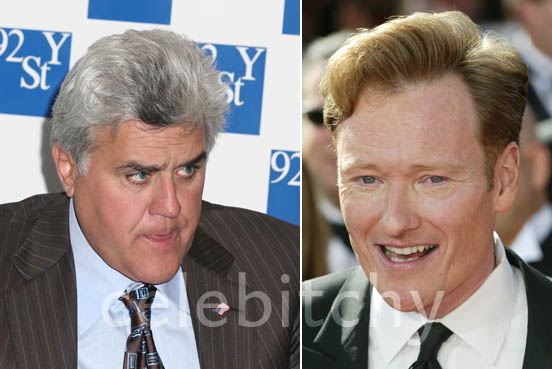 You are either a Leno fan or a Letterman fan, but everyone seems to love Conan. (At least in the land of Cara anyway.) Jay was rumored to be hesitant to hand over the reigns to a successor. However, NBC has made a statement regarding the host status of "The Tonight Show."
"Conan O'Brien will take over `The Tonight Show' in 2009," NBC Universal President and CEO Jeff Zucker said Monday in New York at an event arranged by Syracuse University's S.I. Newhouse School of Public Communications. Zucker said he'd like Leno to remain with the company and that "we are in those conversations now. I'm hopeful that Jay will be with us."
Jay has been sitting in the host chair for 15 years. Conan O'Brien was set over 3 years ago to take over for Leno. He has also stated that he is perfectly ok with leaving, but as the clock ticks his attachment to the show keeps him wanting more. Johnny Carson was 74 when he stepped down and Leno will be 59 in his 2009 departure. The air of Jay being pushed out rather than bowing out was addressed in the LA Times and through other various media outlets.
"Apparently because O'Brien, 44, has a younger audience than Leno, 57. Younger is always better in television, although CBS is evidently not as concerned about the age of its late-night host. David Letterman, 60, has a deal with that network through 2010. Maybe the Peacock Network just wants someone with a longer-term future, so this is where you get off, Jay."
Then the CNN rumor reared its head in the debate. Word on the street is that the news based network wants Leno to replace Larry King. Contractually speaking, Leno is to remain off the air for at least six months.
It's all very reminiscent of the Johnny Carson replacement issues NBC had last time over the show. Either way, I wish the best for Jay. But I can't wait for Conan to get his red head on "The Tonight Show." That man is over 6 '4" of walking funny in a suit.