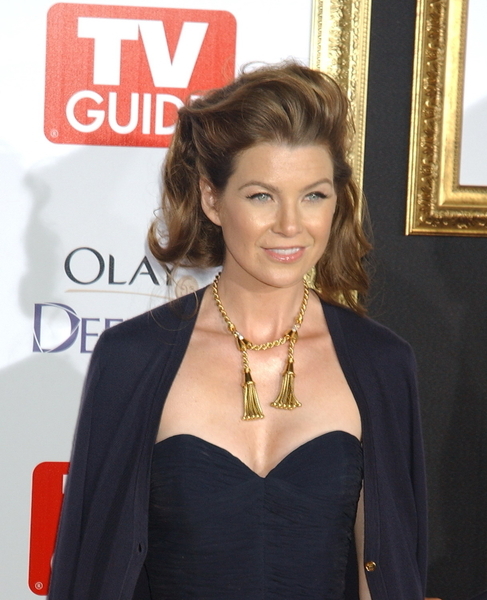 Ellen Pompeo got married last Friday – and she didn't exactly go the route of fellow Grey's Anatomy star Katherine Heigl, who's been planning (and talking about) her lavish outdoor wedding to singer Josh Kelley for what seems like years. Since she announced her engagement to music producer Chris Ivery last year, Pompeo has made it clear that she didn't want a big fancy wedding, and claimed that the couple would probably just elope. She'd never give a date or any wedding details… I thought she was just been sneaky and trying to keep the paparazzi away. It turns out she was serious, and really didn't want any kind of wedding at all. The pair got married at New York's City Hall this past Friday. The only witnesses were Mayor Michael Bloomberg and First Deputy Mayor Patti Harris. I know some mothers that are going to be piiiiiiiiiiised. Seriously.
There's at least one TV heroine out there who doesn't need any writers to help craft her happy ending.

Grey's Anatomy star Ellen Pompeo tied the knot with music producer Chris Ivery in a brief civil ceremony held at New York's City Hall Friday. "They are over the moon," Pompeo's publicist, Jennifer Allen, said of the newlyweds. According to Allen, the low-key ceremony lasted just a few minutes and was conducted by a city clerk. Mayor Michael Bloomberg, a fellow Boston-area native, and First Deputy Mayor Patti Harris served as the couple's witnesses and were the only people present for the civil vow swap.

It's the first wedding for both. "I'm very happy for her," Ellen's father, Joseph Pompeo, told People, adding his famous offspring informed him after the ceremony of his father-in-law status. "She just didn't want a big thing."

In keeping with the under-the-radar vibe of the nuptials, the newlweds have opted out of a honeymoon trip, though last month Pompeo told People magazine she and Ivery were planning a trip to Bologna, Italy, "very soon." In the meantime, they were spotted Sunday night celebrating courtside at a Knicks game at Madison Square Garden.
[From E! News]
Both Pompeo and Ivery are from Boston, and grew up within a few minutes of each other. They never met until they both lived in Los Angeles in 2003, supposedly at a grocery store. I don't buy that. That's like hearing a couple met when they were seated next to each other on a plane and fell in love. It's cute as hell – everyone wishes that would happen to them, you know, you both reach for the same orange, your hands touch, you laugh, apologize, and then get married – but I've yet to meet anyone that's actually happened to. I'm guessing they met online. Celebrities are known to be desperate that way.
Chris Ivery has a somewhat shady background that Pompeo's friends and family were said to be a bit worried about. He has at least 12 criminal convictions for drug dealing from 1987 to 1998, and served three months in jail for possession of cocaine and pot with the intent to supply. He then served some time for trafficking in cocaine, in addition to 14 months in federal prison for eight more drug charges. Pompeo has clearly stated that she already knew about Ivery's past and has no problem with it. She's been with him for four years, so it's not like they rushed into anything. Let's hope his past really is behind them and they have a happy life together.
Picture note by Jaybird: Here's Ellen and Chris at the Paramount Pictures 2007 Golden Globe Award After-Party on January 15th. Header image of Ellen with some craaaaazy hair at the Emmy Awards on September 16th. Images thanks to PR Photos.