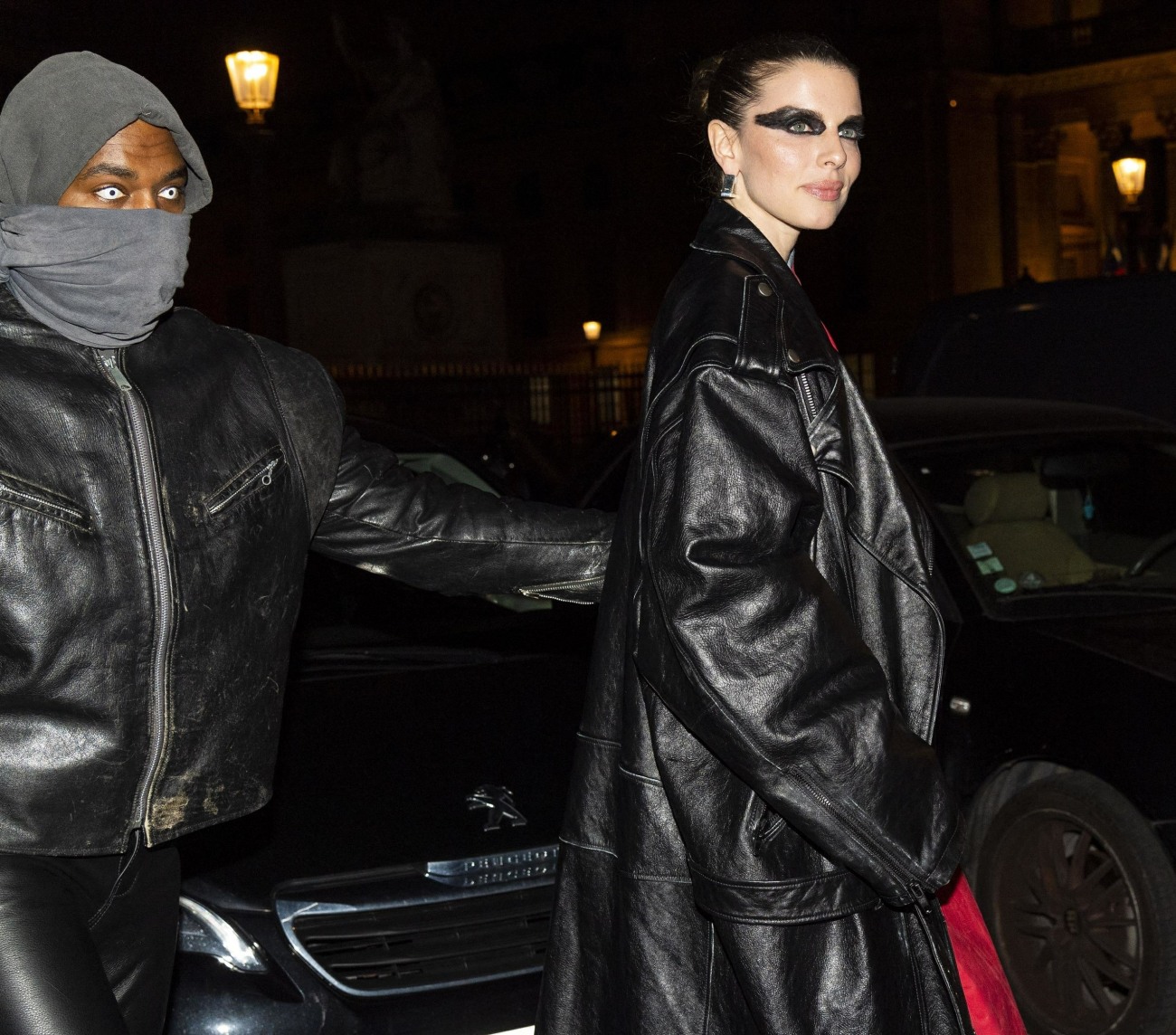 It's Julia Fox Month over here, so enjoy. Who knew last month that an Italian-born New Yorker named Julia Fox would become the It Girl of gossip in 2022? Life is so weird. Anyway, we're still in the afterglow of Julia and Kanye West's successful trip to Paris. They did some fashion events, he introduced her to tons of fashion people, she wore custom Schiaparelli and terrible makeup. I see a lot of comments calling Julia average-looking and you guys are smoking crack! She's really beautiful, but ever since Kanye started styling her, she's looked like something the cat dragged in. Speaking of, while Kanye hired a big glam squad to service Julia in Paris (a makeup artist at Pat McGrath even worked on her), Ye was also touching up her makeup himself:
According to Julia Fox, Kanye West is a makeup mastermind. Because apparently the 44-year-old rapper is the brains behind her wild black eye makeup at Paris Fashion Week.

Since making her red carpet debut with West at the Kenzo fashion show on Sunday, January 23, the 31-year-old actress has been sporting some fairly controversial shadow that resembles that of Natalie Portman in The Black Swan. And while social media has been filled with memes stating that the glam is a "nightmare" and looks straight out of a scene from Dark Night Rises, she's made it clear that she's all about the vibe West created.

"Wanna know who my fave makeup artist is?" the Uncut Gems star captioned a Monday, January 24, Instagram Story that showed West taking his finger to smudge out her eye makeup. Because yes, the Donda rapper is apparently adding makeup guru to his lengthy resume.

Unsurprisingly, Twitter went into a tizzy thanks to this tidbit of information. "You think Kanye just watched Black Swan for the first time or what's going on with Julia Fox's eye makeup," a user questioned, while another joked, "I bet Kanye wanted Kim [Kardashian] to do those blacked out eye makeup looks that Julia Fox is wearing but Mario [Dedivanovic] refused."
This whole thing is giving me flashbacks to when Kim and Kanye first got together too. Pre-Kanye, Kim had her own bouncy, colorful, C-lister style, full of clingy dresses and mass-market pieces. She also had more natural makeup back then. When Kanye began styling her, he tried to make her more monochromatic (all black, all white or all beige) and her makeup got a lot more extreme too. What is his thing about getting with naturally pretty women and making them look like raggedy robots?
Meanwhile, Julia has been workshopping a portmanteau for her new relationship. On her IG Stories, she posted some photos with the comment "Juliye." Oh, honey. You think your name would come first in a potential portmanteau? No, baby girl. It will be Kanlie or nothing.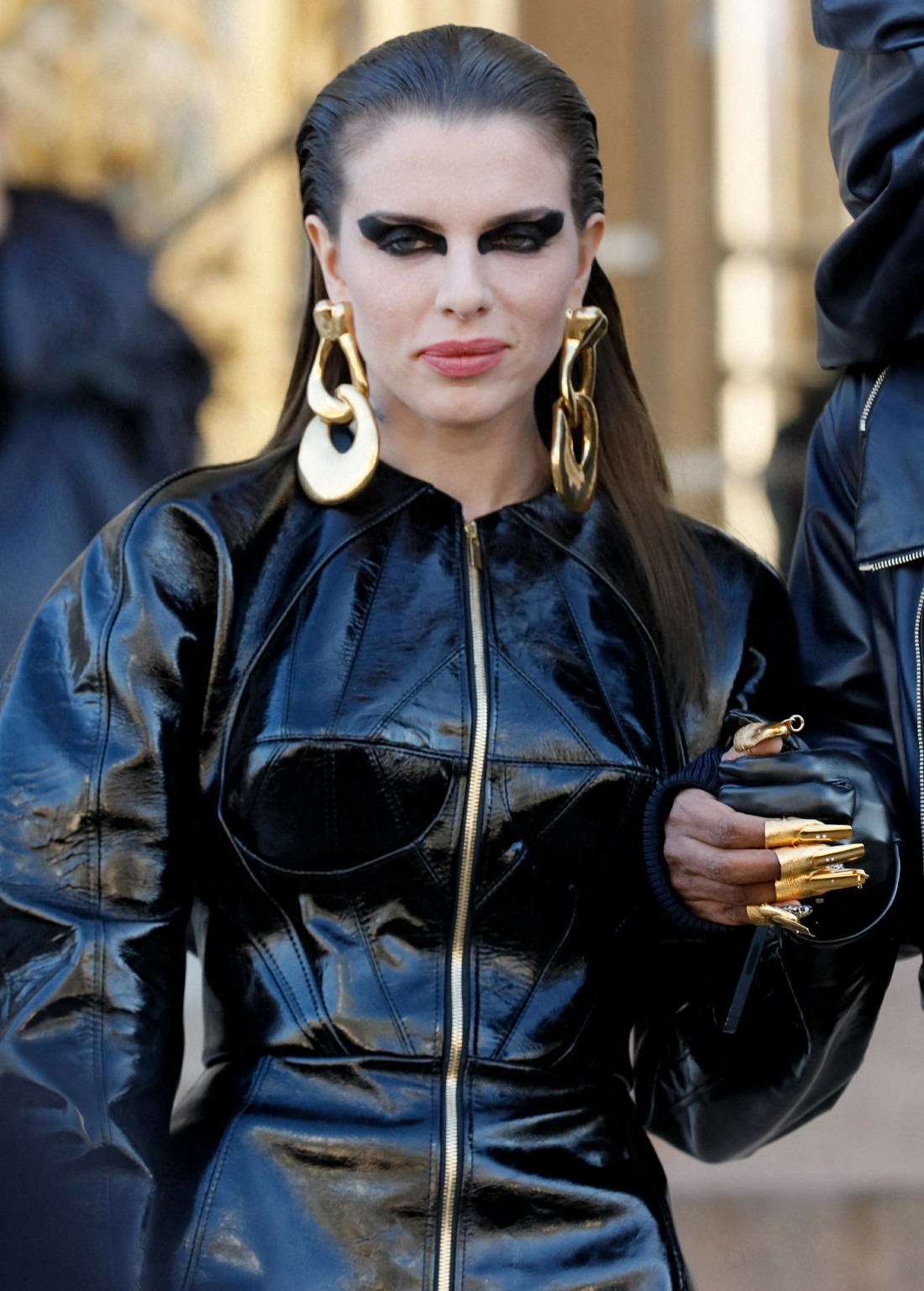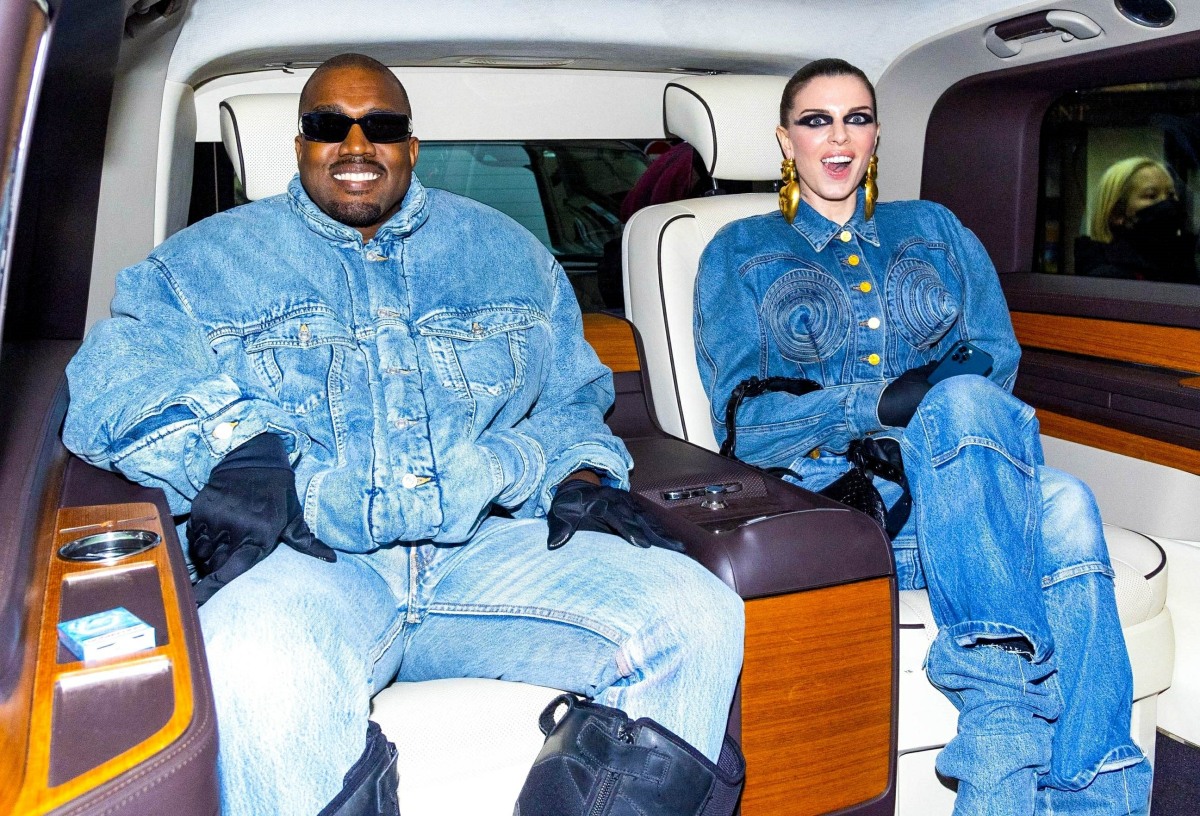 Photos courtesy of Backgrid and Instar.