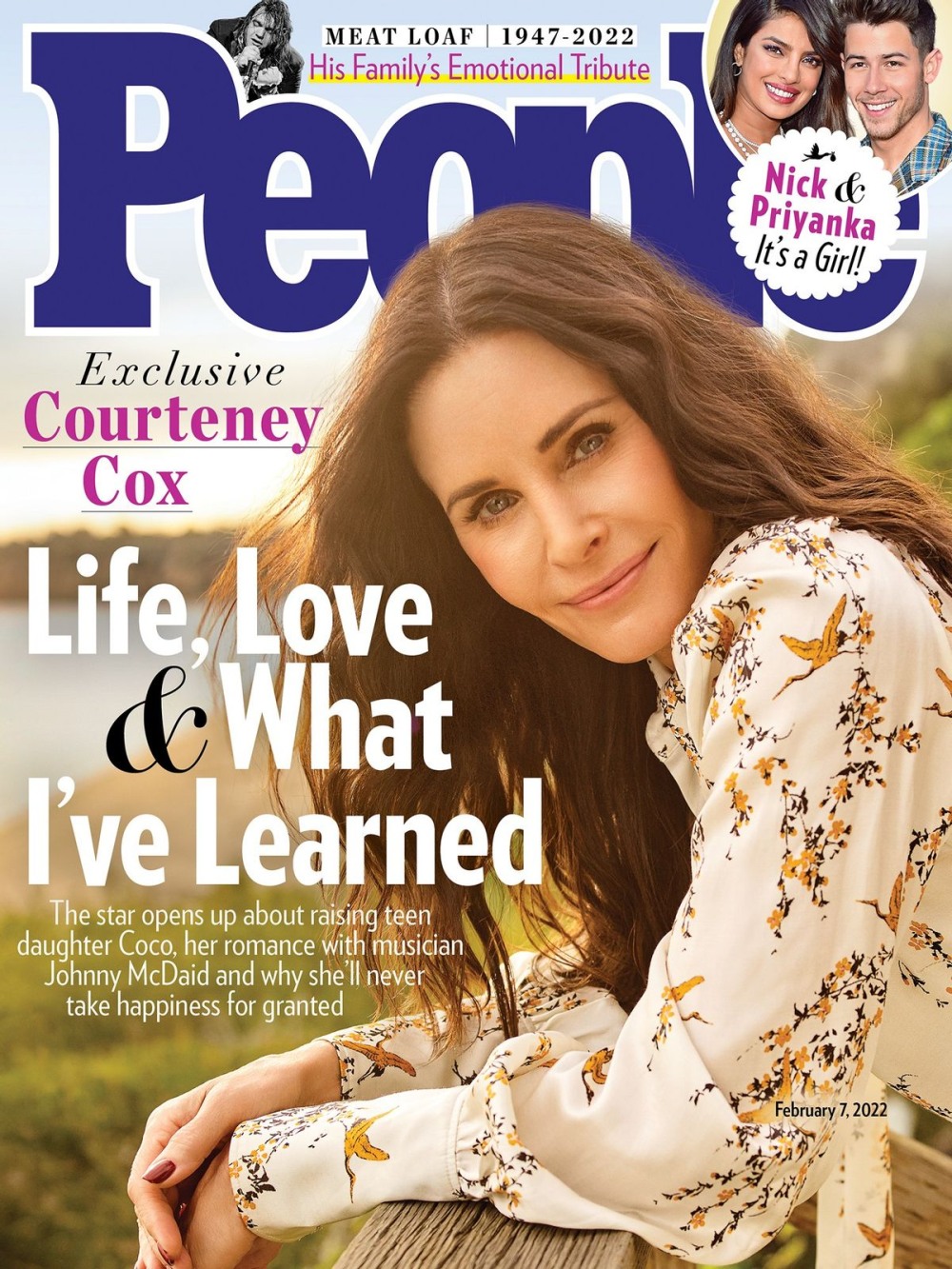 Courteney Cox has always seemed pretty cool, in a very anal retentive way. Like, she comes across as someone who is extremely Type-A, very organized, ambitious, intelligent and someone who doesn't tolerate fools. The only thing I haven't enjoyed about Cox in recent years is all of the botched cosmetic work on her face – for someone so cool and organized, it's painful that she's done that to herself willingly. For the better part of eight years, Cox has been with Johnny McDaid. There was a time when they were on-and-off, but they've been solid for years now. That's what this week's People Mag cover story is about: what she's learned about life and love at the age of 57.
What she's learned about love: "I've learned you can't take a lot personally. I used to think, 'Oh well, if you loved me…' It's not really about you. People do things because of their own history and their own past. I had to learn that lesson for sure."

Being forced to spend time apart during the pandemic: Having spent time apart during the first part of the COVID-19 pandemic when McDaid was stuck on lockdown abroad, Cox is even more appreciative of their longtime romance. "I've learned that love is precious," she adds. "As I've gotten older, I've realized that."

She adores him: McDaid is "a great listener. And I've never met someone more patient. He's a great advice-giver. I love his heart, his intentions. His morals. He's extremely talented and obviously musical, but he's a poet and a writer. He's just so smart, and I find that really sexy. And then he is gorgeous."

Whether she would get married again: "I don't know. I'm definitely not opposed to it. I just don't think about it."

She likes being home: "I like to putter. I like to get things done during the day. And then around 6 o'clock, it's time to relax, whether it's with my close friends who come over or with Johnny. I cook a lot."

She hosts regular Sunday gatherings for friends at her house. "My family used to go to my grandmother's house — and I have 21 first cousins — every single Sunday at 5 o'clock. I like bringing people together. I try to accept people the way I'd want to be accepted."
In case you were wondering why this cover story sort of came out of nowhere, she is promoting something: her new home-care product line, Homecourt. Considering she's known as someone really into real estate, renovations and having beautiful homes, that's a good fit for her.
This is kind of profound? "I used to think, 'Oh well, if you loved me…' It's not really about you. People do things because of their own history and their own past…" I think that for me personally, I still resort to thinking of romance/love as fundamentally transactional, "if you love me, you'll do this, if you want to be with me, you'll act this way." But what she says is right – people do sh-t because of their own histories. Cox and McDaid were engaged at one point, and I actually had to do a double-take because I thought maybe they had gotten quietly married? But I guess not.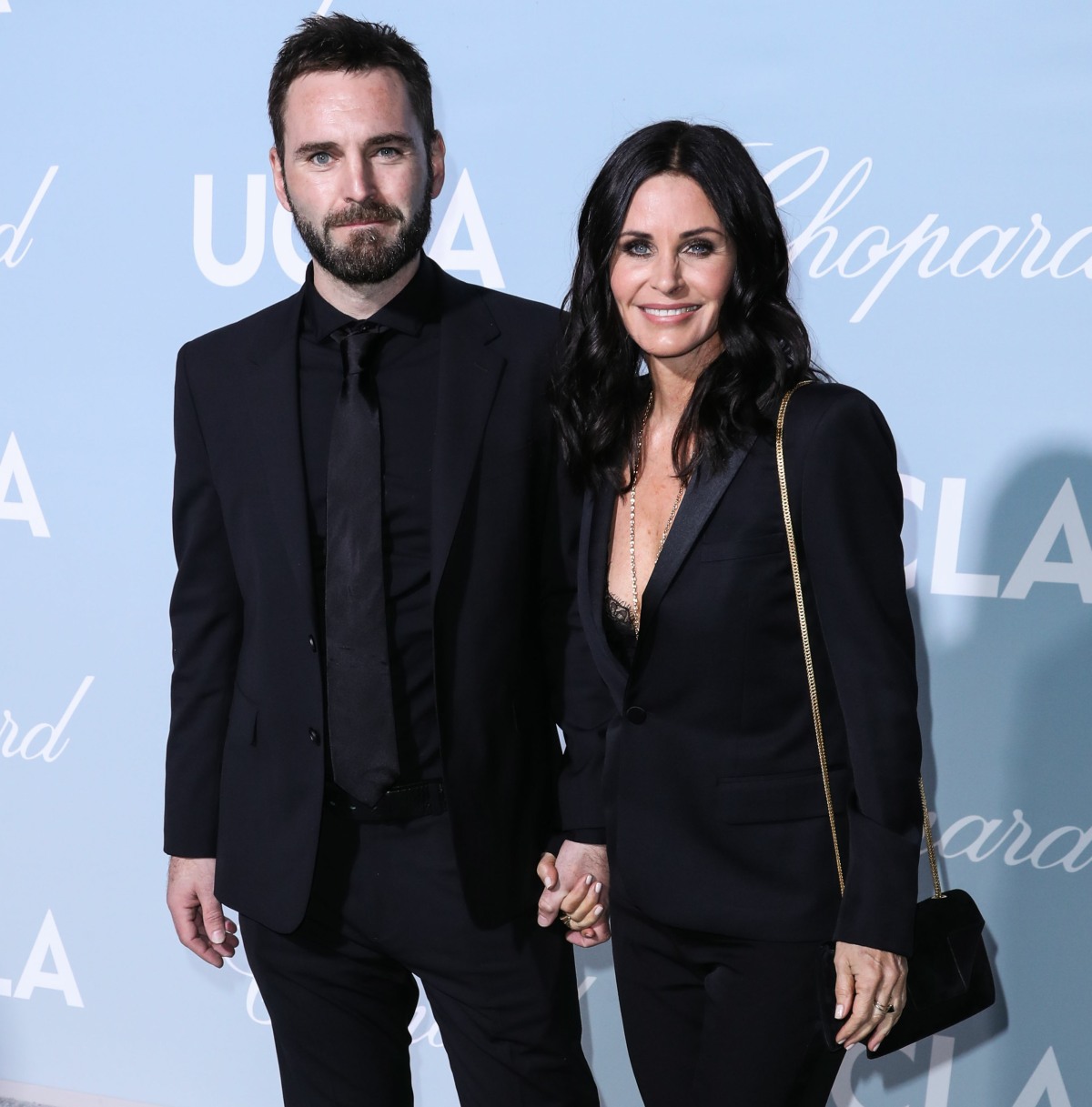 Photos courtesy of Avalon Red, cover courtesy of People.

BEVERLY HILLS, LOS ANGELES, CA, USA – FEBRUARY 21: Singer Johnny McDaid and partner/actress Courteney Cox arrive at the 2019 Hollywood For Science Gala held at a Private Estate on February 21, 2019 in Beverly Hills, Los Angeles, California, United States. (Photo by Xavier Collin/Image Press Agency),Image: 535403986, License: Rights-managed, Restrictions: WORLD RIGHTS – Fee Payable Upon Reproduction – For queries contact Avalon.red – sales@avalon.red London: +44 (0) 20 7421 6000 Los Angeles: +1 (310) 822 0419 Berlin: +49 (0) 30 76 212 251 Madrid: +34 91 533 4289 – Fee Payable Upon Reproduction – For queries contact Avalon.red – sales@avalon.red London: +44 (0) 20 7421 6000 Los Angeles: +1 (310) 822 0419 Berlin: +49 (0) 30 76 212 251 Madrid: +34 91 533 4289, Model Release: no, Credit line: Xavier Collin/Image Press Agency / Image Press Agency / Avalon
BEVERLY HILLS, LOS ANGELES, CA, USA – FEBRUARY 21: Singer Johnny McDaid and partner/actress Courteney Cox arrive at the 2019 Hollywood For Science Gala held at a Private Estate on February 21, 2019 in Beverly Hills, Los Angeles, California, United States. (Photo by Xavier Collin/Image Press Agency),Image: 535403993, License: Rights-managed, Restrictions: WORLD RIGHTS – Fee Payable Upon Reproduction – For queries contact Avalon.red – sales@avalon.red London: +44 (0) 20 7421 6000 Los Angeles: +1 (310) 822 0419 Berlin: +49 (0) 30 76 212 251 Madrid: +34 91 533 4289 – Fee Payable Upon Reproduction – For queries contact Avalon.red – sales@avalon.red London: +44 (0) 20 7421 6000 Los Angeles: +1 (310) 822 0419 Berlin: +49 (0) 30 76 212 251 Madrid: +34 91 533 4289, Model Release: no, Credit line: Xavier Collin/Image Press Agency / Image Press Agency / Avalon
62nd Annual GRAMMY Awards Arrivals 2020 held at the Staples Center in Los Angeles California. Featuring: Priyanka Chopra, Nick Jonas Where: Los Angeles, California, United States When: 26 Jan 2020 **ONLY AVAILABLE FOR SPAIN & USA**,Image: 563134144, License: Rights-managed, Restrictions: USA and SPAIN DIRECT SALES ONLY – Fee Payable Upon Reproduction – For queries contact Avalon.red – sales@avalon.red London: +44 (0) 20 7421 6000 Los Angeles: +1 (310) 822 0419 Berlin: +49 (0) 30 76 212 251, Model Release: no, Credit line: WENN / Wenn / Avalon