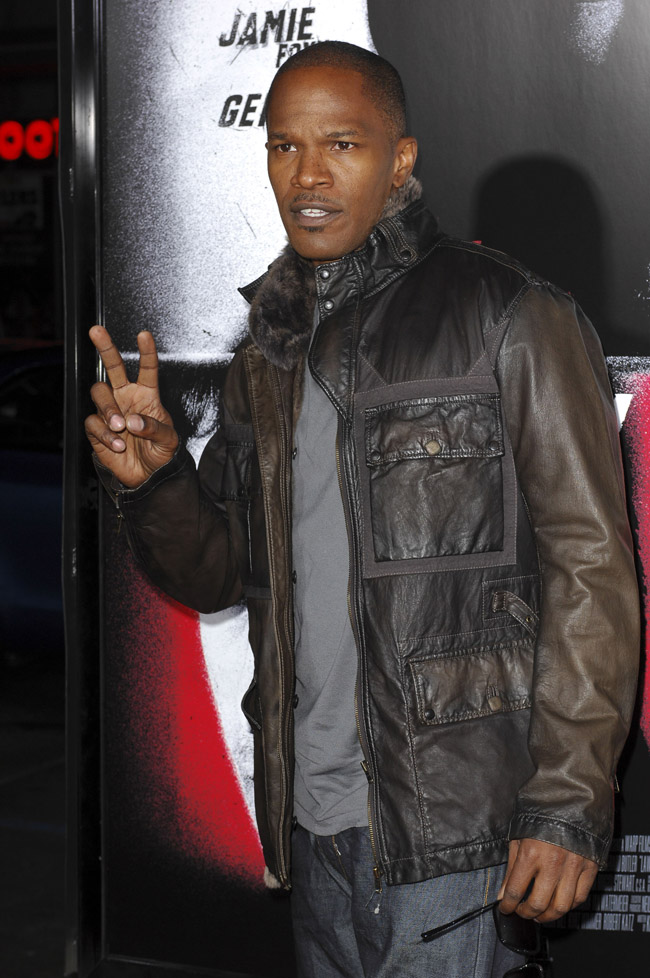 Jamie Foxx has been taking a secondary role for the promotion of Law Abiding Citizen, which gets a full theatrical release this Friday. Gerard Butler has been promoting this film for a few weeks now, and will be doing even more promotion this week as he chills out in New York City, rehearsing for his gig as host of this weekend's Saturday Night Live. Can you imagine it? Sigh… my guess is that there will be at least one skit where he's shirtless. And there will probably be (just guessing here) some kind of digital spoof of 300. Meanwhile, this interview with Jamie Foxx is literally the first thing I've seen Jamie do for his promotional duties beyond red carpet interviews at the premiere.
In Parade, Jamie talks about everything from R&B (it's for the ladies) to Roman Polanski. I guess with the content of LAC (Gerard's family gets killed, Jamie's district attorney cuts a bad deal with the killers, Gerard hunts down and tortures and kills everyone), Jamie and Gerard are going to get a lot of unimaginative questions about the American justice system and whether it's broken or whatever. Parade decided to ask Jamie about our failed justice system's current poster boy, Roman Polanski. Jamie doesn't go off as much as I would have expected:
Passing judgment on Roman Polanski.
"If it had been my daughter who was barely a teenager–my daughter is 15–Roman Polanski would be missing . . . period. It wouldn't even get to the court case. But, that's me and I wouldn't want anyone else to follow that because you should let the justice system work it out. On the other hand, I don't know Roman Polanski, but maybe if I had a relationship with him my answer would be different. I just think this whole issue is bigger than Roman Polanski."

Where do you draw the line?
"Revenge is a tough thing. When it comes to someone bringing harm to your family, it's hard to think about turning the other cheek. When I hear about things that we allow to go on in our society where women are harmed, I just knee-jerk. I've said some things publicly that my publicist keeps telling me I should keep to myself. I don't know if that's my Texas upbringing, but there comes a point where you just say, 'OK, that would be my tipping point. What would I do?' Some of things I've said I'd do to sexual perpetrators were pretty graphic. But I also read some stories of people taking the law into their own hands, which is bad too. So it's tough to know how far you'd go."

Trying not to get left behind with his choices as a singer.
"I'm just going to stay current. It's like all my R&B cohorts are out of jobs right now. Nobody wants to hear R&B. It's sad. If you want to be on the radio you got to stay young. My daughter always goes, 'Dad you sound old. You sound 50. Why don't you have a machine on your voice? They're not going to like that. You gotta sound young.' Then when she heard me sing 'Blame It,' she went, 'That's it. That's real music.'"

The celebrity challenge.
"It's hard to be a celebrity nowadays. It's not about your track record anymore. If you have a great movie, you're good. If not, people are ready to write you off. I think the only ones who are really winning are people like Will Smith. People go, 'Oh, it's Will Smith. I've got to see him, whatever he's in.' It's tough because the lines have been blurred. I was watching that reality show with Jon and Kate. They're huge, and I don't even know what they're huge for. They somehow crossed over because they're just as popular as Brad Pitt."

Beware of YouTube.
"If you're somewhat successful, you can keep on doing your thing. But don't get caught out there looking goofy. It's weird. When you do something that stinks, it's going to last forever on the Internet. There's always someone in the audience with a camera phone and if you're not 100%, you're going to be watching yourself on YouTube."
[From Parade]
He sounds almost… thoughtful. Of course, this is the same guy who, back in April, said on his Sirius radio show that 16-year-old Miley Cyrus should "make a sex tape and grow up…Do like Lindsay Lohan and start being a lesbian… Get like Britney Spears and do some heroin… get some crack in your pipe… Catch chlamydia on a bicycle seat." Of course, Jamie later apologized. And those just words. Granted, they were pretty gross, disgusting things to say about a 16-year-old, but it's not like Jamie physically assaulted a young girl. Like Polanski did.
Jamie Foxx at the premiere of Law Abiding Citizen at The Grauman's Chinese theatre in Los Angeles, California on October 6, 2009. Credit: WENN.