I follow a handful of celebrities on Instagram, but I only pay attention to a few of them. Eva Longoria is one I actively follow. I've noticed much more food content lately. She really caught my attention over Christmas when she posted a video of her family making tamales. It was fun and the tamales looked delicious. In Eva's interview with Women's Health, it sheds some light into her food content on IG. Eva said she find cooking therapeutic. She cooks breakfast, lunch and dinner for her family each day. And some days, it's just for her family because Eva sticks to an intermittent fasting schedule.
And then there's her family—Santiago and her husband, José Bastón, and, on the day we're talking, Eva's mother, visiting from San Antonio, all of whom need to be fed. "I cook them breakfast, lunch, and dinner," she says, as if it's no big deal. "It's therapeutic for me."

An intermittent faster, Eva typically eats within an eight-hour window each day, usually 11 a.m. to 7 p.m. "Breakfast is black coffee," she says, and after that comes her hour of exercise. "Then I make breakfast for my family." It's often egg whites and avocado or refried beans on flour tortillas (which she also makes from scratch). Sometimes she'll have a bite of her son's breakfast if it aligns with her fasting schedule—or, even if it doesn't fall within her "eating hours," bite into a bean taco, which she calls "the real breakfast of champions." Lunch is typically protein—steak, fish, or chicken—and vegetables, and dinner is another version of that or a hearty soup, like Italian wedding or tortilla.

"I've been dabbling with more plant-based ingredients," Eva says, and by that, she really means actual plants. "I grew up on a ranch where we ate what was on the land—when it was squash season, we ate squash for three months. It gave me such an appreciation for where food comes from: It comes from the ground. Beans are a big source of protein for us. I love making portobello tacos and jackfruit tacos, and cauliflower fried rice."

Sugar? She doesn't know her. "Olives, pretzels, popcorn, potato chips—that's my jam," Eva says. "I don't like sweets or chocolate, and people hate me for it. Bread too—I hate bread. I'm never tempted by the bread basket."
If you also follow Eva, you know that she dedicates much of her IG to workouts as well. Eva has become a fan of rebounding, workouts done on mini trampolines. Rebounding is also beneficial for mental health. Some therapists recommend it to patients. So much of Eva's life is shifting to overall wellness, something that helped inspire her new iHeartMedia podcast, Connections with Eva Longoria. I cook breakfast, but mostly just on school days. And I cook dinners. But I am not one who finds cooking therapeutic. I don't mind doing it, but I don't get that Zen feeling that some people do when they get in the kitchen. I get that once the food is at the table. More power to Eva, though, if she can find therapy in cooking food she can't eat.
I'm interested in her comments about seasonal, plant-based cooking. First of all, I absolutely need to include more plant-based options in my diet. But Eva is talking about something Anthony Bourdain used to critique American cooking for frequently. We cook a dish because we want to, but we should plan our menus around what's in season like Eva did growing up. To walk my comments above back a step, cooking isn't necessarily therapeutic to me, but planning a meal is. Working around crop availability should be my new therapy. I also don't hate Eva for not liking sweets, I envy her. I find savory cravings can be sated with less caloric options. I think it's a fine line between bread and tortillas, though. I love both. And honestly, reading this made me hungry. But my real take-away from the article is that Eva is in a good place in her life professionally, personally, spiritually, and clearly health-wise. She's worked hard to get there and I'm happy for her.
Her son Santiago is so adorable.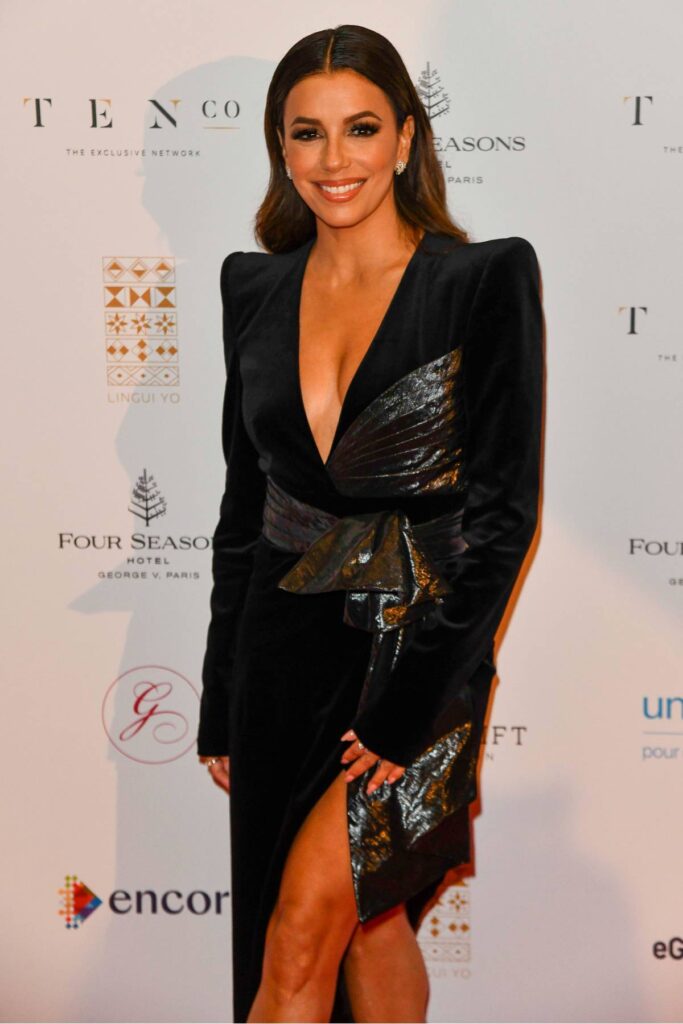 Photo credit: Instagram and Avalon Red