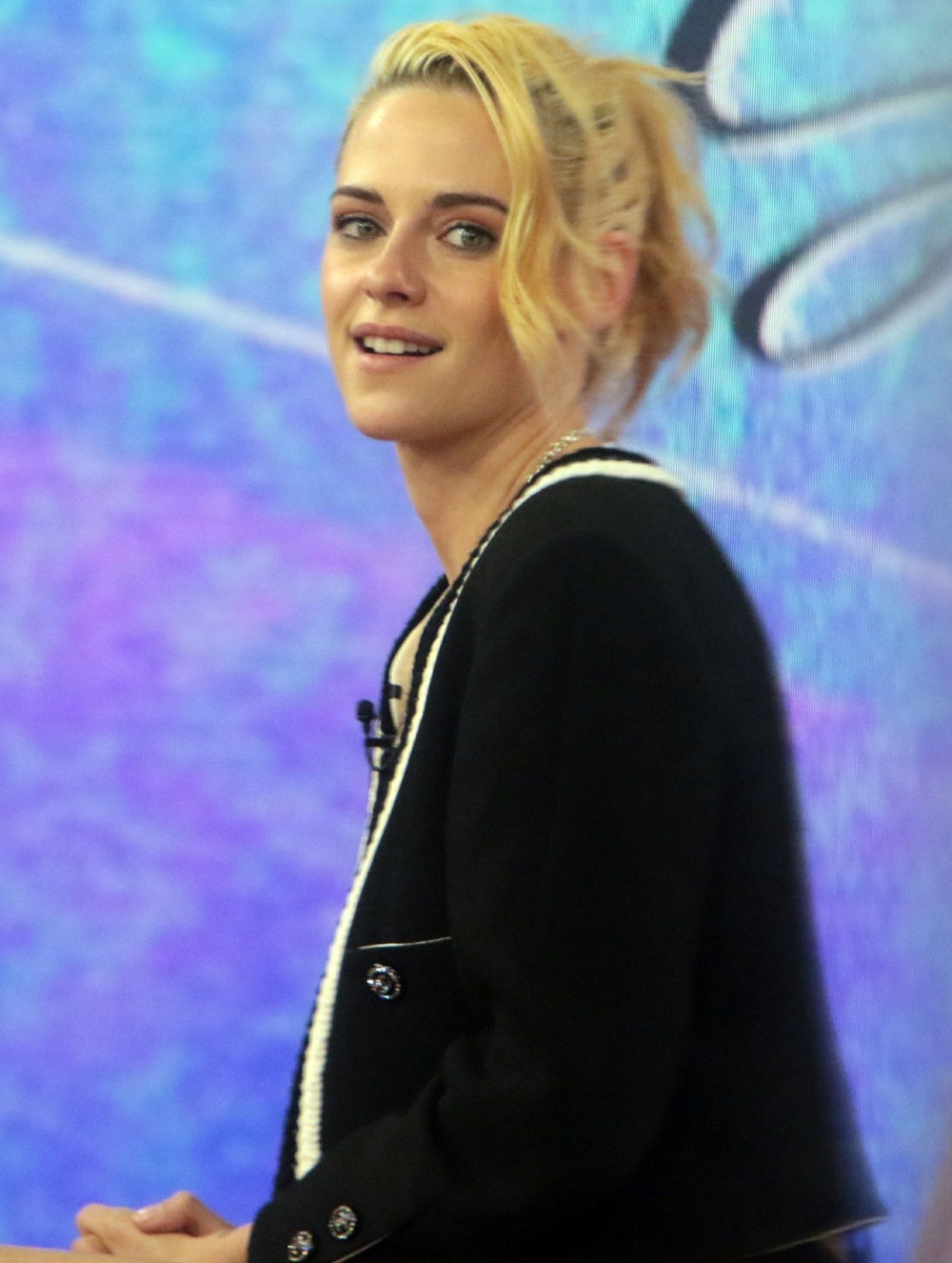 Of all of the Oscar nomination snubs and surprises, one of the biggest surprises for me was that Kristen Stewart didn't eye-roll her way out of a nomination for Spencer. Kristen was (arguably) snubbed at the BAFTAs and SAG Awards, and people were already discussing the fact that Kristen basically let it be known that Oscar campaigning is lame and embarrassing, so her peers were like "well, no nominations for you." But then Kristen really started hustling and campaigning in the final weeks before the nominations came out, and maybe that was why she got nominated. Plus, I do think people genuinely enjoyed her performance in Spencer. I'm okay with her nomination, but I might get mad if she actually wins. Kristen sounded very jazzed about her nomination as well:
Kristen Stewart is an Academy Award nominee! On Tuesday, the 31-year-old actress earned her first-ever Oscar nomination for her portrayal of Princess Diana in Spencer. Stewart, who was snubbed for a Screen Actors Guild Award nomination last month, will face off against Jessica Chastain (The Eyes of Tammy Faye), Olivia Colman (The Lost Daughter), Penelope Cruz (Parallel Mothers) and Nicole Kidman (Being the Ricardos) in the Actress in a Leading Role category at the 94th Academy Awards.

"WOW I wish Pablo and I were in the same country today," Stewart told ET in a statement, referencing Spencer director Pablo Larraín. "I wish I could see his face. I am speechless and humbled this morning. I am bowled over by this. I never thought in a thousand years I'd be in the company of these four incredible women. I would pay to make movies. I would make them if it was illegal. This is dream state, to share on this level. I am so touched and I am so grateful for the work that was generated on this film. I'm so proud to be a part of our film community. I am SO happy. It is a good day."
That hit all the right notes, and I'm grateful that she didn't pretend to be too cool to care. Kristen CARES! Even if she quietly thinks some things are uncool, she still cares. I also like that she didn't play the "I was asleep for the nominations" card – such a dumb card to play. Anyway, it's great that one of the most famous actresses of her generation is finally an Oscar-nominated actor. She's already a Cesar-Award-winner, remember that?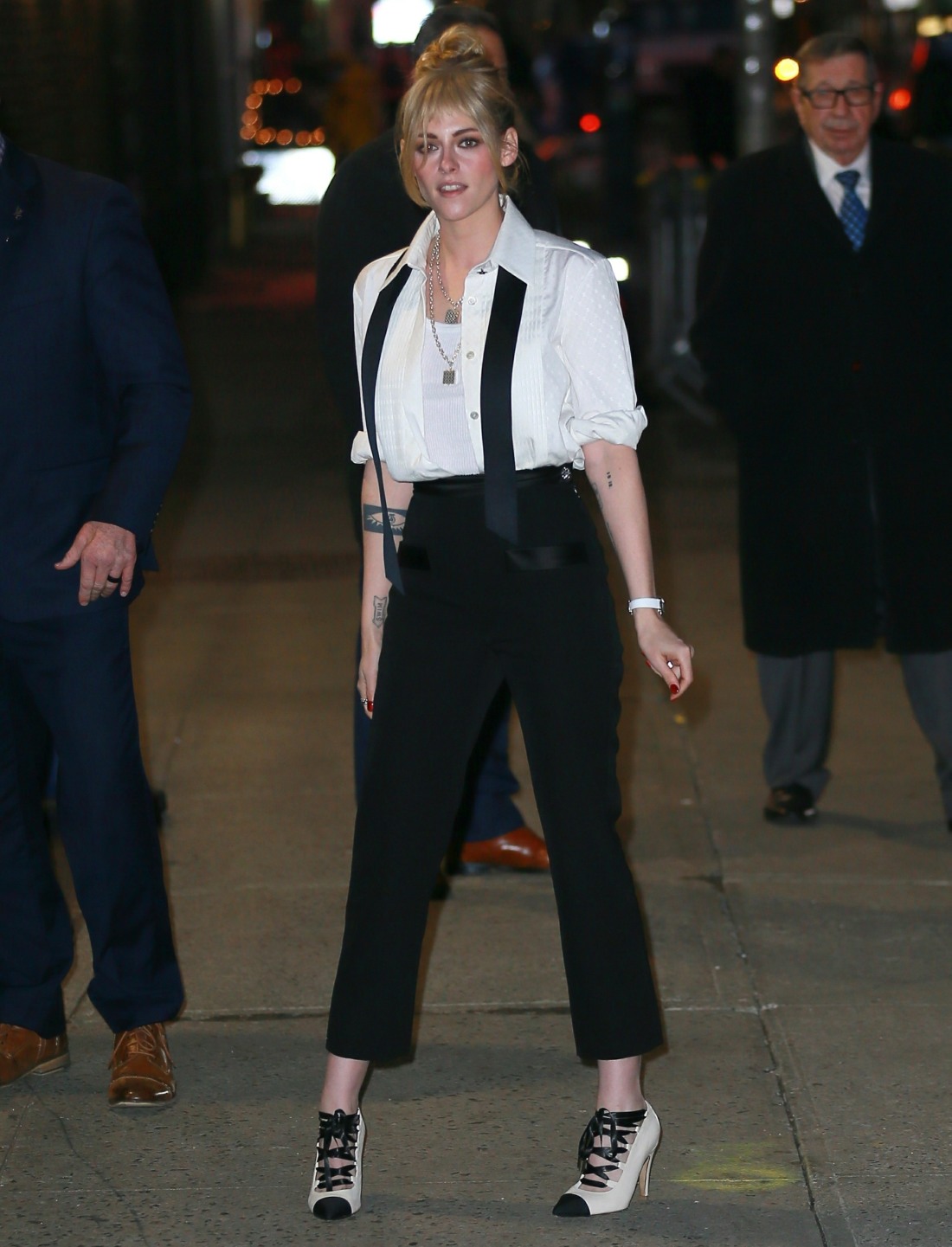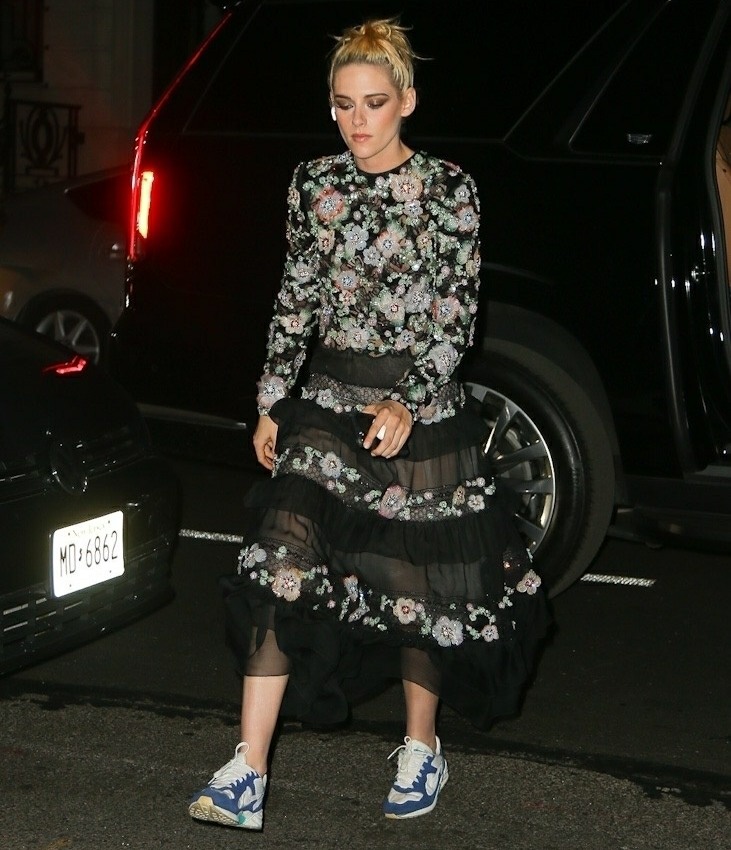 Photos courtesy of Backgrid.

New York, NY – Kristen Stewart was interviewed on NBC's Today while promoting her new movie 'Spencer' in New York City. Pictured: Kristen Stewart BACKGRID USA 4 NOVEMBER 2021 BYLINE MUST READ: MediaPunch / BACKGRID USA: +1 310 798 9111 / usasales@backgrid.com UK: +44 208 344 2007 / uksales@backgrid.com *UK Clients – Pictures Containing Children Please Pixelate Face Prior To Publication*
New York, NY – Recently engaged actress, Kristen Stewart, arrives at the MoMa Museum in New York City wearing a floral see-through dress. Pictured: Kristen Stewart BACKGRID USA 4 NOVEMBER 2021 USA: +1 310 798 9111 / usasales@backgrid.com UK: +44 208 344 2007 / uksales@backgrid.com *UK Clients – Pictures Containing Children Please Pixelate Face Prior To Publication*
New York, NY – Actress Kristen Stewart arrives at the Stephen Colbert Show with her sleeves rolled up and ready for business! Pictured: Kristen Stewart BACKGRID USA 24 JANUARY 2022 BYLINE MUST READ: T.JACKSON / BACKGRID USA: +1 310 798 9111 / usasales@backgrid.com UK: +44 208 344 2007 / uksales@backgrid.com *UK Clients – Pictures Containing Children Please Pixelate Face Prior To Publication*