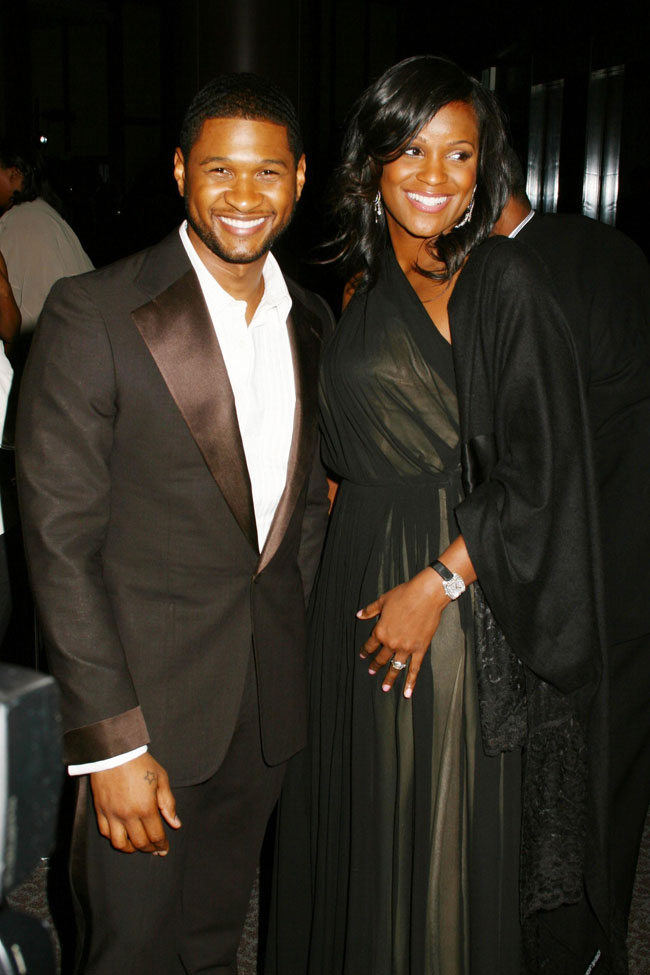 Tameka and Usher on 2/19/07. Credit: WENN.com
It looked like R&B star Usher was on the fast track to being single again after the dissolution of his marriage to Tameka Foster. But the couple have not only delayed the divorce for undisclosed reasons, but they've had some heated exchanges recently regarding custody arrangements for their two young sons, and Usher has actually involved the authorities. TMZ has access to the 911 call Usher made last month after his car was keyed following an argument with his estranged wife. He was careful not to name names, but Tameka's involvement is implied.
Usher was cool, calm and collected when he called 911 back in September — accusing his "ex wife" Tameka Raymond of vandalizing his truck.

During the call, Usher explains to the operator that he had called cops the night before to file "a complaint because of potential domestic violence between me and my ex wife."

He then tells the operator that when he woke up the following morning, a person who was fixing a flat tire on his truck noticed that it had been keyed up on the side. During the call, Usher never directly accuses Tameka — but insinuates that the scratch occurred as a result of the incident the night before.

As TMZ first reported, cops investigated the situation, but determined there wasn't enough evidence to make an arrest.
Another account of the disagreement also has Tameka showing up at Usher's mother's house. Tameka and Usher's mother have never gotten along, according to reports. Apparently, it was Usher's time to have custody with the children, and Tameka was demanding to see them. When Usher informed her that the boys were visiting with their grandmother, Tameka immediately drove to Mrs. Raymond's home, demanding the children.
Cops were called to Usher's home three times last month after the singer had an argument with his soon-to-be-ex wife Tameka Foster over the custody of their two sons.

According to police reports, Tameka began fighting with Usher over the phone on Sept. 10. She then drove to Usher's home, and demanded to take the children who were in his custody at the time. The kids were actually visiting Usher's mother's house, so Tameka took a trip over there, and began calling her and knocking on her door. Usher's mother didn't answer the door, and called police instead. When the cops arrived, Tameka was already gone. The next morning, Usher reportedly found scratches on his truck, so he called the cops again. The cops were unable to prove that Tameka had anything to do with the scratches.
Tameka's rep released a statement denying any involvement, but apparently the police took it seriously enough to file a report. It must be a tough situation for everyone, especially the kids, who are very young and have no idea what's happening to them.