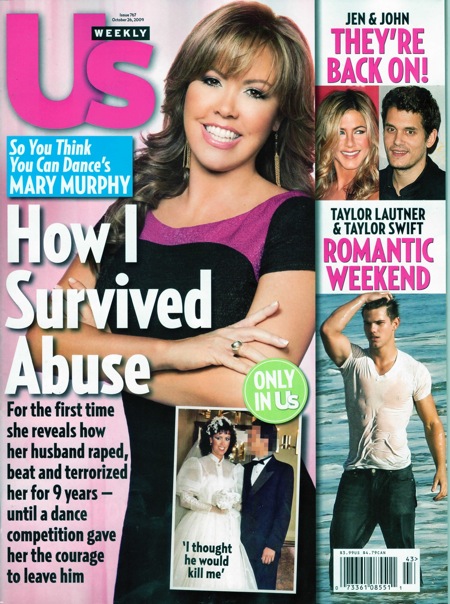 "So You Think You Can Dance" judge Mary Murphy is on the cover of US Weekly this week. Choreographer Murphy, 51, reveals in the accompanying interview that she was abused by her then-husband for over nine years in the early 80s, when she when in her early 20s. The details are heartbreaking. She was raped and beaten repeatedly in a typical cycle of severe abuse, reconciliation attempts, and then escalation. When Murphy learned that her husband had another girlfriend on the side, and had proposed to yet a different woman, she was able to get up the courage to leave him.
In the new issue of Us Weekly (on newsstands now), So You Think You Can Dance judge Mary Murphy opens up for the first time ever about surviving a nine-year abusive relationship, during which she was repeatedly raped and beaten and suffered a miscarriage.

She tells Us Weekly her ex-husband – whose name is being withheld but who says Murphy's claims are "flat-out lies" – raped her for the first time three months after they wed.

"We'd had another jealous fight, screaming, crashing over furniture, and he said, 'I want to have sex,'" Murphy, 51, tells Us Weekly. "I was like, 'Are you kidding me?! We're fighting here!' He said, 'You're my wife, and you'll do what I tell you!' I pulled out a kitchen knife and screamed, 'You're going to have to stab me, because I'm not having sex with you!' He knocked it out of my hands, held me down and raped me."

Soon, she says, a pattern developed: "A fight, then rape, then presents: a dress, a diamond bracelet, earrings. In the first year or two, I'd fight back, but eventually, I'd just lie there. Get it over with, I thought. It'll be quick anyway."

For years, "I'd have black eyes and bruises," she tells Us Weekly. "But I never called the police or went to the hospital. I didn't want anybody to know."

She says she got pregnant around 1982. "But in my fourth month, I miscarried," she tells Us Weekly. "My husband was disgusted, saying I murdered our baby, because I'd done some light dancing the night before. I was sinking deeper and deeper at that point, just reeling into despair."

In 1985, she learned her husband – who was from a wealthy, prominent family in the Middle East – had proposed to another woman during one of his Middle East trips.

The news made her feel as if "I'd been hit by a sledgehammer," and after discovering that he had another girlfriend in Germany, she says she was "motivated" to finally leave him.

Murphy, who was teaching dance, eventually saved up enough money to leave and drove to San Diego, where she called her husband to ask for a divorce.

Says Murphy, "I faced him one more time to sign the papers, and then I never heard from him again."
[From US Weekly]
That sounds awful and it makes you wonder how she was able to just get through the day living with a creep like that. Mary has gone on to massive success as a dancer, dance instructor and TV personality. She has her own dance studio in San Diego, which she opened in 1990, and had a successful competitive ballroom dancing career in the early 90s. She was made a permanent judge on SYTYCD in 2008 and is known for her bubbly enthusiasm and cute phrases like calling dancers "hot tamales."
Maybe Mary's very sobering story will help other women in that situation realize that there's always a way out and hope for a better life. I just hope that the article emphasizes that you don't have to do it alone like she did and that there are people and organizations who can help you and your children escape an abusive relationship.
Thanks to CoverAwards for the US cover.