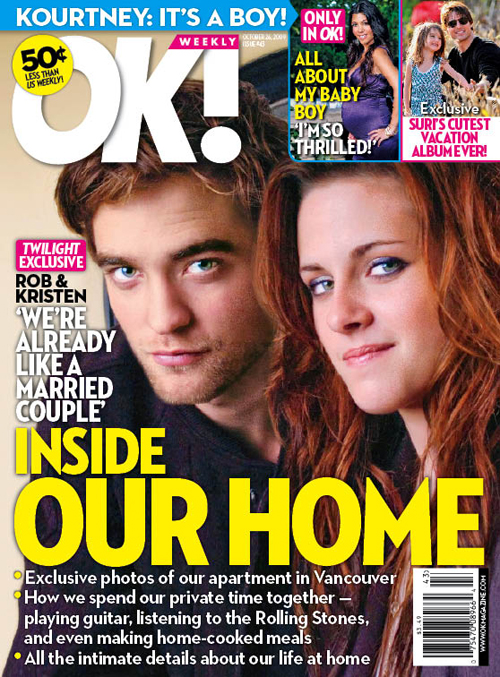 OK! Magazine has a bizarre and no doubt misleading cover story this month: "Inside our Home" featuring on and probably off-screen Twilight lovers Robert Pattinson and Kristen Stewart. The cover follows past misleading OK! issues focusing on the couple, like "Wedding of The Year" in September, which just had the details of the wedding to be filmed for the third installment of the series and not a planned wedding between Pattison and Stewart. There was also "Rob and Kristen: Engaged" and "Rob Risks it all for Kristen" last month.
Neither Stewart nor Pattinson has ever confirmed their relationship, and they take pains not to be photographed together outside of promotional appearances. OK! seems to suggest that it has an exclusive interview with the hot young couple, with statements on the cover like "exclusive photos of our apartment in Vancouver," and "all the intimate details of our life at home." Given the teaser article on their site, which doesn't include any information about an interview, I think we can safely assume that all they have are interior photos of the place they're staying while in Vancouver. The Frisky has some details of the article, and Rob and Kristen don't even have an "apartment" – they're staying in a hotel suite of adjoining rooms and the "married couple" quote is from some random storekeeper.
In an amazing cover story entitled "Inside our Love Nest," OK! gives us an inside look into Kristen Stewart and Robert Pattinson's Vancouver hotel suite romance. Apparently, the couple holds down an entire floor of the Sheraton with conveniently attached bedrooms. There, Rob plays guitar for Kristen, they cuddle in bed and Rob enjoys his "beloved Hot Pockets." One storekeeper said of the couple, "They seem like they've been together for years—like an old married couple but way, way hotter." Seriously, OK!? Beloved Hot Pockets?
[From The Frisky]
In a recent interview with Allure, Stewart refused to comment on her rumored relationship with Pattinson, and just said "I read that story every day… It's in a story every day, so let's not put it in another one." As Showbizspy points out, commenters on OK!'s website are calling for a ban on fake stories about the Twilight couple, and some are up in arms over this latest fake cover.
When is this crap going to stop? We all know that these stories are BS and even if they are together that is their PERSONAL LIVES not anything to do with their job. I also know for damn sure they wouldn't be talking to OK MAG anyway. – Brooke

this story grows old.. ya'll should just give Robert and Kristen some respect and leave them alone.. – kim

sure, they took the time out of their busy day to tell OK about their 'private' lives…yeah right! totaly fake even the picture which looks rather photoshoped [specially around kristens hair]
[Comments on OK! Magazine.com]
Obviously these trumped up Robsten stories sell copies for OK! or they wouldn't keep running them. Ever since OK! changed hands earlier this year they've struggled to find their identity and are seeming more like a tween Star Magazine than the friendly budget version of People they once were.