Lizzo is on the cover of this weeks People Magazine. She looks beautiful, she's such an expressive model. However, the issue is dedicated to Women Changing the World and Lizzo's story is about blazing the trail as a body icon, yet the magazine only gave her a face photo for the cover. I dislike the whole shoot. It's supposed to be some kind of noir/Raymond Chandler vibe, but it ends up concealing the naturally vibrant Lizzo in shadows, which is the antithesis of what she says in the interview. She literally said, "I deserve the spotlight" and the photographer gave focus to a paper copier. The face shots are gorgeous but that has everything to do with Lizzo. Thank gawd she knows her worth, because she's had to remind everyone of it to get as far as she has.
Nearly three years ago Lizzo worked her way to the front of the pop culture scene—singing, dancing, rapping and playing the flute on her first No. 1 song, "Truth Hurts"—and quickly became unstoppable.

"I deserve the spotlight," says Lizzo, now 33, sitting down in the study of her home beneath a platinum record. "I deserve the attention. I'm talented, I'm young, I'm hot. You know? And I've worked hard."

"I had to blaze a trail," she says. "There was no Lizzo before Lizzo."

Lizzo (first it was Lissa; then, inspired by JAY-Z, the S's became Z's) knew two things. One, what she wanted to do. Two, the kind of world she was about to enter. "I grew up in a family that was very proud of our Blackness," she says.

Her parents told her the truth about the Black experience in America. "I don't think my dad wanted to tell us about the gruesome murders that happen to Black people all the time," she says. "But Black parents have this responsibility to let their children know what can happen. They taught me at a very young age how America treats Black people. How it treats Black women. And I saw very quickly how we treat fat people."

Lizzo admits becoming aware of it all made her "cynical" at first, but as she found success, she decided to flip the script. "I was like, 'OK, what can I do with this? How can I make the best of this? I wasn't supposed to survive. I wasn't supposed to make it this far. I wasn't supposed to be a millionaire. I wasn't supposed to be a sex symbol. I wasn't supposed to be on the cover of PEOPLE, but I am. So how can I make this worthwhile? How can I make this not just a flash in the pan?' "

As Lizzo's music took off—she's earned three Grammys, two Soul Train Awards and millions of fans—her body became a topic of conversation. "Okay, we all know I'm fat," she says with a sigh. "I know I'm fat. It doesn't bother me. I like being fat, and I'm beautiful and I'm healthy. So can we move on?"

"I think I have a really hot body! I'm a body icon, and I'm embracing that more and more every day," she says. "It may not be one person's ideal body type just like, say, Kim Kardashian might not be someone's ideal, but she's a body icon and has created a modern-day beauty standard. And what I'm doing is stepping into my confidence and my power to create my own beauty standard. And one day that will just be the standard."
"What I'm doing is stepping into my confidence and my power to create my own beauty standard," I like the distinction that Lizzo makes that just because the media continuously shoves one physique down our throats, it does not mean that's everyone's ideal. I love that her answer to concern trolls is "I'm good, thanks." I remember my mom telling me, "Confidence is always your best accessory." Lizzo's living that. She doesn't ask you if you're impressed, she tells you that you are. But it's not misplaced because as she said, she worked very hard. Lizzo knows she's talented and delivers on that.
It's even more inspiring that Lizzo approached her dreams knowing who was ready to stand in her way and she didn't let it deter her. The story about her parents giving her the real story of how Black women are treated in America was a sobering reminder of how much easier I had it. I'm so glad Lizzo blazed the trails she did. Just reading about her lets me feel the warmth of her light.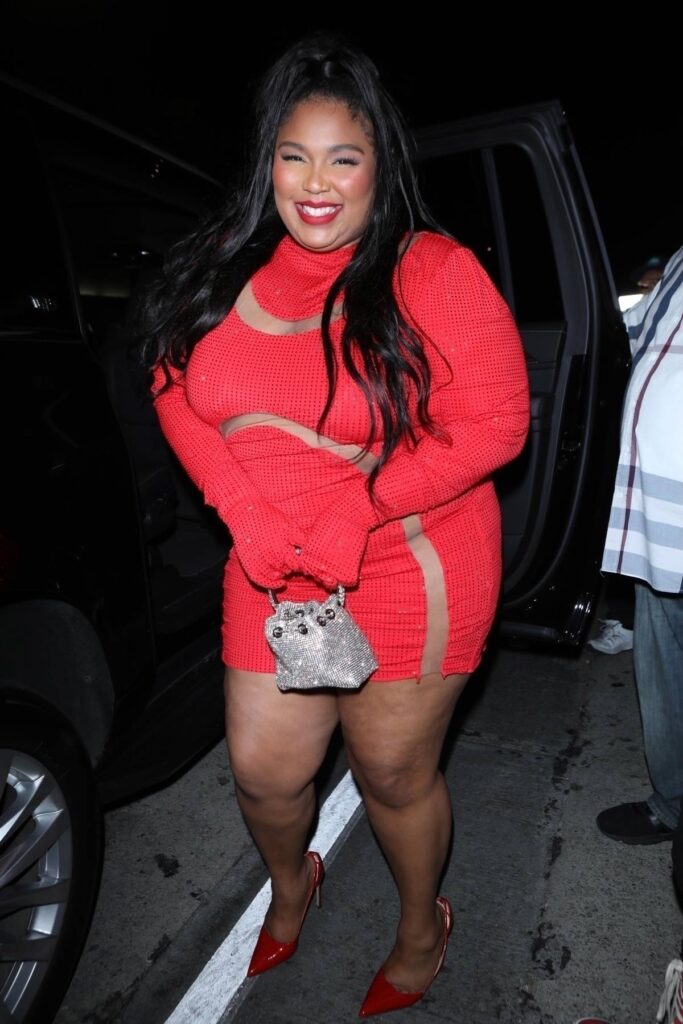 Photo credit: Instagram and Backgrid