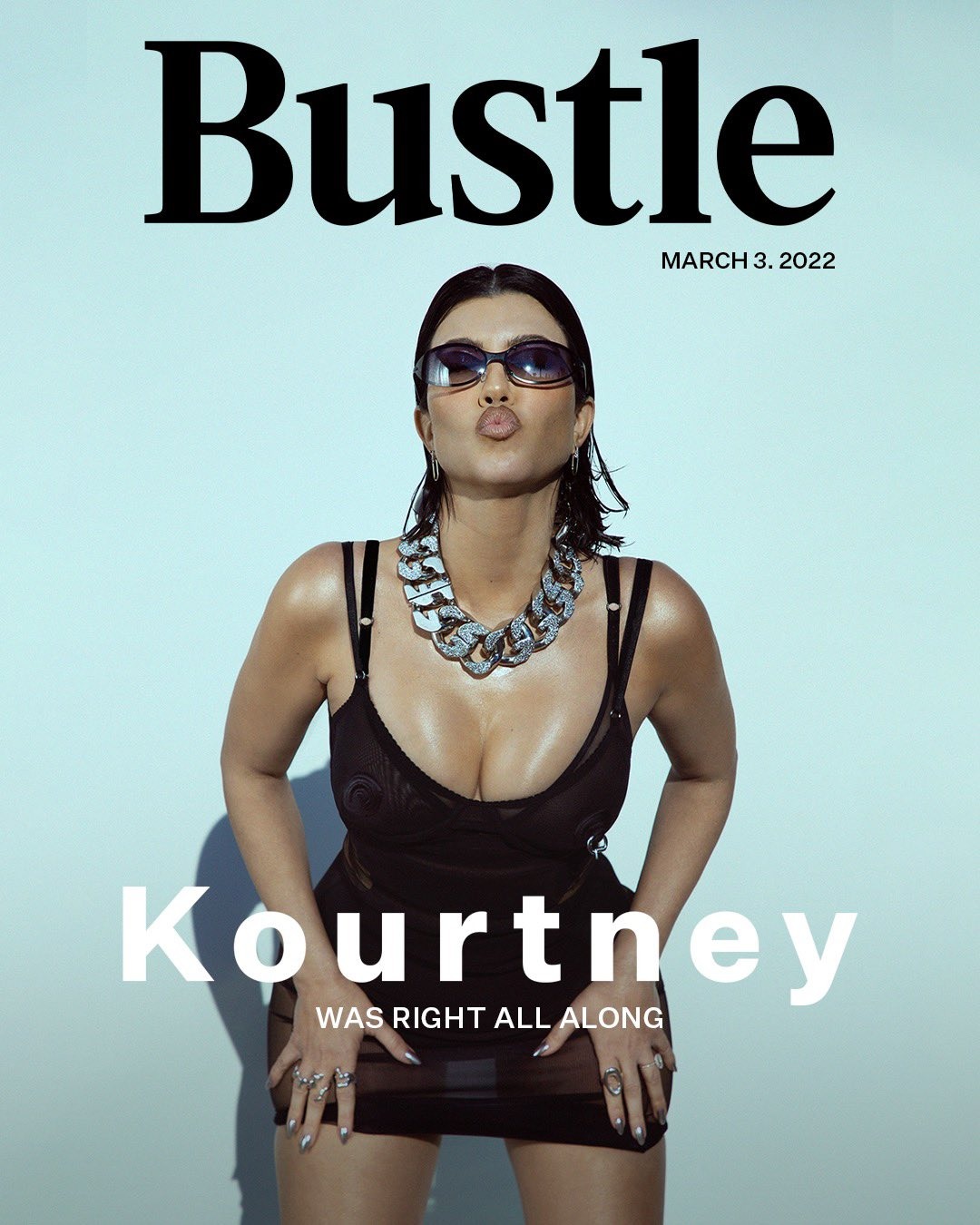 For many years, Kourtney Kardashian was The Miserable One. She was the wet blanket, the nitpicker, the naysayer, the one who didn't want to be on camera for the family's business, Keeping Up with the Kardashians. Towards the end of the series, Kourtney pulled the plug on her part of the show, vowing to step away permanently after a particularly rough and physical fight with Kim. Something happened when Kourtney stepped away: she got a life and she got happy. She fell in love with Travis Barker, she and Scott Disick found a better co-parenting groove and she's just… happy. Or happier. And so she agreed to go back to reality television, this time for the family's new Hulu show. Which brings us here, to this Bustle cover interview. Kourtney talks a lot about what was going on with her emotionally during KUWTK and why it's different this time. Some highlights:
On KUWTK: "Shooting our show, it became a really toxic environment at the end for me. I would fight with my sisters. There was, like, just a lot going on. And even for me personally, I wasn't in the happiest place. I felt like I was being almost a character. 'This is Kourtney, and she's in a bad mood, so even though she was laughing really at lunch, we're going to cut out the laughing and let's only use the annoying comment that she said.'"

How she feels now: "I see the growth that comes from those unhappy places which make it all worth it. I'm like, 'If we didn't go through these roller coasters, you wouldn't get to the good part.' There's no one I'd rather spend time with than my sisters… Workwise, I'm happier than I've ever been."

Why she started her lifestyle brand Poosh: "It was really important to me when I started Poosh that it was something that I was doing for myself. That it didn't involve my mom."

Why she would say "no" to everything for years: "I just used to be really indecisive. I felt like I had to poll a lot of people to help me decide things. … I think it was in a time when I maybe felt more insecure or not in the greatest relationships." In the meantime, she and Khloé could always "gang up" on Kim, she says, because, as the center square of the family, Kim could handle it. "I was used to always being a bitch and having no feelings."

She ended up being super-emotional on KUWTK: "It made me really sensitive. And normally I'd have a really good comeback [to insults], like, 'Well, you're covered in cellulite.' But then I would be like, 'I have nothing mean to say. I'm not a bitch anymore, and I just have feelings; like, an abundance of them.'" Kardashian was disarmed, left without her shield of disaffection or the unfortunate weapon of calling her sisters fat. "I would just start crying all the time," she says.

Work is not her priority: "People are always using my quote where I say, 'Working is not my top priority; it never will be.' And it's kind of true. Like, I want to work to the place where I'm happy. Right now, I'm actually working more than I have [on Poosh]."
The most telling quote, to me, is "It was really important to me when I started Poosh that it was something that I was doing for myself. That it didn't involve my mom." Kourtney was never a big believer in "Momager Kris." Kourtney is the oldest and she didn't need Kris to hold her hand or stage-manage her. If anything, Kourtney might have the healthiest relationship with Kris? Healthy in the sense that Kourtney is her own grown-ass person, making her own decisions, with little to no input from mom. As for Kourtney's new journey on this Hulu series… I hate to put it all down to Travis, but I do think her engagement to Travis has made a world of difference. Kourtney is happier because she's with someone she adores and who adores her. She was miserable with Scott because they kind of hated each other.
Photos courtesy of Bustle/Instagram.