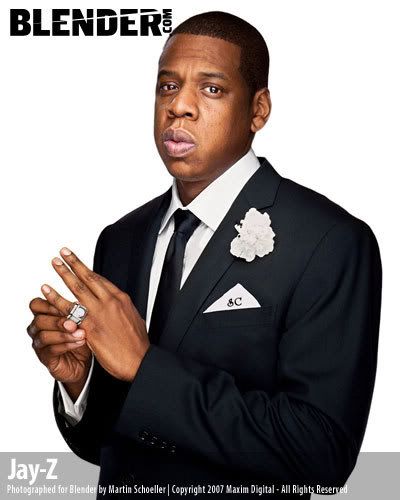 Jay Z now has the top selling album in America with the soundtrack for the film American Gangster. It is his tenth number one album and he is currently tied at second with Elvis for the most albums in history at the top spot on the charts. Only the Beatles have had more number one releases.
In a new interview with Blender Magazine, Jay-Z says that seeing the film American Gangster and making the album brought him back to the time when he was a dealer on the streets working daily to elude the cops. He said he tapped into those old emotions and nervous adrenaline to help fuel the creativity that helped him put out another chart-topper:
What is it about this movie that opened the creative floodgates?
It was the emotions I remember from that time. Paranoia, excitement, addiction. It really is an addiction. After a while in the game, you become addicted to the excitement and the sense of uncertainty. Because any day could be your last. Cops are watching you, enemies are watching you — and knowing that, it's this weird … rush.
[From Blender.com]
With a net worth estimated at $286 million, Jay-Z has experienced incredible success, but says the results aren't as exhilarating as he hoped. He says that, like Denzel Washington's character, he 's had his share of letdowns after reaching the top. Still, he admits it has its perks:
On the American Gangster track "Success," you rap about the disillusionment that can come with achieving your dream: "All I got is this big house, couple cars, I don't bring half them shits out … How many times can I go to Mr. Chow's?"
In the context of the album, it was that Scarface moment when Tony Montana sits in the restaurant and looks around and says, "This is all it's about?" You get to that point where it's like, "OK, I drove the Rolls Phantom around the corner and … nothing happened." And you ask yourself, "That's it? I thought blondes was gonna be jumping on my hood!"

Do you ever hang out with anyone richer than you?
I don't know. I'm sure I do. I've hung out with Bill Gates, but he's not a friend of mine. I've hung out with Bono. He's gotta be way richer than me.

What's the most expensive bottle of wine you've ever bought?
Oh, my goodness, I know that exactly. I had a $20,000 Petrus 1945 at a place called Graycliff in the Bahamas.

Full-bodied? Playful? Impudent?
Oh, it was definitely full-bodied. Incredible. You could almost taste the barrel. It was one of those things where you say, "Come on, how good could it be? What's the difference?" But you really could taste the difference. It was damn near like smoking weed. It was a high.
[From Blender.com]
As for who he's supporting in the presidential race, Jigga says that he likes Barack Obama and had a conversation with him about his career when the subject was brought up. He's says he's not sure who he will back though and is "gonna go down to the last day with this one."
Jay-Z laughed and refused to comment when asked if he's planning to marry his longterm girlfriend, singer Beyoncé. Maybe he's still waiting for those girls to come jump on his car.
Thanks to Blender.com for the interview and photos.