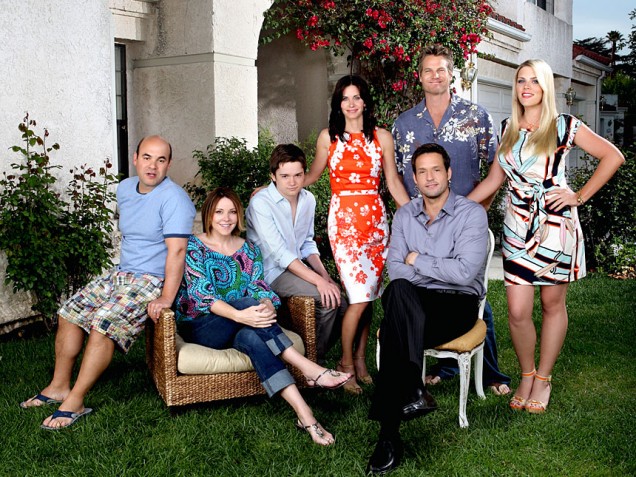 The notion of a "cougar" – an older woman on the prowl for hot, younger men – is just that: a notion. According to an article by the New York Times, which summarized a 2006 study of marriages in which women were at least ten years older than their husbands, the relationships were surprisingly normal and healthy. I.e. not at all creepy. The women were not overly motherly towards their husbands, and there really weren't the power struggles you'd expect. Neither the husbands or the wives had major issues. There were some problems as the years went on, due to generational differences and worries about aging. But overall, it's something Hollywood has turned into this strange, empty-sex based little phenomenon, when really they're generally just normal, healthy marriages.
…The loosening of relationship conventions, which is not limited to age but also includes race, religion and economic status, appears to be particularly evident among female baby boomers, sociologists say, who are faced with the tightest "marriage squeeze" — the smallest pool of compatible men as conventionally defined, those two to three years older, of similar background and higher levels of education and income. The reason is that as women have delayed marriage, men still have a tendency to date and marry younger women.

In the last several years, as the loaded term cougar was popularized by the media's frenzied fascination with Demi Moore's marriage to Ashton Kutcher, 15 years her junior, and the dalliances and liaisons of other celebrities like Madonna and Katie Couric, researchers have begun to examine the older woman-younger man relationship. It is one that has long been taboo, heavily influenced by the Freudian notion that the older women are mother substitutes or "robbing the cradle."

"For a long time we've been fed this idea that women should look for a man to take care of her, a man that is more educated, has a better job and makes more money," said Sandra L. Caron, a professor of family relations and human sexuality at the University of Maine. "That might be fine and dandy if you're in high school and have this fairy tale Prince Charming. But when you look at adult women, most are self-sufficient and they don't have to look for that."

Dr. Caron is an author of a 2006 study of couples in which the wife is at least 10 years older, which found surprisingly positive attitudes among the couples, although fear of stigma and insecurity about aging for the women, in particular, were common. The study, published in the Journal of Couple and Relationship Therapy, reported that the couples thought their age difference mattered more to the outside world than to them, and that the men were more strongly drawn to the relationships at the start because of physical attraction.

Consistent with most other research and what many relationship experts are saying about these connections, the authors found that women liked the vitality the younger man brought into their lives, and men liked the maturity and confidence in the women, although generational differences sometimes made both partners uncomfortable. Others have also cited infidelity as a stronger possibility in any relationship with a large age difference.

"Initially I thought I would find more issues," said Nichole R. Proulx, the lead author of the study, who is a marriage and family therapist in Maine. "But it's a relationship like any other, despite what society might say. I thought I'd find that he looks at her like his mother, more inequality, more power struggles."
[From the New York Times]
The Times also cited several studies that pointed out that the cougar phenomenon really doesn't exist. Sure, there are marriages and relationships with older women and younger men. But they haven't dramatically increased lately, they're just getting more attention. However most of what they looked at were marriages, so dating relationships are another thing altogether.
The Times talked to Christie Nightingale, who is the founder of a matchmaking service called Premier Match (rates start at $6,500 and climb up to $50,000), and she said that while she's noticed there's been a bit of an increase in women looking for younger men, the same cannot be said for the men, generally speaking. However they do seem more flexible on the subject, and if Christie feels she's got a great potential date who's older, the men can often be convinced. So they're open to the idea, but not specifically seeking it out. Which does slightly reinforce the idea that the women are pouncing on the men, which isn't a bad thing, in and of itself.
But by and large, the cougar phenomenon is mostly about television. It's a fantasy, and it's crossed over into the real world a bit, but not with the drama and bed hopping Hollywood would like you to think. Someone might want to mention that to Courteney Cox and her new show "Cougartown." That's just one of the many things it's doing wrong.
Thanks to Jezebel for the story idea!