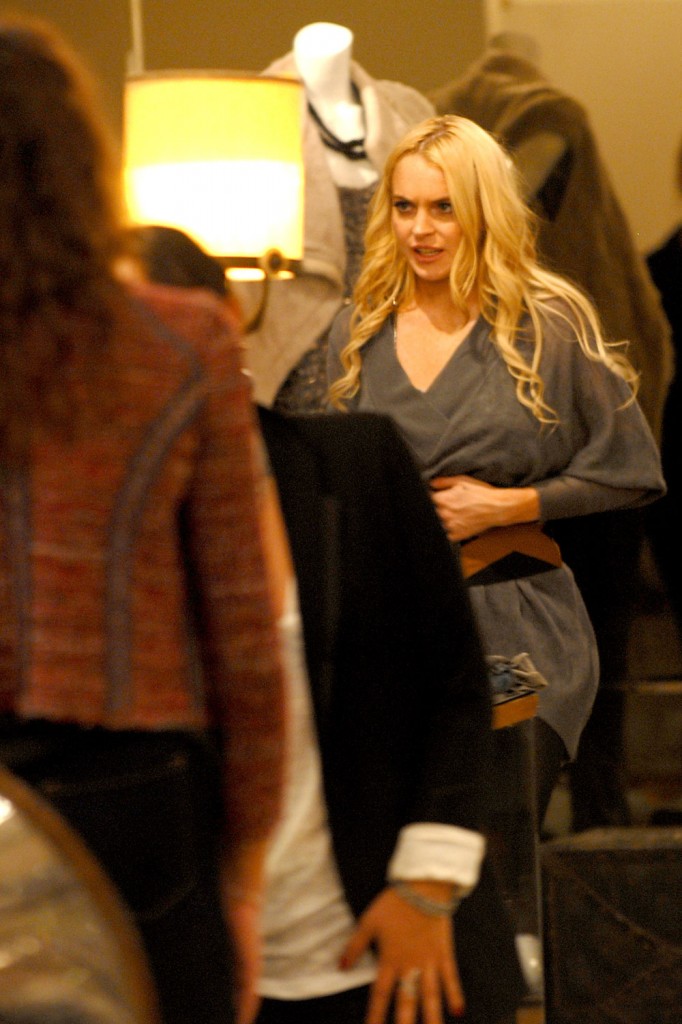 The other day I noted what I thought was a slightly bizarre report from Radar. It was about how Samantha's LA home is up for rent after Sam rather furtively moved out while Lindsay was being a crackhead in Paris, not designing budget pasties and maybe doing an ingenious jewelry heist (which Lindsay denied a day later, by the way). I wondered if Samantha was cutting her ties for real this time with Lindsay. A day later, Lindsay posts some "desperate tweets" (Jaybird's words) to Samantha, barely literate stuff about "her loved ones-hate her brilliance&resent her happiness" and "samantharonson deson't respond 2me b/c her fmaily will cut her off if she contacts me…They control the one I love&im incapable of making". Given the news about Lindsay the past few weeks, some cracked-out tweets seemed the least of her worries though. Now I'm not so sure.
Lindsay's tweets from last night – which she promptly took down this morning but were saves by ONTD – are giving me the impression that Sam has pretty much cut Lindsay out of her life. It seemed to start out with Lindsay asking "what happened?" at Sam. Then it got disastrous. This is like the written version of Lindsay's infamous cracked-out, weepy, hysterical, drama-queen confrontation of Sam outside of Sam's home one night over the summer. I'm going to try to write this as one linear, cracked-out thought, so as to maintain whatever integrity Lindsay was going for.
Here we go, Lindsay in her own words: "every1 hears anything & everything about our life neway*y not give them the truth? Ur friends r happy, every1 u abide by when give in more & more to their childish, superficial antics… U TAUGHT me about our "friends" in LA, them coming b/t us, *them being PART OF our "1 on 1" relationship.. I took the biggest chance of my life w/ u & u've done nothing but break my heart." Lindsay continues: "there… public enough 4 your friends & family? Let them know that you stayed w/ me in Singapore. Shame on them 4 encouraging you to lie. That's not love.. I guess you're right… Your family is probably right too.. Sorry for falling for you."
She's so coked out of her skull, I'm getting a f-cking contact high just reading this sh-t. She's so whiney and delusional, it's scary. She's so self-destructive, it's pathetic. So… Samantha totally broke it off with Lindsay, don't you think? Samantha must have listed her reasons to Lindsay, maybe stuff about how Sam's family and her friends think Lindsay is a crackhead mess. What I'm wondering about it the part about "Shame on them 4 encouraging you to lie." What is Sam being encouraged to lie about? That she's done with Lindsay or that she's not done with Lindsay? I really don't get it.
Lindsay Lohan is shown in NY on 10/14/09. Credit: WENN.com. Image of Lohan's crack tweets via ONTD