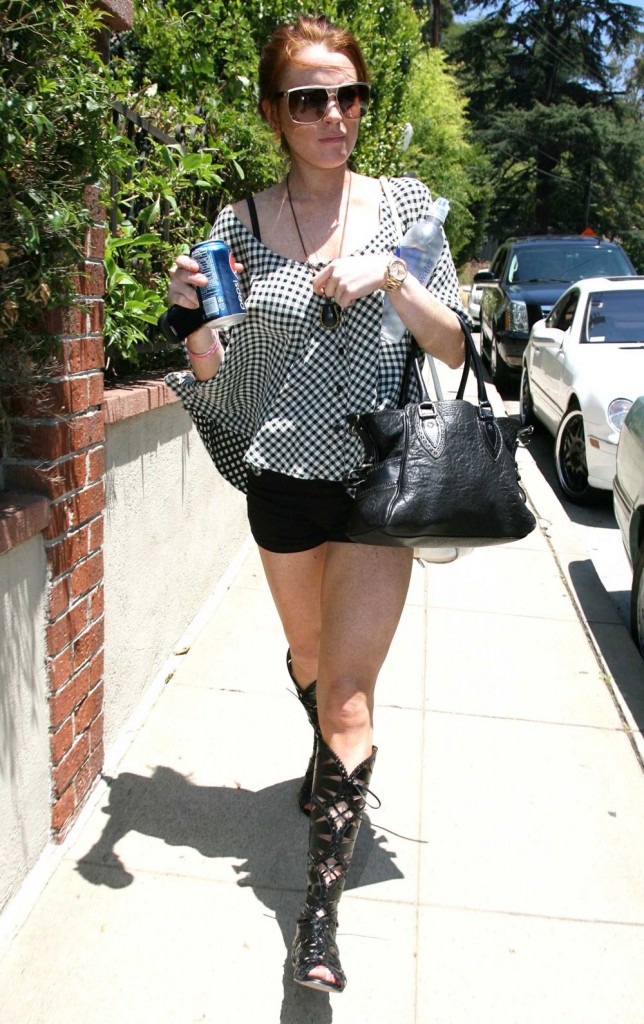 Generally, I'm half-joking when I talk about how Lindsay Lohan is a cracked-out stalker. It's not that I don't believe Lindsay is cracked out (I do) or that she's got that crazed, psychotic stalker instinct (I do), it's just that, in general, Lindsay only seems to be hurting herself. It's a downward spiral of self-destruction, and very few people are on that rollercoaster. The only one who seems to stick with the wreck known as La Lohan is Samantha Ronson. It would be easy enough to dismiss Samantha as Lindsay's enabler, but I'm starting to think there might be something else going on.
This new feeling comes from this new video at TMZ. The video was shot Saturday night/Sunday morning, at some ungodly hour of 5 a.m. As TMZ puts it, "Samantha Ronson had a delightful surprise waiting for her when she got home at 5 in the morning this weekend — a crying, yelling, accusing Lindsay Lohan and her wasteoid mystery friend. LiLo, doing her best Alex Forrest Saturday night, sat on Sam's front stoop for two hours until she got home — and when Ronson did, it wasn't pretty." The video is scary. Lindsay is barely on camera, but you can hear her voice echoing through Samantha's little courtyard. Lindsay sounds unhinged, tantrum-y, crazed, racked with sobs and whacked out on something hard. OK! Magazine did a pretty good transcript of the converstion:
One of the toughest parts about fame/infamy? Having the paparazzi around as witnesses to film you waiting on your girlfriend Samantha Ronson's stoop for two hours and the subsequent tearful tantrum that follows at 5 a.m. Yes, Lindsay Lohan, we're looking at you. TMZ has posted a video with audio so clear at times it sounds like LiLo was wearing a mic as she tearfully demands of Sam, "Where were you?!?" as she arrives home in the wee hours over the weekend. For her part, the DJ is confused as to who the mystery girl hanging out on her doorstep with Lindsay is. Some interesting exchanges follow:

Lindsay: Samantha where were you? You lost it, what's wrong with you? (Sam walks to her door, as Lindsay squeals to the other girl) Stop! Stop!
Sam: Who is this person?
Lindsay: (clearly confused crying) I'm your girlfriend!
Sam: No, who's this other person here?
Lindsay: You know her…
Sam: Then why were you yelling at her to stop?
Lindsay: Because she was trying to touch me[?]. Where were you?!?
Sam: This one has to go.
Lindsay: Don't talk to my friend like that, Samantha (still crying).
Sam: She's on my property, I don't know her, I want her out. it's that simple.
(some unintelligible talking)
Lindsay: Where were you? Where were you? Where were you? Where were you? Where were you?
Sam: I was with my sister.
Lindsay: You're lying!
Sam: Yeah, I'm lying.
The random girl then leaves, as Samantha suggests she call a cab. The couple finally go into the house, as Lindsay says something about a phone that's mostly unintelligible, as she walks in and slams the door.
[From OK! Magazine]
At one point, I heard Sam say something about Lindsay being "disrespectful". Because when it's 5 a.m. and you come home to find a cracked out Lohan stalker on your front stoop, what's called for is a lesson about being respectful? Sam's voice just sounds tired to me. Like Lindsay whole energy is just so f-cking exhausting, which I totally understand. But now I've started to wonder something… does Sam just let Lindsay come around because Sam just wants her to be safe at this point? It's not even like they're dating – the voice Sam seems to be using is of the responsible adult, the parent. It's like Sam knows Lindsay's in a rough state, so she's just trying to make sure Lindsay's not sleeping on the street.
Lindsay is shown out with a friend at lunch on 7/27/09. She didn't eat anything. Credit: Fame Pictures