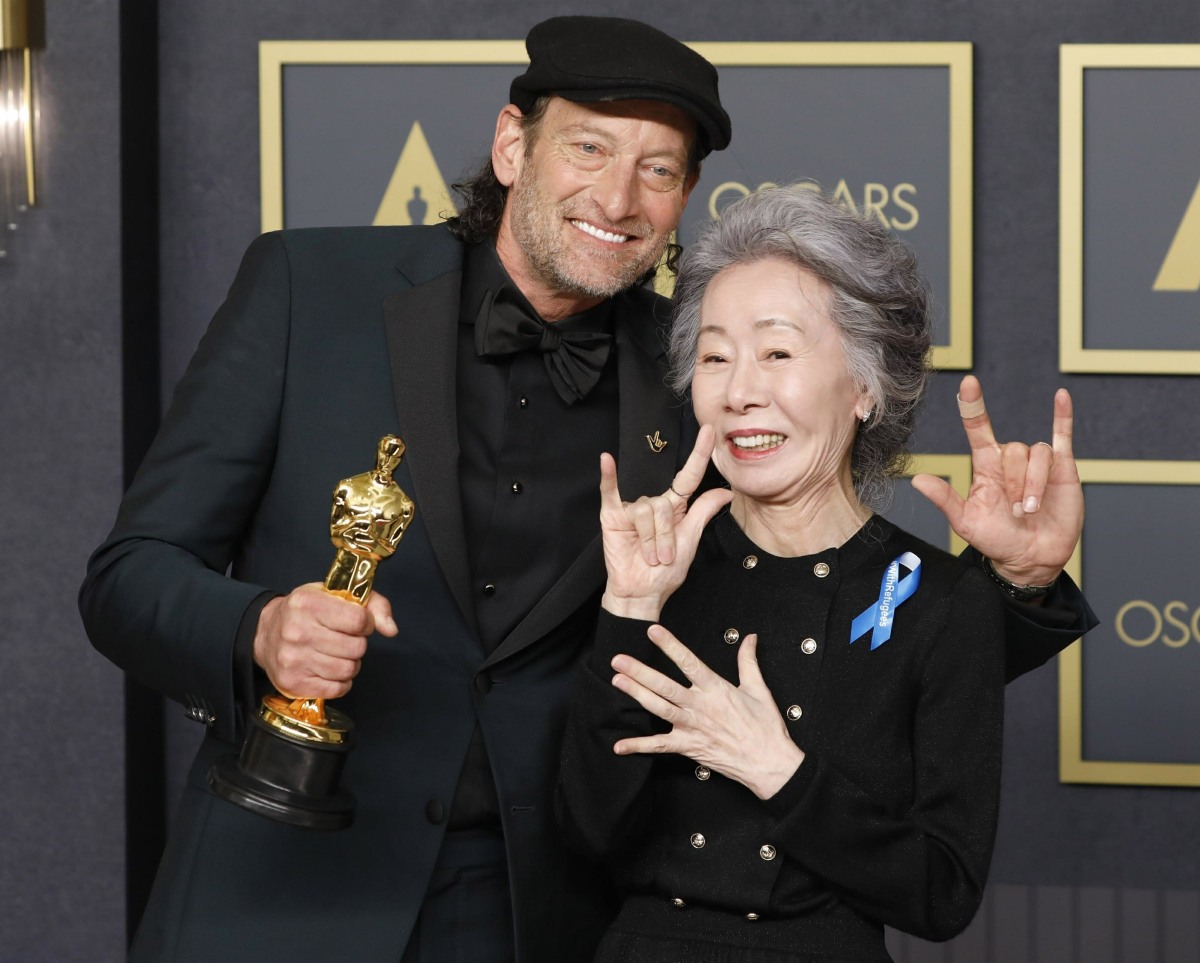 I'm not even going to try to do a full or extensive recap of the 2022 Chaos Oscars. The Oscars were split into two parts – before the smack and after the smack. Before Will Smith smacked Chris Rock live on stage, the energy was one of half-annoyance. Most of the jokes were bad, DJ Khaled was ridiculous, Amy Schumer did a joke about Leonardo DiCaprio's young girlfriends. I was grateful that the three hostesses – Schumer, Regina Hall and Wanda Sykes – were rarely on stage together, and that they all got to do separate skits or whatever. Generally speaking, there were still too many filler montages for no reason, and people genuinely missed the eight categories which were cut from the broadcast. Did we need tributes to White Men Can't Jump, the James Bond franchise AND The Godfather? Really?
The best two jokes/gags were Amy Schumer going off about Being the Ricardos and how Aaron Sorkin made Lucille Ball so dreadfully unfunny. Even Nicole Kidman laughed (and Javier Bardem seemed to be having the time of his life). The other part which was pretty funny was Regina Hall's Covid-patdown of Josh Brolin and Jason Momoa, both of whom were game.
The show opened with Venus and Serena Williams presenting Beyonce's pretaped performance of her Oscar-nominated song "Be Alive" from King Richard. She performed in Compton, on a tennis court. She became the tennis ball. It was honestly a great performance. Then she lost to Billie Eilish's whisper-singing for Best Song. Massive eyeroll.
I was pretty happy with most of the winners, especially CODA's multiple wins. CODA won Best Picture, Adapted Screenplay and Troy Kotsur won Best Supporting Actor. Youn Yuh-jung, last year's supporting actress winner, signed "I love you" to him before she read out his name. Everyone stood and signed "applause" for him. His speech was so moving:
I also loved Ariana DeBose's win, I was happy with Jessica Chastain's win, don't @ me, she was really great and it was well-deserved. Disney fanatics were mad about the Megan Thee Stallion-infused version of "Don't Talk About Bruno." No one was happy about Jane Campion's Best Director win.
The final moments of the night were of Lady Gaga and Liza Minelli surprising everyone to present Best Picture to CODA. Gaga was a class act for coming even though she'd been snubbed for a nomination, and she was so gentle with Liza. It was so classy. And people were so genuinely happy for CODA. You can see the full list of Oscar winners here.
Photos courtesy of Getty, Backgrid.

Los Angeles, CA – The 94th Annual Academy Awards Press Room at the Dolby Theatre in Hollywood. Pictured: Troy Kotsur BACKGRID USA 27 MARCH 2022 USA: +1 310 798 9111 / usasales@backgrid.com UK: +44 208 344 2007 / uksales@backgrid.com *UK Clients – Pictures Containing Children Please Pixelate Face Prior To Publication*
Los Angeles, CA – The 94th Annual Academy Awards Press Room at the Dolby Theatre in Hollywood. Pictured: Troy Kotsur, Yoon Yeo-jeong BACKGRID USA 27 MARCH 2022 USA: +1 310 798 9111 / usasales@backgrid.com UK: +44 208 344 2007 / uksales@backgrid.com *UK Clients – Pictures Containing Children Please Pixelate Face Prior To Publication*