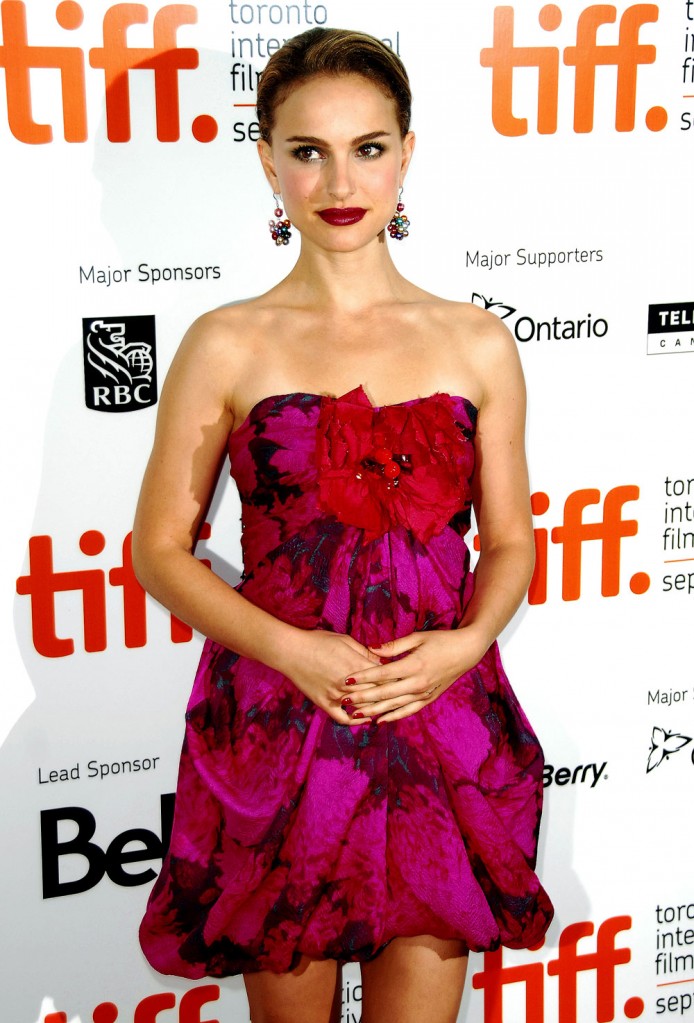 Natalie Portman gave an interview to the Los Angeles Times last week to promote her work in New York, I Love You. Natalie directed one segment of the series of short films, and Natalie also stars in one segment directed by Mira Nair. In the interview, Natalie talks about her dreams of directing and how she is actively seeking out more adult roles. She also kind of pulls a Megan Fox, and I detest saying that or even comparing the two women. Natalie is talking about how her roles affect her life, and she discusses her supporting part as a troubled, suicidal teenage girl in Heat. Natalie then does the whole "I'm a cutter" thing – although she does specify state that she only cut herself once:
"Just as what you are feeling in your life affects your acting, what you act in definitely affects what you are feeling in your life," Natalie Portman says with typical thoughtfulness.

"And whether you want it to or not, and even if you don't know it, it bleeds into your life. I made 'Heat' when I was 14 and played a girl who died," she continues. "A year later, I got into a fight with my mother and cut myself. I had never done it before and I never did it after that, but I think having my wrists bloody in a movie definitely affected my psyche."

At this point," says Portman of the parts that appeal to her, "I want to be a woman on-screen because I want to be a woman in my life. I don't want to be a little girl."

"Working with Mira in New York, I was so thrilled to watch a female director, and you couldn't ask for a better model than her," she says. "For me, directing isn't a backup plan, because I really love it. At the end of the day, it is your product, which you don't get when you're acting. Even good performances are pieced together by good directors. You give plenty of bad takes, and they put it together in the editing room."

As for when she might take on that particular challenge, "I don't love saying I'm going to do something before I do it because I feel like that's a formula for hearing, 'You never did what you said you were going to,' " she says, "but I really love directing." And while she admits to some fear of stepping behind the camera and out of her comfort zone, "that's intrinsic to everything you do as a creative person. You're constantly putting yourself up there to be trashed. If I thought about it too much, I'd just be crippled. I'd rather create."
[From the Los Angeles Times]
Eh, it sounds like she just did it once to see how it would feel. But it feels like she's trying to be a bit edgy about it, doesn't it? Like "oh, I was so hardcore when I was a kid." Meh. Maybe I'm being overly-analytical. But that attitude bothers me.
Natalie is also facing a backlash because she signed the "Free Polanski" petition in support of Roman Polanski's release from custody. Natalie is in esteemed custody – everyone from Martin Scorsese, Woody Allen, Harrison Ford, Jeremy Irons, Salman Rushdie, Kristin Scott Thomas, Steven Soderbergh, Emma Thompson and Diane Von Furstenberg, amongst many, many others (see full list here). Ugh, I think Emma Thompson's inclusion might be the cruelest cut of all. Why, Emma, why? Anyway, the backlash against the signers seems mainly from the more conservative media outlets, but I think it will probably grow as more stuff starts happening with the case. Interesting note: Natalie's The Professional director Luc Besson was one of the few prominent French artists who did not sign. He released this statement about Polanski: "I have a lot of affection for him, he is a man that I like very much… but nobody should be above the law…. I don't know the details of this case, but I think that when you don't show up for trial, you are taking a risk."
Natalie is shown with Mila Kunis at the "American Ballet Theatre hosts the 2009 Fall Gala" in NY on 10/7/09. Credit: Flashpoint / WENN.com. She's also shown in a fuschia dress at the Toronto Film Festival on 9/17/09. Credit: WENN.com