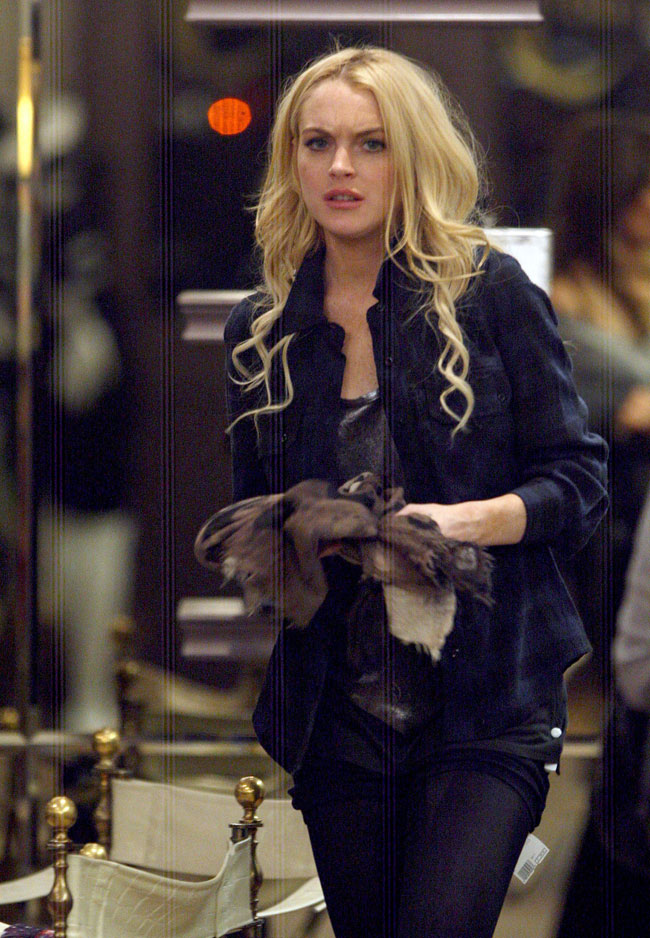 One of the easiest things Lindsay Lohan can do to get sympathy for her screwed up life is to simply sit back and let her parents make asses out of themselves. I know that whenever I hear Dina and Michael sniping at one another publicly, or whenever they give one of their "look at me, it's all about me, ME, ME, ME" interviews, I totally feel a twinge, a pang for Lindsay. I sigh to myself and think, "Jesus, she really couldn't have been anything other than what she is with those sketchy parents." And then I get over it. Yes, Lindsay had a screwed up childhood. Yes, her parents are a-holes. And yes, they've made their daughter into an insane, drug-addicted a-hole too. But Lindsay had opportunities to clean up her act, get away from her family and choose to live a healthier life. Instead, she chose to be enabled, coddled in a steady stream of denial and irresponsibility. Think of that when you're reading Dina's response to Michael's neverending "Lindsay is an addict" interviews and his threats to force Lindsay into an intervention:
Dina Lohan has a message for her ex-husband Michael about some recent interviews, during which he's claimed their daughter Lindsay is abusing prescription pills: Stop discussing Lindsay's private life and focus on yourself.

Dina lashed back Saturday, telling PEOPLE: "Michael Lohan needs to focus on being a parent, paying child support, of which he is six months behind, and making up for all the years he was an absentee dad. And stop going on national television talking about his children publicly."

On Saturday, Michael told the photo agency X17, "I'm going to see the judge this week…If I can't get a conservatorship, then I'm going to take her to an undisclosed location and get her straight. But I know I'm gonna get charged [with] kidnapping."

And during a taping Thursday of The Maury Povich Show, Michael looked into the camera and relayed the following message to Lindsay: "I'm gonna do anything and everything I have to save your life, whether mom likes it, the public likes it, or anyone."

While Michael says he's planning to meet with a judge and seek conservatorship, a source tells PEOPLE that Lindsay herself plans to turn to the courts and seek a restraining order against her father.

"Lindsay is actively getting a restraining order, her lawyer have already been contacted," says the source. "She's scared. This is really serious."
[From People]
Did you just sigh to yourself and think "I might be Team Lindsay on this one"? Congratulations! I too thought the same thing. Truly, if there is a moral throw-down between Michael and Lindsay, Lindsay comes out ahead by a nose. Michael is an abuser, a fraud, a famewhore, and just a really disgusting person. Lindsay should get a restraining order against him – she should have done that a long time ago, quite honestly. Then get one against Dina too. And then Lindsay could check into rehab and get her life together. But she won't do any of it, will she?
In one last piece of Lindsay Lohan news, Page Six has this interesting story from last week's Victoria's Secret perfume launch. Lindsay was in attendance (she probably got the invite from her dealer), and no surprise, she made an ass out of herself. According to a source, "Lohan mistook the cake baked in the shape of a giant perfume bottle for the real thing, and put her hand out to lean on it… She accidentally poked a hole right in the middle of it." Oh, Blohan. We can't take you anywhere.
Lindsay Lohan is shown shopping in NY on 10/14/09. Credit: David Krieger/bauergriffinonline.com