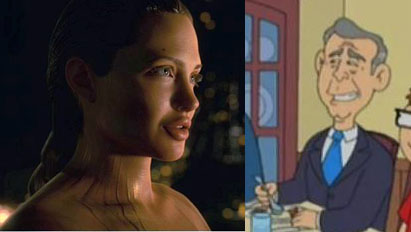 While I love any list, particularly a top ten, Film Threat's list of Hollywood's Coldest People is one of my absolute favourites.
FILM THREAT'S FRIGID 50: THE COLDEST PEOPLE IN HOLLYWOOD 2007

1. George W. Bush
2. Angelina Jolie
3. Jim Carrey
4. Comedies Not Associated with Judd Apatow
5. Owen Wilson
6. Nicole Kidman
7. Hilary Swank
8. Eli Roth/Torture Porn
9. Jennifer Lopez
10. Jon Heder
While I might have to question George W. Bush's inclusion on the list, it's apparently because of his 'appearances' in movies like Transformers or TV shows like South Park. Number two Angelina Jolie currently has the number one film in the American box office Beowulf, so it seems particularly bad timing to have her on the most frigid list. Although, have you seen her legs lately? Not hot.
You can check out the full list of 51 on Filmthreat, and the reasons for inclusion, but I have to add that number eleven was Star Wars. I am completely on the anti-Jedi bandwagon. Sci-fi lovers, just because the films were great in the 70's doesn't make their prequels good – in fact, it's like remaking The Dukes of Hazzard or Invasion of the Body Snatchers – perhaps a good idea in theory, but not in practice. Now, commence my stoning to death as I have violated the sacred nature of The Force.
Nicole Kidman may rank high on the coldest people list, but I think she's hot after she spoke out about the Australian government's attitude to domestic violence.
"I know why people call violence against women a pandemic.

"It is perhaps the most widespread human rights abuse violation."

The star called for a greater level of support for victims.

"I urge the Government to do more in relation to victim support services," she said.

"There needs to be a dramatic increase in counselling services for victims of sexual assault and victims need to be supported better by police and the courts.

"And secondly, there needs to be a huge increase in short and long term accommodation for women and children fleeing domestic violence.

"At the moment, I believe, one in two women who approach a refuge are turned away."
Now, this might not seem like a big deal, but in Australia celebrities don't get behind political parties like they do in the United States, and an election is only days away. Voting is compulsory there, probably because Australians care so little about politics if it wasn't no one would vote at all, and if you didn't make it law for everyone over 18 to vote you'd have to ambush people on the street and force them into polling booths.
Note by Celebitchy: I wanted to find fictionalized portrayals of George W. Bush, and while Wikipedia has a pretty comprehensive list it wasn't that easy to dig up clips and photos. I did find one though, a clip from Family Guy of George W Bush showing up for Vietnam.
Family Guy George Bush Misses Vietnam
Family Guy shows us how George W Bush missed Vietnman.
Get humor videos at NothingToxic
And here's a link to a full length clip from the Simpsons Treehouse of Horror VII that first aired in October, 1996 featuring Bill Clinton and Bob Dole. I looked hard for Clinton's appearance on the "Max Power" episode of the Simpsons where he tells Marge he'll be in the shed out back just in case, and the one where Lisa tells him he gave a lousy lesson and he says "Well, I'm a pretty lousy president" but this was all I could find. Presidents are always fair game for parody, although I doubt Clinton would have made this coldest list ten years ago. I am striving for neutrality here if it isn't obvious.