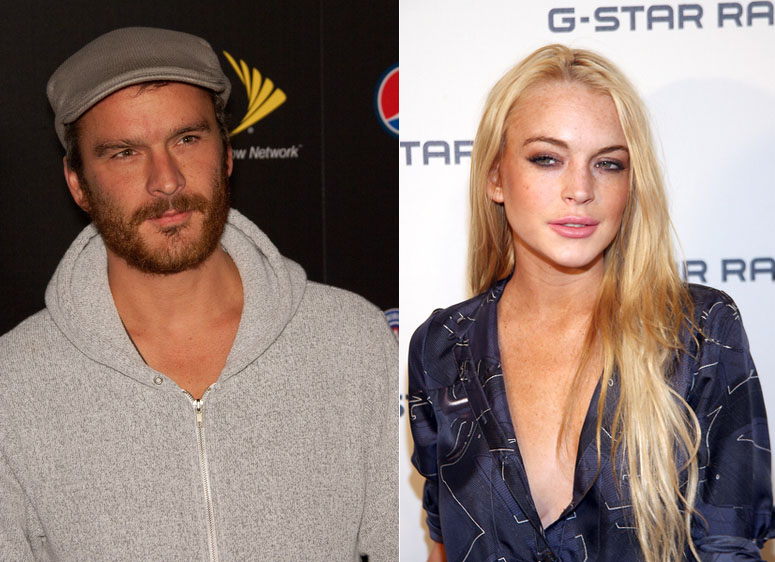 You know how we're always like "Lindsay Lohan is a crackhead mess, anyone who has anything to do with her is probably on a very self-destructive path"? Well, Lindsay got her hooks into a new victim! It looks like my guess/assumption that Samantha Ronson dumped Lindsay was correct – I judged it from Lindsay's crack tweets last week, which included coked-up musings like "u've done nothing but break my heart" and "Sorry for falling for you". It seems that post-split, Lindsay is back to men. One married man, to be specific. People Magazine, of all legit sources, claims that Lindsay was spotted making out with the still-married Balthazar Getty over the weekend:
Lindsay Lohan arriving at West Hollywood nightspot Voyeur with Sienna Miller's ex, Brothers & Sisters star Balthazar Getty. Sneaking in through the club's backdoor, the pair were all over each other at a table in the front of the room, according to a clubgoer. The duo stayed for less than half an hour before leaving the nightclub, where Whitney Port, Ryan Phillippe and Matthew Perry were also having a good time.
[From People]
Oh, God. This is going to get really messy. First, a word about whether this is really legit. I'm going to say "totally". It is People, and they wouldn't report this without good sourcing. People also memorably took Balthazar's wife's side in the nearly two-year Sienna Miller debacle, so it looks like People still has pretty good anti-Balthazar sources.
Honestly, though, I kept waiting for yet another topless vacation for Sienna Miller and Balthazar. Even though she's been spotted with a new boyfriend, I thought she and Balthy were probably still in contact, but simply keeping a lower profile for a short time. They were last spotted together in July. Shortly after that, it looked like Balthy went back to his wife, Rosetta. So… what will Rosetta do about Lindsay Lohan? Rosetta and her industry friends did some serious damage to Sienna's career, but Lindsay is already at rock bottom within the industry. Maybe making out with Lohan is enough to finally get the Getty's divorce paperwork going?
Balthazar Getty is shown on 10/7/09. Lindsay Lohan is shown on 9/15/09. Credit: PRPhotos.