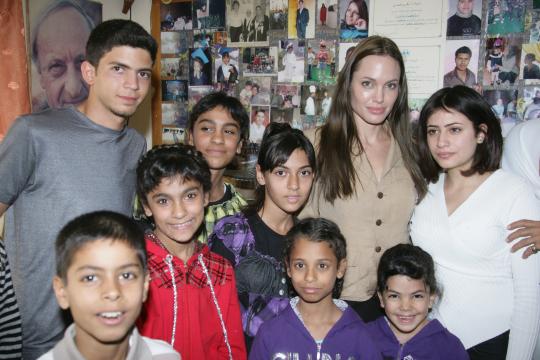 A few weeks ago, Brad Pitt and Angelina Jolie traveled to Syria to visit Iraqi refugees living in makeshift homes on the border. Angelina was traveling in her role as goodwill ambassador to the UNHCR, while Brad seemed to be simply supporting her. Not only did they make the stop for the UNHCR, they did some sight-seeing while in Syria, visiting a famed Damascus site, the Khan As'ad Pasha. After the Syria visit, they stopped in Jordan and caused quite a bit of commotion by taking the twins out for an ice cream run. Fan photos of Knox and Vivienne spread throughout the world, and it looked like they had just stopped in Jordan for fun.
But ice cream wasn't the only thing on the agenda. It seems that while in country, Brad and Angelina were also invited to visit something called an "SOS Children's Village". From what I can tell, the SOS Children's Village is for orphaned, refugee or otherwise unwanted children living in a family-style arrangement amongst other kids. The SOS Children's Village site is here, and here's the press release about Brangelina's visit:
Angelina Jolie and Brad Pitt were invited to make a special visit to the SOS Children's Village in Amman, Jordan, by Her Majesty Queen Noor. While it was Brad Pitt's first visit to an SOS Children's Village, Angelina Jolie was glad to return.

Children and mothers of the SOS Children's Village in Amman were overjoyed to receive the visit of a very special friend on 1 October: UNHCR Goodwill Ambassador and Academy Award winner Angelina Jolie had decided to drop by again, this time in the company of her partner, the actor Brad Pitt. While Ms. Jolie had already visited the village in 2003, committing to covering the running costs of one family house, it was the first time Mr. Pitt had ever been to an SOS Children's Village.

Having been invited by Her Majesty Queen Noor Al Hussein, who is the Honorary Chairman of SOS Children's Villages Jordan, the couple stated that they were having a wonderful time in Jordan with their children, and Ms. Jolie went on to say "The SOS model of providing care for children without parental care is one of the best, as they are still in a family setting within their own country. We hope more people learn about their programmes and give them support".

H.M Queen Noor Al Hussein introduced the SOS Children's Villages model to Jordan in 1983, and has worked tirelessly to help the organization flourish in Jordan ever since.

"We are very grateful to her Majesty Queen Noor for all she has done for displaced Iraqis since 2003 and appreciate the dedication of King Abdullah and Queen Rania to their incredible humanitarian initiatives" added Angelina in recognition to the Royal family's effort

In 2007, Angelina Jolie visited SOS Children's Villages' trauma therapy centre at the Oure Cassoni refugee camp in Chad, one of twelve camps providing shelter, food and treatment for severely traumatised women and children who have escaped the horrors in Darfur. Ms. Jolie wanted to see the situation with her own eyes and make the international community aware of the plight of the people from Darfur. Just a few months later, SOS Children's Villages was one of three agencies working in Chad who received a one million dollar donation from the Jolie/Pitt Foundation.

Angelina Jolie promised to support the upcoming radio campaign of SOS Children's Villages "SOS Childhood" by building awareness for the fact that childhood is at risk and that everybody should support this noble cause in every part of the world. The SOS Childhood campaign will start late October 2009 and will last till early 2010, with campaigns to celebrate the 60th birthday of SOS Children's Villages taking place all over the world and being promoted by scores of radio stations worldwide.

Ms. Jolie, who was named a UNHCR Goodwill Ambassador in 2001, has visited refugee camps all over the world, raised public awareness for the plight of refugees and displaced persons in regions of conflict and even created the Jolie/Pitt Foundation together with her partner, which donates money to humanitarian organisations seeking to relieve human suffering. SOS Children's Villages is privileged to count such a dedicated humanitarian among its supporters and hopes to be able to welcome Ms. Jolie and her family again very soon.
[From SOS Children's Villages Official Site]
It sounds like an interesting concept, these "Children's Villages". I wonder how effective they are. Their mission seems to be: "To build families for children in need, to help children shape their own futures, and to share in the development of communitiesy." These villages are in 124 countries, caring for more than 70,000 kids, with more than 500 villages in total. Their site is very well-run, and they have a donation page.
In one other piece of Angelina news, it looks like the only thing holding up her signing on to The Tourist is the choice of director. Sources say she will officially sign on if director Florian Henckel von Donnersmarck agrees to the project, which he probably will. Von Dennersmarck won the Best Foreign Film Oscar for his amazing film The Lives of Others. God, I love that movie. I hope he and Angelina get the chance to work together.
Here are Brad and Angelina with the kids. Thanks to SOS Children's Village for the pictures.