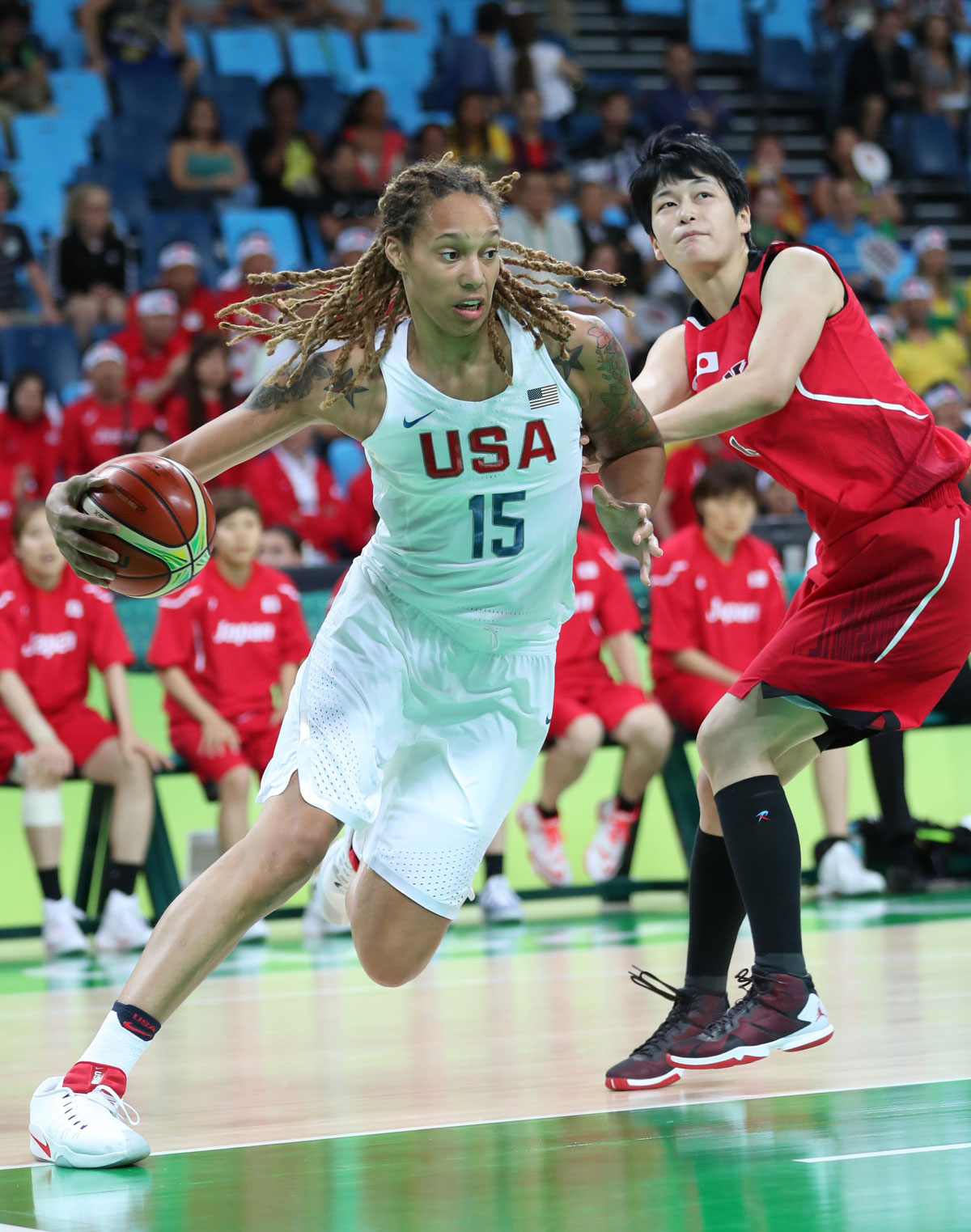 This is an upsetting update because there is no change. WNBA player Brittney Griner has been detained in Russia since sometime in February. She and many other players played in Russian leagues in the off-season for more money than they make here. After Russia invaded Ukraine, she was trying to fly home and was arrested at the airport for allegedly having vape cartridges with hash oil in her luggage. That charge could have a penalty of up to 10 years in prison.
Brittney's arrest didn't make headlines until March, when Russia released the news. And her detention has been extended to May 19. By all accounts, those in Brittney's camp are following the strategy of staying quiet/vague publicly and pushing privately to get her home. But the WNBA Players Association president appeared on Good Morning America to share a brief update and speak generally about the efforts to bring Brittney home.
WNBA Players Association President Nneka Ogwumike is sharing an update on her "sister" Brittney Griner after the athlete was arrested in Russia and remains held abroad.

Griner was arrested in Russia Feb. 17 after officers with the Russia Federal Customs Service allegedly found vape cartridges containing hash oil in her luggage at Sheremetyevo International Airport.

"That could have been us," [Ogwumike] said of Griner. "We're really most concerned about her health and safety, especially her mental health. We're hearing in that respect, she's okay, but we want her home."

Ogwumike also revealed why she is speaking about the arrest now. "Given the nature of Brittney's situation, when it happened, it was very important for us to be intentional about doing the best thing to ensure that we don't compromise her coming home," she told the anchor, 61.

"So a lot of that had to do with educating ourselves about the details of what was going on as much as we could know," she continued, "but then understanding how important it was for us to be strategic about when and how we speak about her."

Ogwumike also commented on the coverage of Griner's detention, telling Roberts that gender plays a large role in how her case has been reported.

"It's disappointing that the question of it being a gender issue is top of mind now, when it comes to this type of circumstance, but the reality is, she's over there [in Russia] because of a gender issue. Pay inequity."

The WNBA Players Association president said she previously played in Russia for four years, Poland for one year and China for two years, explaining, "We go over there to supplement our income."

U.S. officials met with Griner last month for the first time since she was arrested in February. US State Department Spokesperson Ned Price said during a press briefing that "a consular officer visited Brittney Griner" on March 22.

"The consular officer who visited with Brittney Griner was able to verify that she was doing as well as can be expected under these very difficult circumstances," he said. "We'll continue to work very closely with her legal team, with her broader network, to see to it that she is treated fairly and that her rights are respected."

WNBA Commissioner Cathy Engelbert said the league has been working to bring Griner home, telling PEOPLE they have been working with the Phoenix Mercury, "her agent, authorities, administration, strategist experts," adding, "it's a huge coordination to find the best way to get her home the quickest."
Until Brittney was arrested, I wasn't really aware that WNBA players played in leagues in other countries as she was doing. But apparently she was making $1 million per season in Russia, while her WNBA salary is around $221.5k. The Players Association president references gender in how Brittney's case is being reported, due to the pay inequity that led her to Russia, but the first thing that comes to mind for me is the sparseness of coverage despite the fact that she's a prominent American woman jailed in another country that is literally starting wars. I hope the relative dearth of coverage really is by design based on political strategy and not just because people don't care as much about a missing Black woman. Like, I learned so much about Gabby Petito's disappearance without even trying, but I have to search for news about Brittney and she's a famous athlete.
It is good to know that an American consular office was able to visit Brittany and lay eyes on her, although she was denied the right of that visit for weeks. Hopefully she is, in fact, doing as well as possible, as the officer said. A couple of outlets have details about the conditions in prison from "the regional Public Monitoring Commission, a state-backed panel in Russia that monitors prisoners' conditions." Brittney is sharing a cell with two other women accused of drug offenses that speak English and were helping her communicate with staff and get books, but the bed is too short for her. "She is allowed two trips to a Russian sauna per week, and an hourly walk once a day. She also has access to books, Russian TV and self-fashioned board games." I sincerely hope all that is true and her safe return is negotiated soon.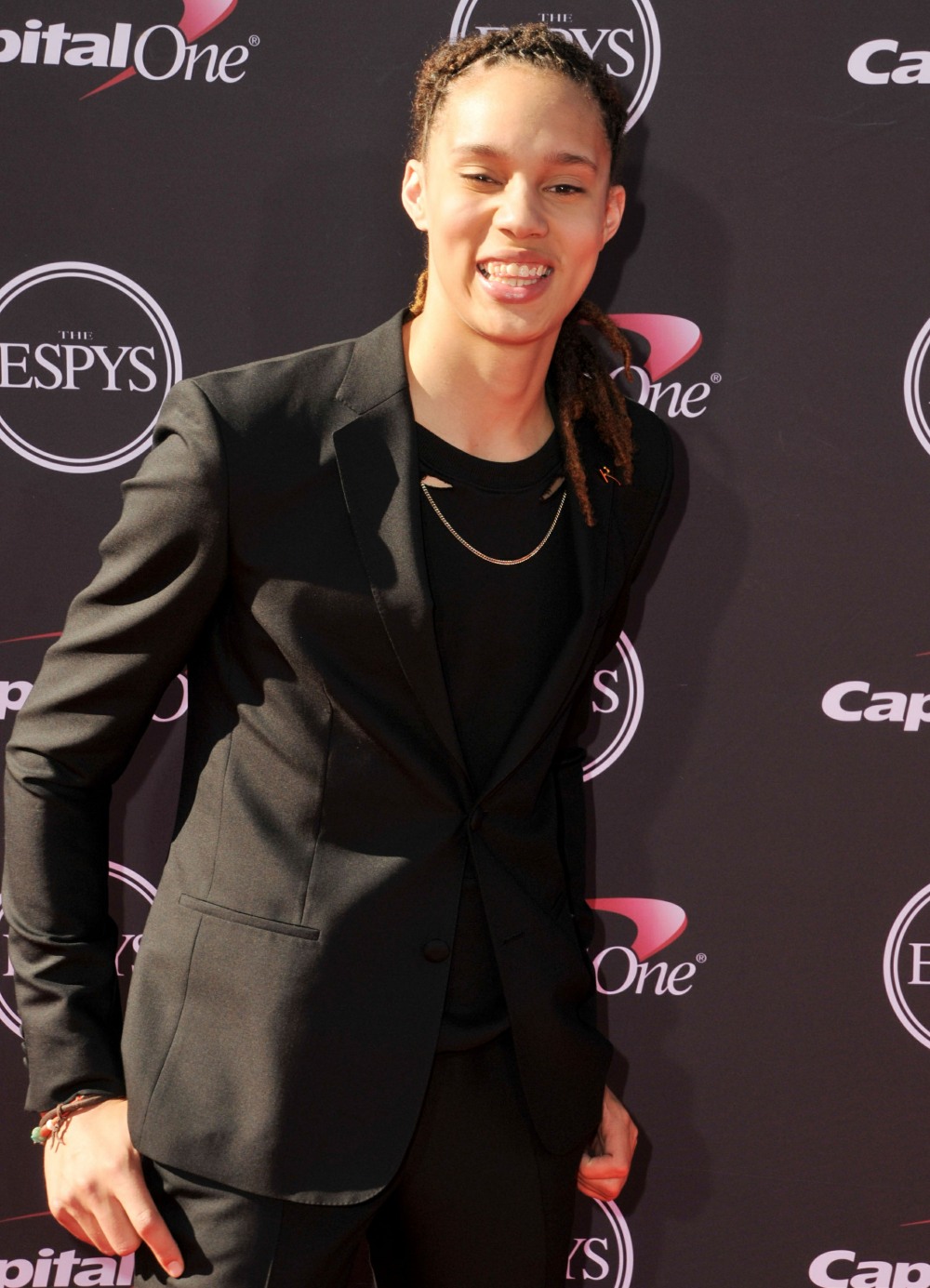 Photos credit: Avalon.red, Instar and via Instagram