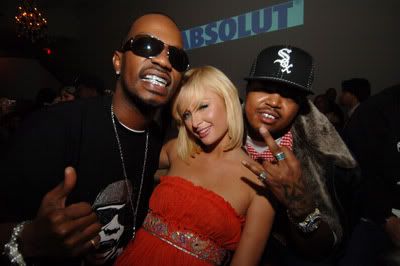 Paris Hilton partied with Three 6 Mafia last night at the Opium Garden in Miami Beach. The event was part of the Winter Music Conference that we mentioned earlier.
Three 6 Mafia, recent Oscar winners for the Hustle and Flow song "It's Hard Out Here for a Pimp," are being sued by a fan injured at a concert. Ramone Williams, 19, claims that Three 6 Mafia incited a riot in a Pittsburgh bar in 2003 while playing the song "Let's Start a Riot" and is trying to hold the band responsible for the beating he suffered. He also blames them for letting him in the club in the first place since he's underage. We don't think the guy has a case. He certainly waited until the band was sufficiently famous and the statute of limitations nearly ran out before filing his claim.
Here's Paris the attention whore (watch her take pictures of herself over and over in this video) and Three 6 Mafia. Other guests included Paul Oakenfold, Venus Williams, Serena Williams, Kelly Rowland, Perez Hilton, Tracy Young and Brooke Hogan.
Seven more after the jump.