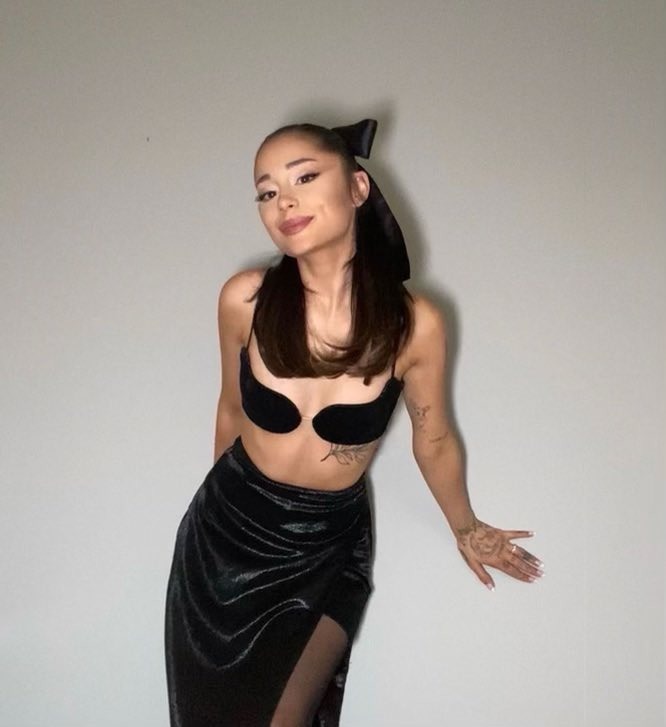 Ariana Grande's brother Frankie got married on May 4th. As in, "May the Fourth be with you," a Star Wars thing. As such, his wedding – to Hale Leon – had a Star Wars-theme, complete with guests or attendees dressed up like Star Wars characters. I'm not a huge fan of theme weddings, but sure, it's none of my business and God bless. Frankie's sister attended the festivities and we need to talk about her wedding attire! Ariana wore a two-piece Vera Wang ensemble which amounted to a slitted skirt and a sculpted bra.
#ArianaGrande wore custom #VeraWangHAUTE to her brother, Frankie Grande's wedding to Hale Leon.

She chose a custom black lamé sculpted bra top and skirt with a high slit accent worn over a black lamé mini skirt.@arianagrande #VeraWang #VeraWangGang pic.twitter.com/ZPsIWRuicX

— Vera Wang (@VeraWang) May 11, 2022
If this was a normal Florida wedding, it would be inappropriate, right? But considering the Star Wars theme and everything else, I guess it was "anything goes." Plus, that's Ariana Grande, even her brother probably knew that Ari would wear something a little bit wild. So I guess my question is: would YOU wear a bra-top to your brother's Star Wars-themed wedding?
ariana grande at her brother's wedding with her husband💍 pic.twitter.com/fFzyT5TGQ4

— Ariana Data (@thearianadata) May 10, 2022
Photos courtesy of Ariana's IG Story.