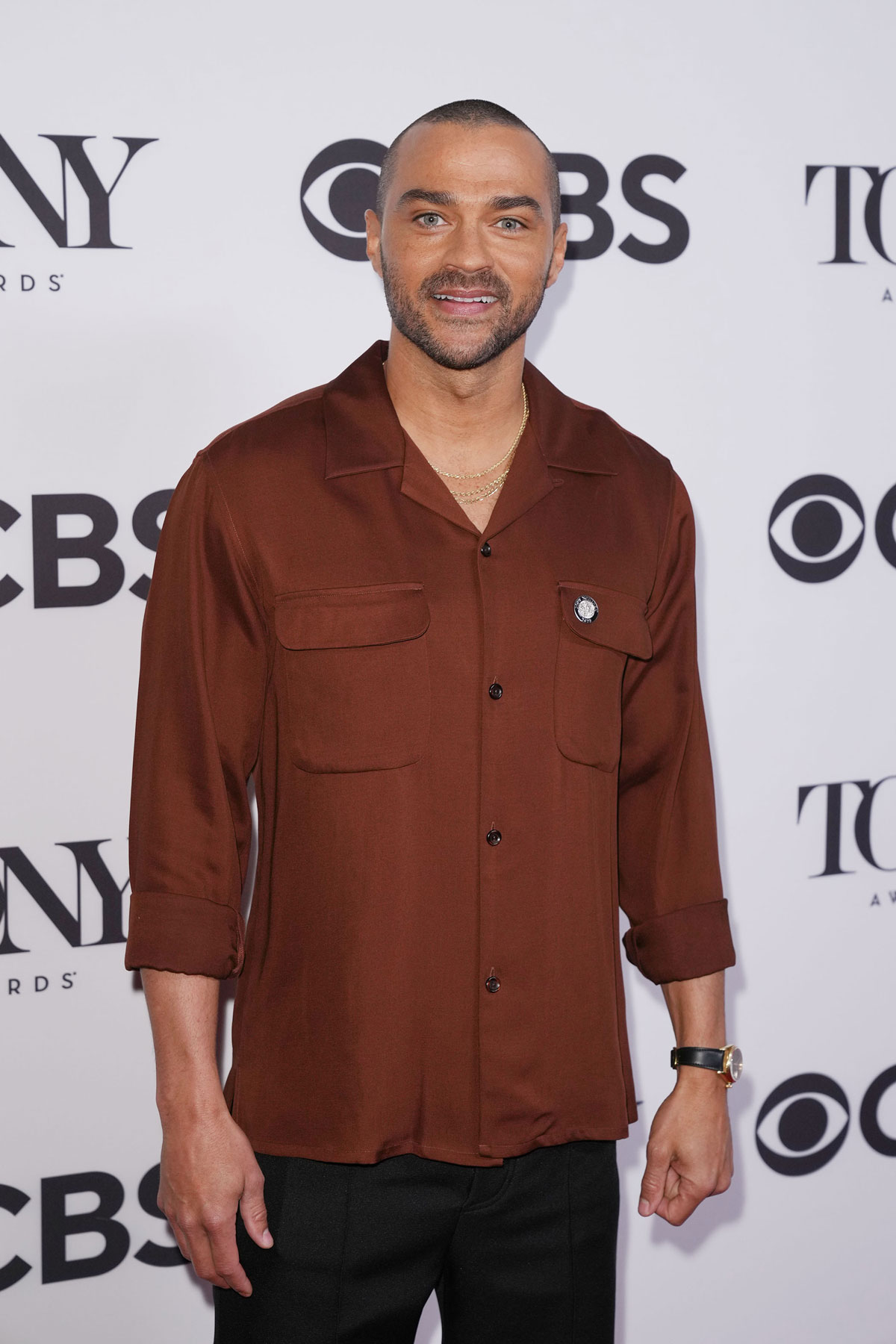 The theater showing Take Me Out has taken quick action after nude images of Jesse Williams were leaked earlier this week. Because the actors appear nude, Helen Hayes Theater had a policy that cell phones were to be placed in locked cases during the show. However, someone either got their phone out of the case (people got to hold their cases instead of a "phone check" situation) or snuck it into the show to take the invasive pics (my theory is someone brought two phones). The theater has now installed an infrared camera system to monitor the audience so this won't happen again. Good.
The Broadway theater where Jesse Williams's nude scene was leaked is stepping up security.

PEOPLE can confirm that the Helen Hayes Theater, home to the Take Me Out revival, has installed a new infrared camera system facing the audience so that the venue's security team can monitor any would-be phone users during the show.

The update comes after an attendee illicitly recorded and posted nude footage of Williams, 40, to Twitter on Monday, the same day the Grey's Anatomy alum was nominated for a Tony Award for his role as gay baseball player in the Richard Greenberg play. Much of the Tony Award-winning piece is set in a locker room, and the actors go full-frontal during a shower scene.

The New York Times reported that the detection system was installed Wednesday, and violators may be asked to leave the theater or delete any surreptitious footage. Peter Dean, director of production for Second Stage, said organizers were considering whether or not the show should be stopped if a phone is detected in the crowd.

"This will allow us to focus on an audience member who looks like they're doing something suspicious, and assess whether they're just going through a purse to get a breath mint or pulling out a phone," Dean told the paper.

Second Stage Theater, who is producing the play, responded to the video leak in a Tuesday statement, stressing that attendees were aware of the theater company's "phone-free" policy, with "locked phone cases at all performances" for Take Me Out.

It remains unclear if the offender got their phone out of the locked case, or managed to sneak it into the show.

"We are appalled that this policy has been violated and unauthorized footage of our acting company has been posted. It is deeply unfortunate that one audience member chose to disrespect the production, their fellow audience members and, most importantly, the cast in this manner. Taking naked pictures of anyone without their consent is highly objectionable and can have severe legal consequences," the statement said.

"Posting it on the internet is a gross and unacceptable violation of trust between the actor and audience forged in the theatre community."

Second Stage added that it was expanding its staff to help enforce the phone policy, and was working to get the posts of Williams pulled from the web.
It's unfortunate they have to take such measures, but I kind of feel like they should have done this before. Maybe it's very costly? Despite the cell phone policy, people are crafty and DGAF about rules, propriety, etc. If the pandemic has showed us anything, it is that people will do whatever they want, whenever they want, with no regard for others. As I mentioned in the last story, there have already been so many of these live theater nude photo leaks that it was inevitable that it would also happen with this production. Someone did it to Harry Potter when he was barely an adult, of course they were going to do it here too. This perv was probably waiting two years for this chance. Speaking of pervs, Sunny Hostin, one of The View cohosts, was being creepy about Jesse on-air and Whoopi Goldberg spritzed her with a spray bottle like a bad cat.
At this point, the production company, Actors' Equity, and costar Jesse Tyler Ferguson have spoken out against the leak. Jesse Williams has said nothing at this point, as is his right. He's probably choosing carefully what to say next because it will obviously be a headline no matter what after this. Apparently, Jesse has teamed up with Scholly to tackle student loan debt and will award $25,000 to four individuals through the "Pay It Off with Jesse Williams Fund." I think he should probably pay his child support first, but that's just me.
P.S. I missed these memes for Grey's fans in my last story.
This is the one… #JesseWilliams pic.twitter.com/Z3TAcXtDgY

— sara lee (@sexualbutte) May 10, 2022
this scene now makes so much sense 😂 #JesseWilliams #JacksonAvery pic.twitter.com/tj0TQBUsM1

— Grey's Anatomy (@The_GreyMethod) May 10, 2022
Photos credit: Avalon.red, Instar, Getty Images and via Instagram