I really like Selena Gomez so I was happy to see her on SNL last weekend ahead of the second season of Only Murders in the Building. It was Selena's first time hosting and in her monologue she joked about her Barney past, her Disney and Only Murders costars, and her relationship status. Considering that a string of A-list celebs have recently found partners among the SNL cast and writers, Selena joked that she was manifesting love by appearing on the show.
Selena Gomez brought the laughs during her first-ever Saturday Night Live hosting stint.

The singer, 29, hosted the late-night comedy sketch series over the weekend, where she opened the show with a monologue that poked fun at her relationship status.

"One reason I've been very happy to host is because I'm single," Gomez said. "And I've heard SNL is a great place to find romance."

Noting how stars among the likes of Emma Stone and Scarlett Johansson met their significant others thanks to the series, Gomez also jokingly teased that SNL brought together Machine Gun Kelly and Pete Davidson.

The "Who Says" singer then explained that she has no interest in dating apps, adding, "I just want to put it out into the universe that I'm manifesting love. I would like to say that I'm looking for my soulmate, but at this point I will take anyone."

SNL cast members Kyle Mooney, James Austin Johnson, and Punkie Johnson then appeared onstage, looking for a shot at love with Gomez … to no avail.

Steve Martin, Gomez's Only Murders in the Building costar, also made an appearance in one pre-taped sketch, playing Archie Gizmo, the inventor of the whoopee cushion.
The writing on the sketches was hit or miss, but I thought that section of the monologue was pretty funny: she mispronounced Colin "colon," noted that the true love match with Pete Davidson is Machine Gun Kelly, shot down the two dorky dudes, and was like "hm, maybe" for Punkie. Selena's delivery was good and honestly she's not wrong about Pete and MGK. That will definitely last longer than either of their respective relationships. I don't mind Pete and actually kind of like him for Kim, but I'm glad he's taken so he can't pull Selena as well. I feel like she needs someone more stable after The Weeknd and that whole fustercluck with Justin Bieber. I'm also skeptical about the constant hanging with Cara Delevingne, who — eyebrows aside — seems so annoying. (Of course Cara was at the SNL afterparty for Selena's episode, she never misses a party).
Though it was a joke for the monologue, maybe there was a ring of truth to it. Selena hasn't really publicly dated anyone since Justin got married. Which is probably a good move and pretty mature, honestly. She was so tied to that tortured relationship and it was such a large part of her public image. Selena rightfully took a long time to process that, as evidenced by the songs, and it seems like she's mostly been working hard — cooking show, beauty line, mental health site — and making great career decisions by joining the best show ever. She's probably been quietly dating and having fun, but maybe now she's ready for something more serious if that's what she wants.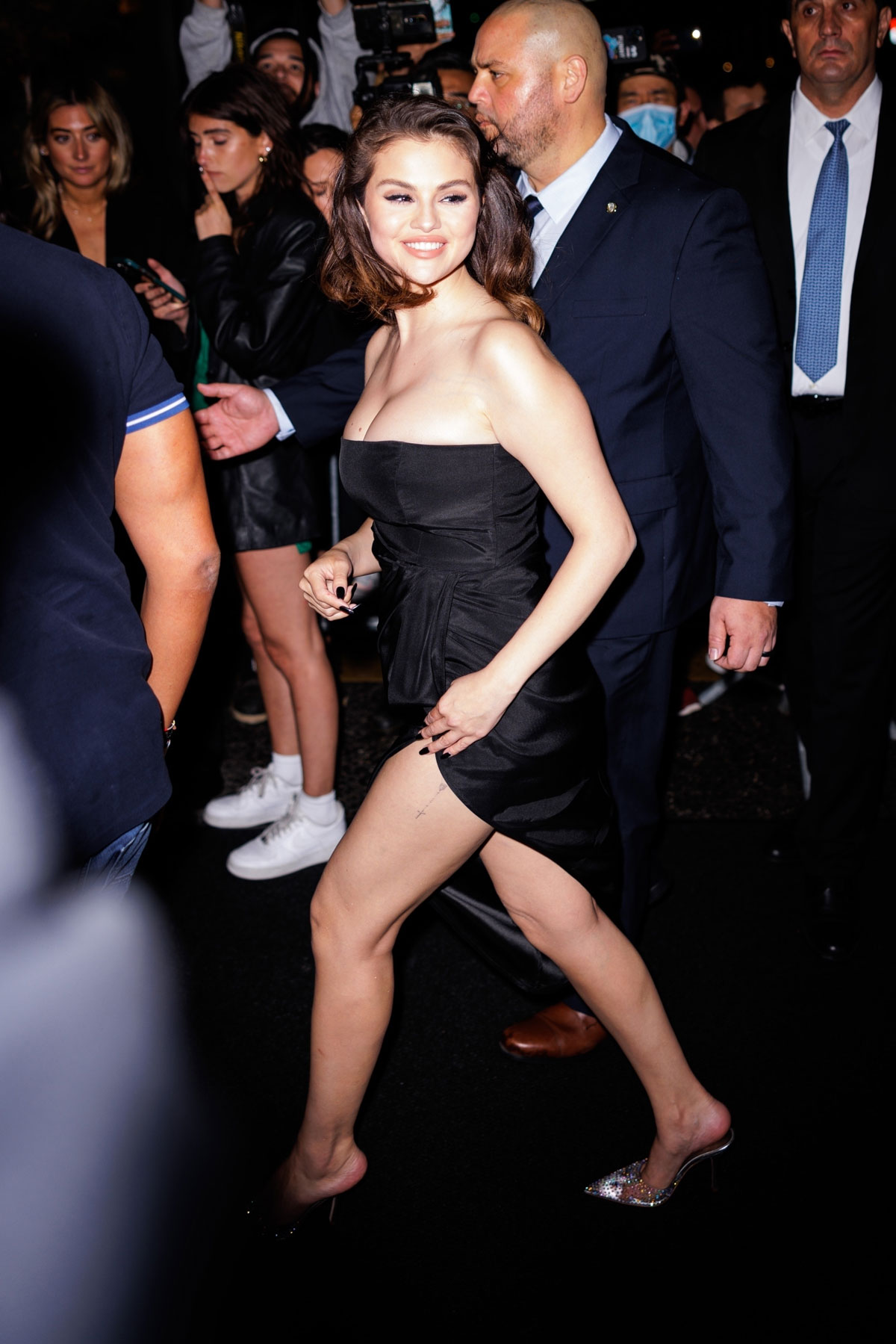 photos credit: Backgrid and via Instagram