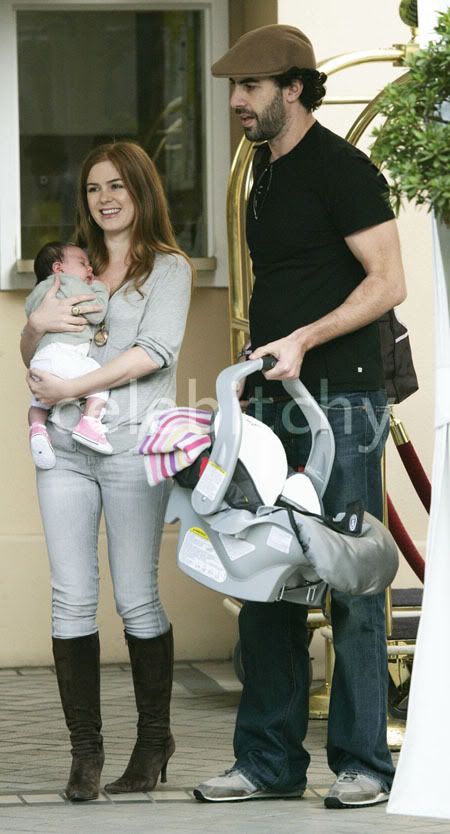 The details were initially hazy about the birth of Sacha Baron Cohen and his fiance Isla Fisher's first baby last month. Reports in Fisher's native Australia declared correctly that the pair had a girl, but the exact date and place of the birth was unknown. Later rumors had their baby a boy, with the name incorrectly given as "Sandler James."
It turns out that the Borat comedian and his fiance did have a girl last month, and that her name is Olive. Instead of opting for a high-paid magazine reveal, the hilarious impersonator and his lovely girlfriend decided to let the paparazzi take pictures yesterday as they stood outside a hotel. They looked happy and relaxed, smiling and showing the baby. Their good friends Naomi Watts and Liev Schreiber also decided to debut their newborn by letting photographers have unpaid access to pictures. Naomi showed off little Alexander Pete Schreiber to paparazzi when he was two weeks old.
Isla looks incredible, and their baby is so cute! Babies are so adorable at that age. I remember an elderly woman coming up to my husband and me when our son was a month old and telling us how fast it all went. Now that he's three I realize how right she was.
Baron Cohen will next appear in the film Bruno, in which he dupes people with his alter ego, a flaming Austrian talk show host. Fisher says she intends to be a stay-at-home mom.
Thanks to Splash News for these pictures and The Daily Mail for the heads up.