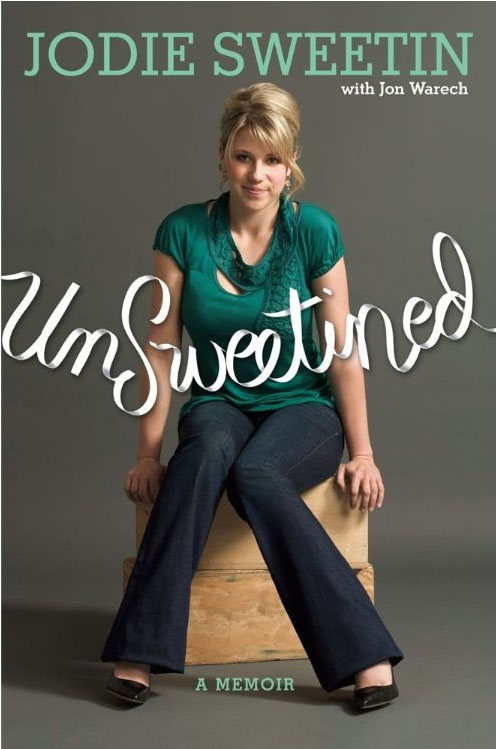 Former "Full House" star Jodie Sweetin has had quite the sordid life since the show ended in 1995. She's battled severe drug addiction and alcoholism, got married at 20 and divorced two years later, then went on a national speaking tour talking about how she'd finally sobered up. Jodie got pregnant then married again to cameraman Cody Herpin, who she split from last November when their daughter Zoie was seven months old. Cody accused her of still being an addict and even driving drunk with Zoie in the car. At the time Sweetin obviously denied it, but now she's coming clean about not being clean, and the guilt she's felt over her hypocrisy.
Jodie Sweetin has found a way to make money again. Hosting a pantsless dancing competition ["Pants off Dance Off"] while addicted to meth didn't work out so well, but maybe she will find a larger audience of readers interested in her long and sordid affair with drugs she describes as both socially acceptable (coke, Ecstasy) and those better done behind closed doors (meth). She tells all in her new book unSweetined.

Last year the 'Full House' middle child went 'From Meth Addict to Mom.' The transformation may not have been a full one. She gave birth to daughter Zoie in April 2008, soon fell back into her winey, if not methy, ways and split from husband Cody Herpin in November.

Here is an excerpt about her coke-fueled sobriety tour, and you can read more here:

When I got to my hotel near Marquette University in Milwaukee, Wisconsin, I slept for a few hours but when I woke up I was still dead tired. I was a mess. Luckily I had the coke to pick me back up. I did a few key bumps and headed to the lecture hall, where a sold-out crowd waited to hear me speak. I thought for sure that one of the professors would take one look at me and kick me out. But none did. They wanted to hear about the trials and tribulations of Jodie Sweetin, or at least the Jodie Sweetin I had created by appearing on Good Morning America and talking to People magazine.

I stood up at the podium, looked around the room, and put on my best TV smile. I was so disappointed in myself. I was living a complete lie. But unfortunately, guilt doesn't make you stop. I talked about growing up on television and about how great my life was now that I was sober, and then midspeech I started to cry. The crowd probably thought that the memories of hitting rock bottom were too much for me to handle. Or maybe they thought the tears were just a way for an actor to send a message that drugs are bad. I don't know what they thought.

I know what they didn't think. They didn't think I was coming down from a two-day bender of coke, meth, and Ecstasy and they didn't think that I was lying to them with every sentence that came out of my mouth. That much I do know. The little bit of coke that I had done before the speech wasn't enough to make me forget how bad I felt for doing what I was doing. The guilt was eating away at me. I was struggling to keep it together, but no one realized that. I finished. They applauded. Standing ovation. Just how I liked it. And it was over.

I was just so tired. Tired of lying. Tired of pretending to be someone that I wasn't. I took a deep breath and walked out of the lecture hall. I went back to my hotel room and buried my face in my hands. I couldn't keep doing this. It had to end. But not today. I wiped away the tears and finished the baggie of coke.
[From the Huffington Post via PopEater]
There are some famous addicts that I get pretty sick of, and there are others that I feel genuine empathy for. I'm not sure why – maybe it's that she played such a nice, normal girl when I was growing up watching "Full House" – but I'm always rooting for Jodie. Maybe it's that she doesn't "look" like a hardcore drug addict. It really makes you reexamine your own stereotypes about who a drug user is. Some of the most amazing, brilliant people I've met have overcome mind-boggling drug problems, and I can't help but hope Jodie eventually does the same.
While it's good she's finally come clean, it obviously presents a dilemma. In the future it'll be hard to believe she's ever totally sober unless she presents a drug test every time she says it. I guess it's one of those things where you just have to hope it's true. It doesn't seem like Jodie could handle her own hypocrisy, and knowing that you're a fraud can really eat away at your soul over time. I can't claim to understand drug addiction, but for me, I imagine that feeling that miserable would be a serious deterrent. Serious addiction can take several attempts to beat. Hopefully Jodie's a lot further along in the process now.