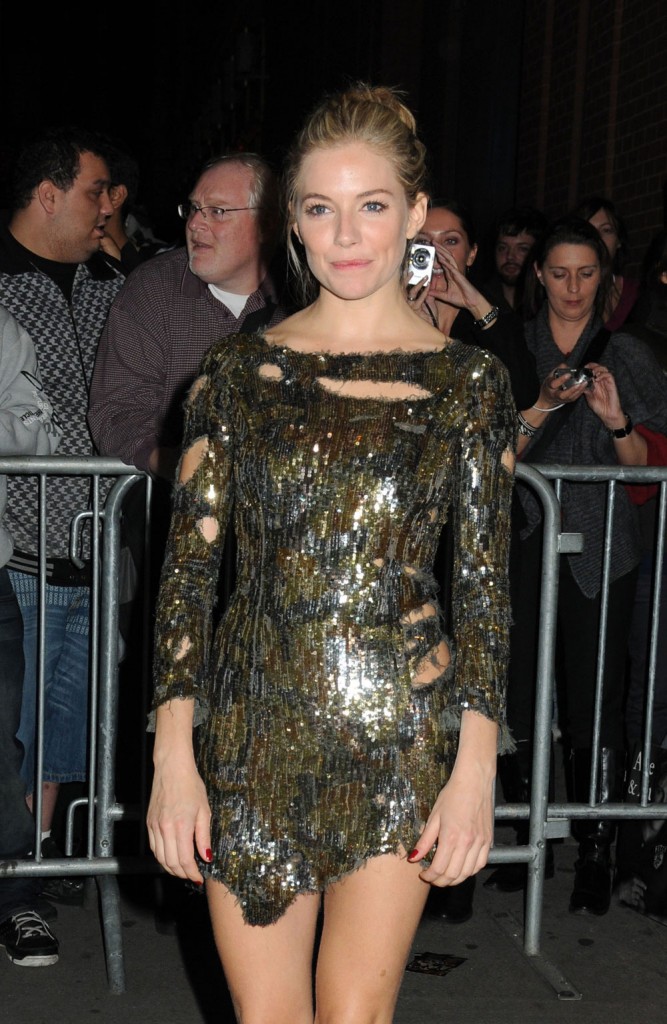 One of the things I've never understood about Sienna Miller is how she ever came to be known as a fashion icon. Were people simply desperate for a young, cute starlet who dressed like she was going to Woodstock? I've never really hated Sienna's style, I just didn't see what the big deal about it is. She was boho for a few years, and then she tried a more modern look, and now she just seems to wear whatever. Like this Blamain dress, which Sienna wore last night for the opening night of her Broadway debut in After Miss Julie. I just find this look so… meh. Yeah, her body looks good. Yes, it's kind of interesting. But wouldn't it look pretty if the dress wasn't shredded? Wouldn't it look classy to show up to your big Broadway opening in a dress that didn't look like Sienna came from a catfight with some disgruntled wife?
Anyway, the reviews are in for After Miss Julie, and the only the critics are unanimous about is how Sienna has amazing legs. Ben Brantley of the New York Times liked her, sort of, but he kept talking about Sienna the celebrity rather than Sienna the actress. He praised her "good diction, good posture and great legs. Commendable as these attributes are, they are of limited use in portraying a tautly wound, death-courting neurotic who is eaten alive by her own demons." The AP critic also mentions Sienna's great legs – noting that she "looks sensational: blonde hair done up in a quintessential 1940s 'do, her trim figure wrapped in a pert floral print dress that shows off her great legs. The very model of a seducer awaiting to commence seduction … And there is a relentless quality to Sienna Miller's performance, not terribly subtle or vulnerable, but compelling in its obsessiveness." Meanwhile John Simon of Bloomberg News thinks Sienna gives a "persuasive performance" and that's about it.
One other notable review was the NY Daily News, which found Sienna to be "improbably beautiful, every inch the 'fine-looking filly' John calls her. She's committed and competent, but her performance is a shade monochromatic, not modulated enough to make Miss Julie's jagged edges sharp." You know who all the critics loved though? My boy Jonny Lee Miller. Every critic praised his performance, so "Yea!" for Jonny. And "Boo! Hiss!" for this dress. I know some of you will like it, but it's inappropriate for her Broadway opening.
Photo credit: WENN.com