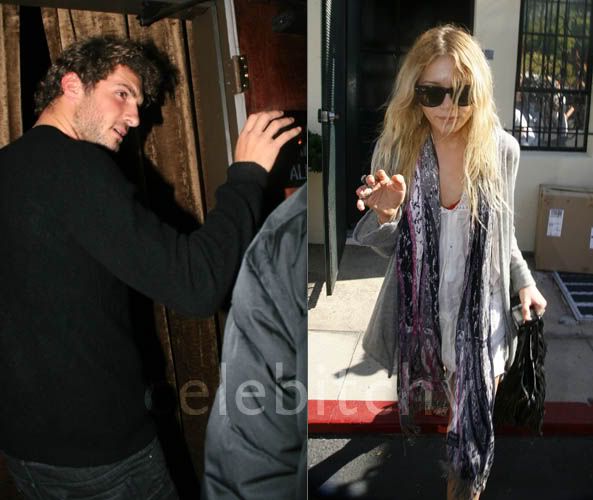 Mary-Kate Olsen and Paris Hilton's longtime on-off-on-but-now-off boyfriend, Stavros Niarchos, were seen making out at the Chateau Marmont on November 12. Then the two former lovers headed to Hyde for some more public canoodling. All the tabloids are buzzing with the news this week, with Life and Style stepping it up a notch by declaring a feud between Mary-Kate and Paris. They're probably just making it up, but it could be true since Paris was said to despise Mary-Kate, who was seeing Stavros when she scooped him up. Paris is being sued by a Party planner for threats she made against him after he supposedly told Stavros to dump Paris at that time and get back with Mary-Kate. (That lawsuit looks like it has either been abandoned or settled, although it's hard to tell.)
So even if Paris isn't actively out for Mary-Kate's neck, she's probably pissed that she's back with Stavros, even temporarily. Paris was most recently reconciled with Stavros late this summer, suggesting he's her fallback boyfriend.
"They were super into each other," clubgoer Susan McGinley tells Life & Style. Adds a second partyer [sic], Stacey Kives, "He was making moves and she was eating it up."

The duo kissed passionately for a few minutes, says the first witness – and then Mary-Kate, 21, put her hand over her mouth and giggled.

One person wasn't laughing. When Stavros' on-again, off-again love Paris Hilton, 26, heard about the PDA, she was infuriated. "She thinks MK was publicly hooking up with Stavros just to piss her off," says an insider close to Paris.

In fact, the insider says, Paris believes the hookup was all about revenge. Back in 2005, MK was in what she thought was a serious relationship with Stavros, 22, when the shipping heir started seeing Paris as well. "Mary-Kate has hated Paris ever since," notes a mutual friend… Making matters worse, Nicky Hilton is now dating David Katzenberg, another one of Mary-Kate's exes!
[From Life & Style, print edition, December 3, 2007]
The article adds that the supposed insider claims that Paris is "totally over Stavros," and that "she thinks he's too young for her."
And Mary-Kate and Stavros' reconciliation may be more than just a fling – or not. They were also spotted out on October 24 at a fashion event, and Stavros "had his arm around her most of the night."
Mary-Kate was most recently dating hockey player Sean Avery, but he was said to be cheating on her with his ex, Lake Bell.
MK is shown in the header image out on 10/21/07 in West Hollywood, thanks to Splash News. She is also seen in a ridiculous robe-looking coverup thing at the "7th On Sale" Black Tie Gala in NY on 11/15/07, thanks to WENN and PRPhotos. Stavros is shown outside of Hyde on 11/5/07, thanks to WENN.